Partners in life and in work, Anna Burles and Chris Trotman talk to Sophie Harper about the benefits of offering the full package when it comes to branding and interior design.
Husband and wife team, Anna Burles and Chris Trotman founded creative studio Run For The Hills a little over ten years ago when they realised how much their skills complemented one another. "We've both got previous," Chris says. "Previous, yes we've both got that," Anna chimes in and they both chuckle. "I spent years in advertising as an art director and was in TV production when we met, doing animation title sequences, things like that," Chris tells me.
"I spent my 20s in publishing working at Penguin books," says Anna, "Then I was a journalist at the BBC and then at ITN radio where I covered Princess Diana's death – that was my big news story. Then in guerrilla marketing for a few years – so projecting things onto buildings and creating sculptures in the street, and then from there into event design before going back to school to retrain in interior design." "You bring the skills you learn from every job on to the next place," adds Chris, "which makes you think about things from a different perspective to other people."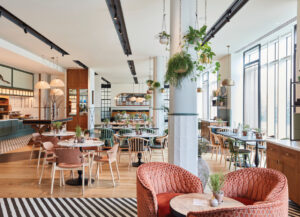 Anna was running her own business, Studio AB when she was working on a project for Amazon's Audible brand. She was tasked with sourcing 35 pieces of art on the theme of storytelling, which seemed a good fit for Chris's skillset. "I suggested we should create our own because I couldn't find 35 pieces of art of varying different sizes that hung together nicely and fit with the theme," Anna explains. "The project went really well," says Chris, "it was really successful, so working together kind of started there."
The couple started collaborating on more projects to the extent that Chris cut his hours at work to concentrate on joint projects with Anna. Then, when they had their first baby and Anna was juggling the running of the business without being able to take proper maternity leave, they talked about the idea of setting up a new business together.
"The projects we were doing together were brilliant," says Anna, "we just decided in that moment, despite being perhaps a bit of a vulnerable time for us with me just having had our daughter, that's when we should launch and properly set up Run For The Hills as a full studio offering – interiors, branding, graphics, art, everything. It was a risk, but it just felt so right." It turns out it was worth taking the risk, and the studio has been gathering pace ever since.
"Our USP has always been that we can offer a full service of branding and interior design simultaneously," Chris explains. "So rather than a company having to go to a separate branding and interior design firm, who might have different agendas, a different aesthetic, it means we can work quickly to tone the branding down or dial it up in response to the interior design."
"It's a different process for sure," says Anna, "we don't always get asked to do both but if we do, the project as a whole is better. It can be quite difficult if you're working with a separate, external branding agent, to negotiate any changes, especially if their work has already been signed off – they then feel as though they're the brand guardians and so might try to dictate what happens elsewhere. Whereas with us, we'll have those discussions before it even goes to the client, so if Chris has had a breakthrough on the branding that doesn't quite work with the interior scheme or vice versa we'll look at it together and make adjustments so that it works. We're obviously more amenable to changes because we're both working together for the good of the project. Would I be as amenable if an external company came to me and asked me to change my colour palette or textiles? It's certainly not as easy." "It's just more of an infusion," adds Chris. "We can use elements of the interior design and draw that into the branding."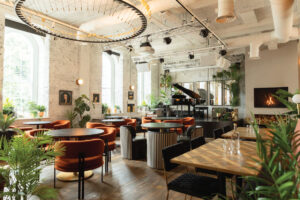 Anna talks about their love of storytelling and creating an immersive experience, which they both agree is best achieved when the two of them work together. "The branding is the overlay with the interiors being the backdrop but the expression and the storytelling is about creating a feeling," she says. "Even down to the copywriting, the tone of voice on a drinks menu – that's what transports you somewhere else. Even if a consumer isn't strictly design savvy, most consumers these days, particularly in style driven venues, are the kind of consumer that values design – they might not necessarily understand it, but they value it and they know whether it joins up or not.
"Our most successful projects have been the ones where we've had a really inspirational client who understands design, values it, understands storytelling – has even been part of the process, which then allows us to do an amazing design and they've brought in the right suppliers or we've worked hard to get the right people in."
"The stuff we do gets people through the door," says Chris, "but in order for them to come back again it's really all about the service, the food, if those two things are terrible it doesn't matter how great the branding or design is."
I ask Anna and Chris which comes first when they're working on a project together and they says it's a chicken and egg question, because ultimately the two are so intrinsically linked and worked on together. "It's really the concept that comes before anything else," says Chris, "so that's something we'll both look at – albeit with different hats on. We'll take the brief together but look at it independently and then come back together to compare notes. We'll do a bit of tweaking but will generally be thinking along the same lines."
Anna tells me they're working on a bar project together in Bahrain, "It's going to be amazing, but it's got a character so we're coming up with an interior concept that fits that and these guys," she gestures towards Chris, "are coming up with the visual identity, and the character really matters, so we'll work together to figure out 'who' this character is – what he looks like, what his world looks like."
"Yeah, who is he and why's he in Bahrain?" Says Chris. "Perhaps he's this guy who's hanging out with the glitterazzi on the Amalfi coast as a younger guy, we figure out his personality and put mood boards together to suss out why other people would want to be part of his world." "That's when we create together, two creative directors building that strategic platform for both the branding and interiors to flow from." Adds Anna.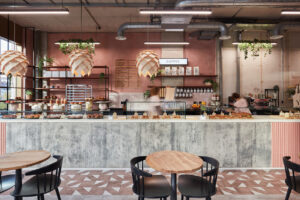 Run For The Hills is such a versatile studio because of both Anna's and Chris's different skills and knowledge, which has made them a much sought after team. Having recently celebrated the opening of Faern Arosa in the Swiss Alps, the studio has also done a lot of work with Hilton, Swissotel, Coppa, as well as lots of independent hospitality brands but also take on commercial and residential projects too. "The diversity of our work is why we survived Covid I think." Says Chris. "The branding is the first thing people see of a restaurant or hotel, so it's crucial, it's really important. I think quite a few big operators are seeing the benefit of taking a more independent approach and looking at boutique agencies for their branding now."
"Going forward we're just really keen to do more hotels but stay true to our heartland in independent hospitality as well. There's such a blurring of lines, everything's so much more blended now," says Anna. "We're passionate about what we do and what makes our hearts sing. We pour our heart and soul into our projects – and finding the right fit for us is really important, it's important for the client as well, because if there's any disconnect, it shows. What results in the best outcome is when there is a genuine affinity between the two. Our ethos is really about working on projects that makes us happy, because that's good for business."
www.runforthehills.com