Bringing immersive wellness retreats to the hospitality market was practically written in the stars for hoteliers Danae and Konstantina Orfanake, and with their vision based on authenticity and a deep understanding of what guests really value in a hotel experience, this family-run brand is already making huge strides towards greatness.
Exposed to the hospitality industry early on in their lives, sisters Danae and Konstantina Orfanake grew up in Crete spending much of their childhood in a small hotel in Hersonissos which belonged to their parents. Hospitality came as second nature, and ultimately became a passion for them both, leading them to build a brand together as adults based on the very foundations in which they were raised.  "Our vision as a family-owned hotel group is to welcome guests with warmth and attentiveness, and to create the ultimate hospitality experience that comes straight from the heart. Each one of our hotels retains its own distinctive personality, but the high service standards are a constant across our entire portfolio and it's one of our core family values."
Primed for their future in hospitality (Danae has a degree in economics and hospitality management and Konstantina has a masters in hospitality management and a diploma in interior design), the sisters headed to America after they graduated from university to work at different hotel brands before returning to Crete to work on the ACRO Suites project and the rebranding of Seaside, A Lifestyle Resort.
Creativity
"My sister and I have a very special relationship," says Konstantina, "which is why us working together came so naturally. We are both very creative and we like being as involved as we can in new projects from start to finish. With ACRO Suites, we came up with the overall vision and concept of the hotel and then we collaborated with Stavros Peppas and Alexandros Kolovos as our primary architects who helped shape ACRO Suites into an amazing wellness retreat."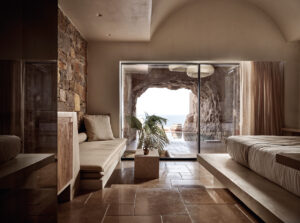 "We were fortunate enough to be working with the best architects and designers in Greece who were able to bring our vision to life," says Danae, "but there were some challenges we had to overcome. We needed to demonstrate that our vision would be a successful business model and back in 2016 when the idea of ACRO Suites started to flourish, wellness resorts were not a popular concept in Greece. The hospitality landscape was dominated by large all-inclusive hotels, so investing in a boutique wellness resort was not easy. We initially started the project by launching the Asana Yoga Shala where we hosted our first meditation retreat for a month. Seeing this gap in the market at the time is what allowed us to develop the ACRO Suites concept."
Design and style play a major role in the hospitality experience at each of Danae and Konstantina's hotels, and they say it was one of the aspects they gave most consideration to when planning each project. "ACRO Suites pays homage to its surrounding nature through the considered use of materials and textures," says Danae. "To ensure our vision was properly brought to life, we sought out the best local Greek designers and craftsmen to collaborate with across the property for an authentic Cretan feel. The rough marble details, natural stones, and unrefined wood complement the look and feel of the hotel. We have also renovated and rebranded Seaside into a carefree Lifestyle Resort. Each room is elegantly decorated and draws on the island's natural palette of whites, terracotta, and neutral tones with a boho-chic design. All rooms and suites have contemporary amenities with a relaxing, laid-back atmosphere in each space."
"Nature is a motif that runs across all our projects," adds Konstantina. "We have conducted extensive research and worked with local interior designers with the aim of going beyond creating luxury resorts that boast grand luxurious finishes and amenities. Instead, we invested in organic materials for our sheets and fabrics, high-end mattresses to ensure a high-quality sleep, natural colours for all our suites and villas that blend seamlessly with the surroundings, the combination between stone and wood can be seen in ACRO's Cave Suites. These elements all come together to provide guests an unforgettable holiday experience."
It was important to both Danae and Konstantina to select local designers and craftspeople to collaborate with on their hospitality projects, wanting, where possible, to work with people that were familiar with the local landscape and who understood the sisters' vision. "We also wanted to promote small businesses in Crete ranging from interior designers and architects to local craftspeople who helped us create some of the furniture you see displayed in our hotels," said Konstantina.
Wellness
With wellness being one of the key pillars of Omicron Hotels, Danae and Konstantina's vision was to bring together locally sourced materials along with renowned Cretan hospitality to create a new project, entirely dedicated to wellness. This came to life with the launch of ACRO Suites, developed as an eco-friendly destination to encourage the preservation of the local culture, values, and natural Cretan landscapes.
"Wellness has always been important to travellers, however, in recent years we have noticed that travellers are more discerning in the sense that a nice luxury hotel won't be enough to satisfy their holiday needs anymore," says Konstantina. "They are looking for holistic wellness retreats where they can feel at peace with their inner self, they want to feel safe and comfortable and, most importantly, they want complete and utter relaxation. To ensure high-quality sleep, we invested in top-of-the-range Simmons mattresses that are hypoallergenic and aerated. The hotel also offers a special pillow menu for guests with a variety of options to satisfy different density preferences."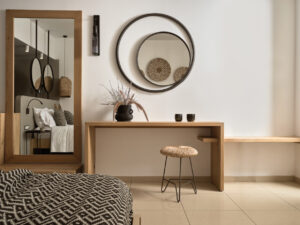 This year, ACRO Suites is also introducing a new weekly deep relaxation session every Sunday evening, held in the hotel's Asana Yoga Shala. For wellness lovers, the Sea Cave Spa at Seaside, A Lifestyle Resort also offers a heated indoor pool, massage rooms, a steam room and even an ice fountain all within a unique setting.
Being their first eco-friendly boutique hotel, sustainability plays a large role in the ACRO Suites ethos, with natural materials sourced from Crete such as stones and wood. Sheets and fabrics are all made from organic materials. Food is sourced locally from small farms on the island, all from an organic kitchen with plentiful vegan and vegetarian menu options available. Every suite and villa in the hotel are accompanied by saltwater private pools with breathtaking Cretan Sea views allowing guests to enjoy ultimate privacy in blissful surroundings. The Cave Suites have been built so that they maintain a stable and pleasant temperature year-round, with no air conditioning or heating needed. It's an offering that aligns with the travel trends and demands of the 21st century traveller, which as a blueprint for future projects is sure to bring the Omicron Hotels brand huge success.
The future?
Danae hints at a new project in the pipeline and without wanting to give too much away says, "We are currently working on a brand-new hotel concept. With this project, we will be looking at how we can integrate even more elements of sustainability and we look forward to sharing details about this soon."
It's clear the sisters are ambitious, but at the heart of everything they do is a pure passion for hospitality and a genuine want to create experiences for their hotel guests. Konstantina comments: "We would like to believe that one of our strengths comes from being such a tight-knit family. With our unparalleled expertise in the hospitality industry and our core family values, we have been able to create a microcosm of luxury, wellness and relaxation for our guests that is more than just the usual holiday. We want our guests to feel like they have arrived home. Here they can relax in serene surroundings, achieve their wellness and fitness goals, be at peace with their inner self and create memories that will last forever."
Read our other interviews here