On a mission to educate the world on 'conservation tourism', award-winning film makers and explorers Dereck and Beverly Joubert tell Sophie Harper how they found themselves in the luxury hospitality industry – and why community spirit is essential to a successful sustainable model.
Dereck and Beverly Joubert are hoteliers unlike any I've ever met before, and I've met my fair share. First and foremost they don't refer to themselves as hoteliers, but conservationists and explorers who, with their unique brand of African lodges and camps, Great Plains, have coined a new phrase to describe what they offer: 'conservation tourism'.
The couple are best known for their award-winning films and photography for National Geographic, who have been exploring and researching Africa together for over 40 years.
"I think we were born conservationists," says Dereck, "we were both born in South Africa, and our parents were all outdoorsy people."
"We were both very fortunate to be born into families that really cared about their immediate surroundings," adds Beverly.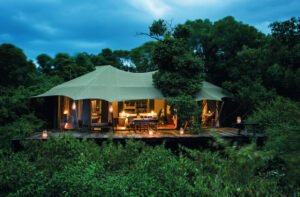 Describing how they met and fell in love when they were at school, Dereck tells me that they were both keen to go out and explore the continent they were born on. "We went out into the bush – we wanted to understand the smell, the feel, the touch of the soil. I think those early days defined the way we went on to build and decorate our camps – because they're based on that first impression."
"As much as we were in love to discover the unknown, which we did as two very young explorers, we soon saw the atrocities," says Beverly. "We realised we needed to speak out. That's when we knew we had to be conservationists, so in our films, in our books, in our exhibits, we always think about how we can be effective in enlightening a global audience."
The leap into hospitality happened around 17 years ago for the Jouberts, who realised they could further impact their conservation work with a new venture. "We're relatively new to the tourism and hospitality world," says Dereck. "We made films and wrote books for National Geographic and that afforded us the opportunity to fund these projects. We were travelling up and down Africa and would find these unbelievable places, then we'd film there and so when the transition into hospitality happened, we went back to those places. At the time there was a lot of hype about eco-tourism, which I frankly never understood as a combination of words. We started talking about conservation tourism only because we went through this evolution of doing films and then speaking out and being advocates for the environment."
The couple founded the Big Cat Initiative in partnership with National Geographic around a year prior to Great Plains, which really informed their first motives for wanting to move into hospitality. "We realised big cats were in such tremendous decline, a 95% decline in our lifetimes until that point. Lions had gone from 450,000 individuals down to 20,000 individuals, so we knew we had to do something," says Dereck. "We started the Big Cats Initiative and quickly realised that just taking care of the lions, the leopards, and the cheetahs wasn't enough, we needed to protect the land they were on. The way to fund that was through benign, non-hunting, non-extracting tourism – so conservation tourism is where we use tourism to fund conservation initiatives."
Beverly explains how locations are considered before they commit to a new project. "Great Plains is all about protecting vast tracks of land… national parks are protected by governments, and so we provide buffer zones to national parks. We looked at how the animals were getting from one ecosystem to the next – and our goal was to provide corridors for them to get there safely. We would look at the map, understand the migrations where animals were going from this point to that, but getting cut off by fences because of the way man was slowly encroaching in particular areas, so we would take over that piece of land, make it more profitable for the community and ensure animals' safe passage from one place to the next. Our aim is to be effective by making these areas better for everyone."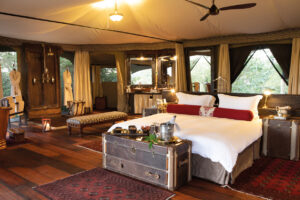 Dereck and Beverly tell me how important it is that they work in harmony with the local community to ensure each project's success, and that that starts with communication and partnership. "We very seldom buy land," says Dereck. "At the moment we manage around 1.6 million acres. We believe that when you buy somebody's land that's the end of the conversation. When you lease it or rent it from someone, they become your partner. All Great Plains properties are in partnership with local communities. We always give them a lease, we employ from the local communities, we give them royalties on what we earn, we give them a profit share – we see them as our partners in all of these ventures because if you don't have a three-way partnership between conservation, communities, and commerce, all three of them fail."
"That's what makes it sustainable as well," Beverly adds. "Everything starts with education. We always hire from the local region, but many people haven't had a great education, which is key in everything we do. We're involved now in educating at the local schools, where we've been working to add to the curriculum to give pupils a better understanding of how to protect their environment."
Beverly tells me about the Great Plains Foundation and Great Plains Academy that the couple started in order to help local communities, particularly women, gain a vocation via different educational programmes. "We've sent women to India in a joint venture with Barefoot College where they learn about solar board electronics. When the women come back, we help them put solar panels up on every single grass hut in their community. It looks a little weird, but it works, and the people are so grateful – this is just one of our programmes through the Great Plains Foundation, but there are many."
"We believe that it all starts with a conversation," says Dereck. "We find out from the communities what they want and when they come into our world, there's a lot of that training, a lot of that education they use within their work. But it goes both ways: we don't know much about the local animals and the plants they feed on and so we view it as a true partnership where we provide jobs and training, and they provide us with local knowledge."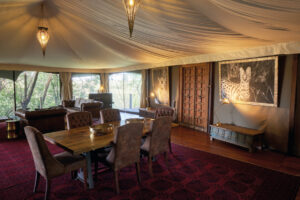 Talking about their business model for Great Plains, Dereck tells me how they had to work out the ideal number of people to visit each camp to provide the greatest number of jobs whilst ensuring the lowest footprint. "We came up with a high-end tourism model with the finest hospitality, the best food, the best wine, the best experiences. The people that come to our camps often ask us how else they can help, which is another added benefit to our programmes – they often might be heads of industry who go home and talk about our work here and make their own changes back home. We very much see our camps and lodges as gateways to influence the world."
All Great Plains camps and lodges are designed from scratch by Dereck and Beverly. Dereck tells me how he literally starts with a blank sheet of paper and begins sketching out ideas. "We start with the style then look at the different elements that could have a negative influence on our 100% sustainability mission. We were the first camp in Zimbabwe and Kenya to go 100% solar, which at the time was enormously expensive – we spent more on the solar than we did on the entire camp!"
He tells me how they love to build with beautiful hardwood floors, "I'd said to the builders initially I liked teak because of its richness, and they said they could get teak, so I asked if it was sustainably harvested and they said not exactly… so instead we went to old shipyards and railway yards where teak railway sleepers were being discarded and replaced by cement sleepers. We bought up tons and tons of teak to cut up and use in our projects – almost all our floors are made from this teak that has been lying in the sun for 100 to 120 years. It's very expensive but those are the decisions architects and designers have to make. We look at what we want and then we have to work out how to get that without compromising our ethics."
He adds, "It's just the two of us, we work with each other very closely – we fire each other periodically and then come back again," they both laugh, "when we are choosing a new project or a new camp it starts with sleeping on the base site, walking it, understanding where the sun sets and rises, where the underground water is, and if it feels right."
"Because of our work as National Geographic photographers and filmmakers, we are sensitised to the perfect photographic frame." He talks about Mara Plains Camp in Kenya and says how important proportions were for the view. "When we designed the camp we had to push the tent makers because we had the entrance to the main area in this exact proportion and they said it couldn't be done. We got them to do it in the end, so now when you walk up the steps to the camp and you look out to the Masai Mara there's this single tree there, the entire camp has been positioned so that that tree is in that frame that takes you across that walk bridge when you arrive."
They draw on local influences, from the landscape and wildlife to the local culture and tribes. "We started talking to the Masai people and listening to them and took reference from the colours they wore during ceremonies and worked out how we could use the same colours throughout our interiors as a mark of respect. We went to the Masai women and asked if they would make beaded curtains for us in their colours, and so the relationship is a continuation from the land to the people and really dictates how we work together and how each of our projects end up looking."
Dereck explains that one of their camps incorporates the elements of metal, earth, water, air, and fire as different areas that lead from one to the other, while another pays homage to learning from mistakes of the past, including those of explorers such as David Livingstone, who claimed discoveries of places like Victoria Falls and partook in trophy hunting – using examples not to berate, but to acknowledge and grow from.
"Everything we do is conservation and has been since we started filming in our early twenties," says Beverly, "but it's not about jamming it down anyone's throat, it's about drawing you into a story where you might follow a pride of lions or herd of elephants. You become such a part of it, it affects you, it touches your heart, and that opens up conversations about conservation."
Sitatunga is Beverly and Dereck's latest opening, having just opened at the time of the interview. "It's heavily water-based," says Beverly, "The colour palette is aqua, the wood has a look of being sun bleached on the sand – it has a real Robinson Crusoe feel to it."
"As we were designing it we were looking for references," says Dereck, "there's an explorer reference in everything we do, because we are explorers – so we like tents… they're tents on steroids, but we like tents! In this case there was this core fishing community who have been making these fishing baskets out of reeds for hundreds of years," he gestures with his hands to reference the baskets' size and shape, "so looking at that design I sketched a few ideas and what we have at Sitatunga are these gigantic fishing baskets that provide shade and hang in the trees and inside that is the guest room, so there's a visual reference with meaning."
I ask the Jouberts if they think they'll ever run out of stories to tell through their projects and designs, and without hesitation Dereck says: "Most certainly you've got to reach deep so you don't tell the same story over and over but the story pot really is endless – you just have to look to the land to tell you."
www.greatplainsconservation.com