George Yabu and Glenn Pushelberg of Yabu Pushelberg fame – the Canadian design studio best known for its award-winning hospitality designs and fun-loving founders – sat down to give Editor Sophie Harper the lowdown on the studio's current projects and constant success.
Design veterans George Yabu and Glenn Pushelberg founded world-renowned studio Yabu Pushelberg over 40 years ago in Toronto. Over the last four decades they have become design megastars, winning awards, projects, and hearts all over the world.
Following a whirlwind trip to Italy for Milan Design Week, where they launched six new products for six different brands, I caught up with George and Glenn to find out more about the couple's success and plans for the rest of the year.
Asking whether they found Milan (known for its non-stop gatherings and social events during Design Week) exhausting, Glenn says, "No way, we're supermen!" He laughs at my expression (as someone still recovering from Milan, I was finding it hard to match his energy). Launching their Miles LightingCollection with Lasvit, Konoha wall lamp with Marset, Ami seating collection with De Padova, the Ollie Collection with Glas Italia, the GentleCollection with Henge, and Oiseau bar stool with Linteloo, I wondered how Glenn and George found the time to visit each of their product launches, let alone present them, offer tours, interviews, and attend social events. "It really was a terrific week," said Glenn. "We'd start at 8am and work until midnight or 1am – but it's not work, it's joyful! It was a marathon of meetings, presentations, and dinners, but it was great and I feel very excited about the next year ahead of us."
Like Duracell bunnies, Glenn and George seem to thrive in a constant state of work, travel, and play – it's a minor miracle being able to pin either one of them down long enough to quiz them on what they're doing next. At the time of the interview, they were just about to travel to Los Angeles for a double hotel opening of latest projects, Moxy and AC Hotel Downtown, and Glenn tells me about a few other things scheduled into their calendar. "The week before Milan was the Salvatori showroom in Soho in New York, next month we open the Conrad Shenzhen in China, in June we're presenting furniture for a really beautiful Canadian company called Nienkamper where we're doing new chairs and tables, then in September we're presenting our inagural collection with CC-Tapis at the gallery space on the lower level of the Tribeca studio." Pausing momentarily, Glenn double checks with Rowan Thompson, Yabu Pushelberg's Brand Strategist to see if there's anything he's missed off the list and she says, "Something we're really looking forward to coming up in the fall is Aman Residences in Tokyo." "Oh yeah!" Glenn exclaims, "it's the first Aman residence in Tokyo and happens to be the tallest building in the city."
Taking a look at the couple's beginnings (without asking what colour their baby booties were), Glenn tells me that he and George me at university, where they both studied interior design. "We got together a couple of years after school and rented a little space together that we worked out of and it just organically became something – that's how we started. 23 years ago we got a bit bored just living in Canada so we opened an office in New York. That was the big plan, it took us years to make any money, but it changed our lives – we had one project in Canada and 40 everywhere else."
The studio has since built an extraordinary client list, including the likes of Four Seasons, Edition Hotels, Ritz-Carlton, Aman, Park Hyatt, LVMH, Barneys, Carolina Herrera, The Londoner, and Pan Pacific. They have been appointed Officers of the Order of Canada, inducted into the Interior Design Hall of Fame, and named among the world's most influential design studios by numerous media authorities on the subject.
Their forays into building, lighting and product design organically grew as the studio evolved. "Eight or nine years ago we started hiring industrial designers and making products and we realised we were pretty fucking good at it!" Glenn laughs. "So then we hired textile designers and we hired lighting consultants and people with more decorative arts knowledge. We had architects working for us so we thought why not design some buildings?" Leaning forwards he whispers, "We're not architects per se, we don't have that stamp."
"We design things to spark joy, which comes in a variety of forms for us," says George. "With product, we are resolving a problem, likely one we have come across in an interior project. Through interiors, we can pinpoint what is lacking, what could be refined so we can make it better, and what has yet to exist. All our work sits at the same table and creates this ecosystem of thinking that you can see across our work. They all feed into making the other better."
Asking why they think they've been so successful Glenn shrugs his shoulders, "I don't know – because we're funny? We've been surprised with our own success. We understand how to pick up the nuances of a place without just gluing something on a wall and we also have this wealth of experience we can apply to any notion. Whether it's pragmatic or something very ethereal, we can tap into things from the last 40 years and apply that." He adds, "We try to stay young as best we can – in terms of how we think about life – we don't like to repeat ourselves, that's so boring."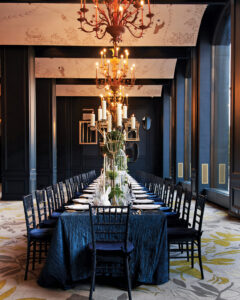 Telling me how they manage to keep their designs so fresh and unique from project to project, Glenn explains that they aim to address any issues with an ideal. "We try to dissolve what the basic issues are into a narrative or a song or something. Sometimes it's based on a metaphor, sometimes on imaginary people." He talks about a fictional character they created for a hotel project in Miami based on the daughter of a Cuban mother, who dreams of a colourful and lively place that is in complete contrast to her own. It's more about providing a narrative to solve the problem – from an emotional level, from a visual level, we actually try to think deeply of what people's needs are and interpret it in a more creative way."
"We are in a constant flow," adds George, "always motioning forward. We lean into our curiosities, not the potential constraints of an outcome. What is the point of thinking you need to work within boundaries when you can be focused on new ideas?"
Alongside the humour and boundless energy, Glenn and George are very conscious and considered individuals who complement each other's talents and style impeccably. "When we started, there were no computers – we had pencils, right?" Says Glenn. "We would do these 3D drawings where George would start at one end and I would start at the other and we'd finish the drawings and it would look like one hand had drawn it all. That was quite interesting, and sweet. We noticed at certain points that we were working really closely together because we wanted to do everything. At some stage we realised I talk too much and would probably be better at the front rather than the back of the studio, but our design opinions are mostly based on strategy and trying to translate what the client is saying to us. We go back and forth sometimes, and we learn from each other. We check each other's work to make sure we have the right tone, how we're talking to people – are we talking too fast, are we being bullies, are we being polite or generous enough."
Glenn references Covid, and how it changed everyone's behaviour towards one another. "Everybody was anxious and thinking fast, and George said to me, which was absolutely true, 'you forgot the graces because of your own anxiety', so we check each other to make sure we're still good citizens.
"We need to ensure we're still watering our flowers – our teams, our people – because I think what's special about us as a company that people don't see is that we have a very tight, wonderful staff. Someone once said, you might not be remembered for your work, but you will certainly be remembered for your generosity to people – and I think that's more important."