Internationally recognised for creating award-winning interior, architecture, and product design, David Collins Studio is a well-known name on the retail, hospitality, and residential design circuit. Sophie Harper caught up with Design Director, Lewis Taylor, to find out more about the studio's work ethic and current projects.
Speaking from the self-built cabin office in his garden, Lewis Taylor joins me via Zoom, hopping from one meeting to another to tell me about all the projects David Collins Studio has been working on recently. "We have our planning and exec meetings on a Monday morning so it's an intense few hours planning the week ahead and next few weeks of deliverables – it snaps you back into the working week quite abruptly!" he laughs.
Over the last few decades, David Collins Studio has worked with some of the biggest brands in retail and hospitality to create iconic luxury spaces centred on detail and useability. Harrods, Alexander McQueen, Mandarin Oriental, Claridge's, Nobu, Gleneagles, Selfridge's, and Jimmy Choo are a mere soupçon of big names on the studio's client list and, as appears to be usual for the team, there's a steady flow of projects and clients keeping everyone busy.
"We're working on the Queen Anne – the next Cunard ship, which is an incredible project for us and we're very excited to see that launch next year," says Lewis. Knowing not to divulge too much information about upcoming projects to a journalist, he hints at a couple of top secret projects, but is able to share news of the team's work on Café de Paris in Monaco, a restaurant project in Waldorf Astoria Chicago, the lodges at Delaire Graff Wine Estate in South Africa, and The Ritz, London.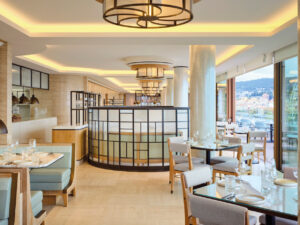 "The Ritz is another incredible project for us to work on – it's such a landmark. Studio Ashby are doing the spa downstairs, PYR are doing the public areas of the existing hotel and we're doing the new entrance, the 'Winter Garden', the Revelry Bar, the lower ground floor areas of William Kent House, and the rooftop apartment as well – it's a once in a lifetime project," he says, beaming.
In the last year, the studio has celebrated the completion of some pretty noteworthy projects too. From redesigning the guest rooms and suites at Beverly Wilshire, A Four Seasons Hotel in Los Angeles, to coming up with the F&B concept and delivery of Scarpetta at Waldorf Astoria Lusail, Doha (check out the review on page 54), the beautifully seductive Velvet at Corinthia London, and the public areas and F&B rooftop spaces at Anantara Plaza Nice Hotel. "We've had lots going on," he says, "it's a nice time of year where we have lots of things finishing up and lots of things starting, so it's an exciting time for us."
We talk about the team dynamic at David Collins Studio and how a collaborative approach, rather than anyone pulling rank works well for the whole studio. Lewis tells me one of the best things about the team is everyone's enthusiasm for their work. "It's a reasonably small team so we keep busy, but the energy and excitement everyone has is quite contagious," he says. "Day-to-day we are very hands-on, the concept generation is one of the most enjoyable parts of the process. Simon [Simon Rawlings, Creative Director] is very involved in the initial vision of the project and then Ros [Ros Keet, Design Director] and myself will really develop that concept into the final visuals which are then presented to the client. We're involved through the whole project lifespan, so we'll oversee the concept and make sure it matches the vision that Simon has given it. We're involved in the quality control during the drawing phases, video implementation phases, site visits, and coordinating different artisans and artists, and then there's handover, which is an exciting part of the project where you see it come to life and you can add those finishing touches. There are a couple of photoshoots this year where we get to do a few final bits of styling and I'll direct the photoshoot, which is great – I love being so hands-on."
Lewis tells me that the studio doesn't really take trends into account when thinking up new design schemes, instead preferring a bespoke approach in order that each project feels unique and true to self. "One of the things we try to do in all of our projects – without wanting to sound too cliché – is create a sense of place to make sure everything 'fits'. You don't want a really contemporary concept forced into a stately home. Our designs have to fit with the building as well as with the local environment, and we're so often inspired by that local environment before we start the project." He gives the example of choosing a pale cashmere to wrap one of the bars at Gleneagles in Scotland, which reflected the heather in the fields outside. "I think when the design is inspired by the location there's more authenticity to the feel of the project, which is important, that's where we try to use local artists and craftspeople, too."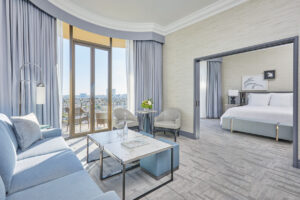 Avoiding online influences, Lewis tells me how the studio has its own resources. "For every project we always look back before we look forward. There's always a starting point or point of reference we go to: archives for details, materials, there's always something to springboard from that's imbedded in the DNA of the project – we look at brand archives, the building's heritage. In the studio we have an incredible archive of old books and auction catalogues, which are incredible because they're filled with original photos of each piece – you just can't get that sort of stuff on Pinterest or Instagram – they're incredible one-off pieces and so we've got shelves and shelves full of 30 years' worth of auction catalogues and they're so inspiring. We purposely tell people not to look on Pinterest because the images are recycled and we're looking for originality, which also helps a project stand the test of time rather than falling victim to trends."
"One of the changes over recent years is that people are a lot more informed, or at least they think they are! Everyone has so much more information available to them now, they've seen more, things are more recognisable. For instance, if someone goes to Nobu [Portman Square] and takes a picture of their food on top of the green veneered tables, it's instantly recognisable. With the Plaza Hotel we finished in Nice last year, we used wallpaper underneath the glass tabletops, so there's this really beautiful selection of hand painted patterns with mother of pearl inlays, which is quite recognisable. Some clients want a big Instagram moment in their schemes (which we're trying to move away from), but we certainly put in those extra details that make a project instantly recognisable."
The team has a number of suppliers they like working with, Lewis tells me, but they're also always on the lookout for up-and-coming brands and individuals. "We do have a little black book of people we like to collaborate with, but because of social media and the like, your little black book is never really that secret! We have a number of incredible suppliers we've worked with for a number of years but we also love working with emerging artists." Lewis uses Evan Black's revolving sculpture in Nobu Portman Square as an example. "It was his biggest commission at the time, and it was incredible to work with him – the mix of established and emerging artists is really exciting. At Velvet we used a fashion illustrator called Robson Stannard for the artwork, again it was one of his biggest commissions, and it was perfect for the scheme."
I asked Lewis about the biggest influences to design he's witnessed over the duration of his career, and inevitably we start talking about sustainability. "Sustainability is something we've always been conscious of, but in the last five years it's certainly been at the forefront of all our minds," he tells me. "We carried out a study which found the average length of one of our projects was 17 years, which compared to the majority of hospitality projects, (which average around five years) makes us very proud. The longevity of our projects comes down to not designing for trends and using the most appropriate materials. Sometimes those materials have an initial higher cost, but if you invest in the quality of materials then they should get better with age, not worse."
The studio tries to do as much internally as possible, scrutinising their own energy consumption, material sourcing, and air miles. "We work with a company called What's Sustainability, who come in and audit us, which is really interesting when you have all that information. We have less control over external work but we're looking at specifying more and more sustainable products and ask that materials come from sustainable sources."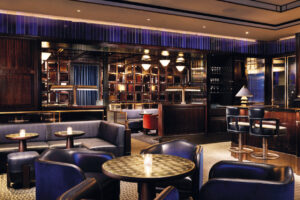 David Collins Studio is also a member of Walpole, a collective of British luxury brands that promote idea sharing and promotion. "We're part of their sustainability workshop group and we meet every couple of months to talk about the things we're doing. We meet with other Walpole members like Harrods, Selfridges, Fortnum & Mason – it's a great network. No one has all the answers yet and we're only going to make progress if everyone shares the things they're doing. We're also part of the Positive Luxury Group, which has a similar accreditation to BCORP where you're scored on various different things: social responsibility, environmental impact, sustainability, all sorts of aspects and you have to reach a certain score to get accreditation, which we should get later this year. It's a very complex area, but we are definitely making steps in the right direction."
One of the most striking things about Lewis during our conversation, is his genuine love for his work – he smiles so broadly whenever he talks about each project, and he tells me he knows how lucky he is. Lewis studied furniture and product design at De Montford University and landed a job at David Collins Studio when he was spotted showing off his work at London's graduate design show, New Designers. He worked as a part-time furniture designer for David Collins whilst doing his Masters at The Royal College of Art and says he was always so grateful for David's support. "That was 16 years ago and I've been with David Collins Studio ever since, from a furniture designer to Design Director now. I worked with David for eight years before he passed away and learnt an incredible amount from him. David was involved in every project, he had a reputation for being a little bit fiery but once you earnt his respect working with him was a real collaboration and everything was up for discussion," which Lewis says is still very much at the core of the studio's ethos.
"The senior team at the studio have all been here longer than I have – not that I'm trying to make them sound old," he grins. "We all earned our stripes under David in order to be able to move forwards and be where we are today. We work on such a variety of projects, and each is better than the last: you're always thinking, 'right, this has to be the pinnacle', but then the next one comes along and you're blown away by it, so there's that continual excitement. You could be working on the Queen Anne for Cunard one minute then you're doing a winery in South Africa or working on a residential project in Hong Kong – it's so different all the time."
"Iain Watson is a great CEO looking to push the cultural aspect of the studio in terms of building a really strong and positive internal culture and really investing in people – offering personal development funds, we've got a thing called 'Off Grid' where we'll go to exhibitions and gallery openings together, we'll take pottery classes, lampshade making classes together, we've done a trapeze class – all sorts of things that just inspire people and builds a nice community for the team. It's really an amazing place to work."