Co-CEOs Sharan Pasricha and Gaurav Bhushan of Ennismore speak to Can Faik about the exciting future of the Ennismore brand –
Ennismore is a creative hospitality company rooted in culture and community, with a global portfolio of entrepreneurial and founder-built brands with purpose at their heart. Founded in 2011 by entrepreneur Sharan Pasricha, Ennismore and Accor entered a joint venture in 2021, creating the world's fastest-growing lifestyle hospitality company and bringing together an unrivalled portfolio of global brands – with Ennismore's know-how in building brands with creative storytelling, design, and authentic experiences, and Accor's wealth of knowledge in delivering scale, network growth and distribution. Under the leadership of Sharan and co-CEO Gaurav Bhushan, Ennismore comprises 14 hotel and co-working brands and a collection of over 150 culturally relevant and diverse restaurants and nightlife destinations. 
What does your current position involve?
SP: As co-CEOs we lead the business together on all strategic decisions, then we both lead on different areas based on our own strengths. I oversee everything our guests touch and feel, from programming our spaces to F&B concept development, design, brand, culture and digital, whilst Gaurav leads on the operations, finance, development and talent.
GB: Our skills and experience complement each other perfectly, which is why this partnership makes so much sense. We have a shared vision of what lifestyle hospitality is and how we can drive Ennismore forward together, whilst having the focus on our own parts of the business.
What is Ennismore's key strength?
SP: Ennismore has a proven track record for building well-respected brands with purpose. We've always been about fast growth, and now, in this new chapter, there's huge potential to scale across markets and build on our brands. Authenticity is key to our success, and front of mind as we scale. What makes us unique is that each of our brands have dedicated teams behind them and will be marketed and developed individually, and the founders of several of our brands remain on board to help drive and direct the journey, and ensure each brand retains its strong culture and purpose.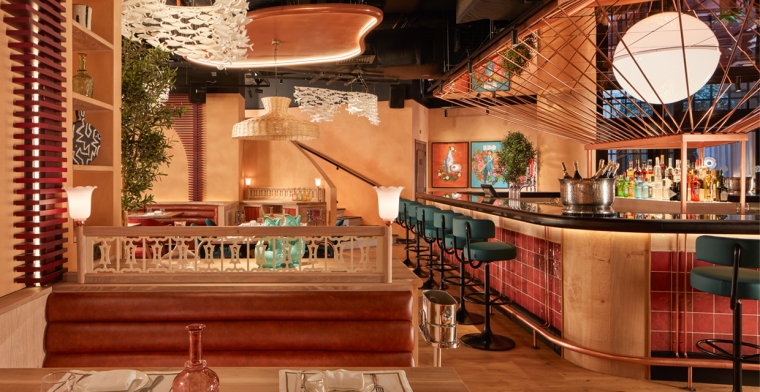 Bibo, Shoreditch
What are the biggest challenges you're facing?
GB: The pandemic forced us all to shift our ways of thinking, as well as our resources and team structures, and our own expectations of what guests want from us and our brands. Responding to those changes is key for each of our brands to stay relevant and front of mind.
How do you think people's expectations of lifestyle hotels are changing?
SP: Lifestyle hotels have always been a bit of a buzzword, like 'boutique hotels' or 'design hotels' – but I think now there's more brands in the space that have substance and style, and yes, guests expect them to be much more than just a bed for the night.
Lifestyle hospitality is the fastest-growing segment of the industry, and the one that's bounced back fastest from the pandemic. People are craving memorable experiences more than ever, and after two years of lockdowns and restrictions, they want and expect more from hotels. For us, the focus on lifestyle is the brand experience – and that starts online, well before checking-in – and fostering like-minded and engaged audiences. For Ennismore, it means hotels which play an active role in driving culture and community and have audiences who share and identify with similar values to the brands themselves.
GB: Travellers are savvier than ever and know what feels authentic and what doesn't. Within Ennismore, each of our brands tells a different story and is marketed as a standalone brand.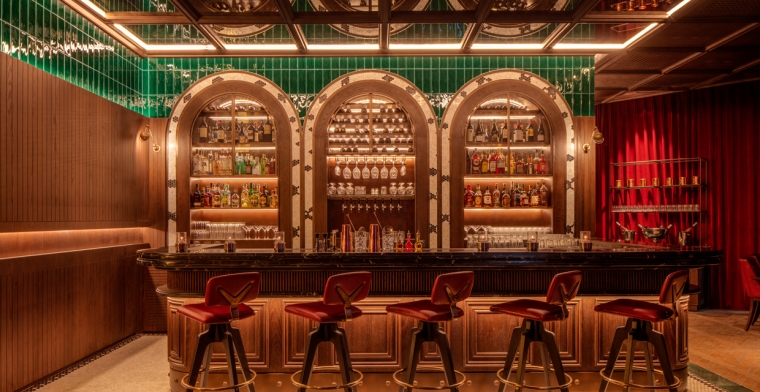 Hudson Tavern, Hyde Dubai 
What role does Middle East and Africa play in Ennismore's international growth?
GB: The Middle East is an area that excites us both – there is so much potential, especially for lifestyle brands. We currently have four properties in the region – with SLS, 25hours, Mondrian and Hyde – and a further five in the pipeline. We're proud to be some of the first lifestyle brands to enter the Middle East, and bring a completely new type of experience from what's already in the market. We have some exciting plans for the Middle East. In terms of Africa, we're exploring what is possible, but at the moment we don't have any operating or pipeline properties.
How important is interior design within your hotels?
SP: Interior design has and always will be a huge part of our brands. We have a creative studio made up of interior and graphic designers who obsess over every touchpoint and item within a hotel. Great design is a huge passion of mine, and a huge part of the experience. The focus among our brands is always on comfort and function, whilst being beautifully designed and curated.
What trends have you noticed in hotel interior design?
SP: We try to avoid following trends, in order to ensure our hotels stay as evergreen as possible. There are some aspects we know guests and brand fans love to see, like statement headboards, beautiful bathrooms and great mirrors, so they're often something our design studio does incorporate. With The Hoxton, our spaces are heavily influenced by the neighbourhoods and the buildings they're in. At Mama, we're a bit more playful and fun, and colour definitely comes into play.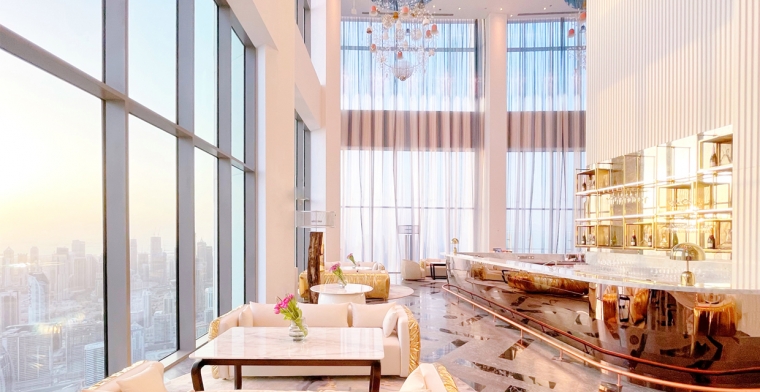 SLS Dubai 
Do you have a trademark that you impose on your hotels?
SP: We don't have trademarks as such, but there are certainly signature elements in our hotels that guests can expect in each location: at 25hours, you'll always find a retail kiosk; at The Hoxton, you'll find statement headboards, mini-fridges that can be filled with beers and wines from the Hox Shop, and Blank toiletries in the bathrooms; at Mama you'll always find a rooftop and arcade games; at 21c you'll find a museum exhibition space; and at TRIBE you'll always find a grab-and-go food outlet.
What's one unexpected shift you've seen in guest expectations or demands in the last five years?
SP: The pandemic flipped everything on its head and forced us to think differently and shift our ways of working, as well as assess our resources, teams and structures, and our own expectations of what guests want from us and our brands.
Guests are definitely holding brands more accountable these days. They want to align and engage with their values, and feel part of the collective experience, and that means there's a greater importance than ever to know what you stand for and what people value you for.
Would Ennismore ever consider getting into home sharing?
GB: We've got our eye on how it's developing, but it's not something we're actively exploring. Of course, as well as hotels, restaurants and bars and co-working, our collective also includes branded residences – for example, SLS and Mondrian – which we will continue to grow in markets where there is demand and it makes sense for the brands.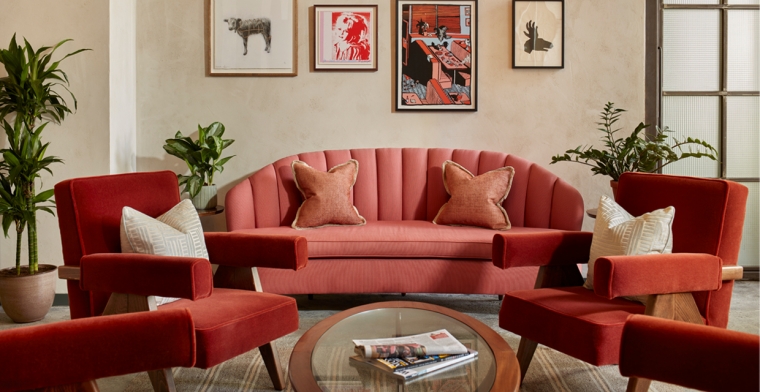 The Hoxton, Holborn
How do you think new technology affects the luxury traveller, and could do in the future?
SP: Travellers are more tapped in and online than ever before. With social media and the rise of video, everything is reported in real time and more people have a lens into. We're also reviewing how technology can weave into the guest journey and improve every step – from booking, checking in, ordering at the table and checking out. Technology can certainly help enhance the guest experience – who knows, you might be checking into one of our hotels in the metaverse soon –
What does this mean for the future of hospitality?
GB: The future needs to be a good balance between high touch and high experience, and you can't do that without people. Hospitality is a people business, and whilst technology is a crucial enabler to enhance the guest experience, and can effectively improve the guest journey, it cannot replace the touch and feel of real human interaction.
What projects do you have coming up in 2022/23?
GB: The pipeline for the next few years is pretty solid. We have over 167 hotels in the pipeline, with nearly 30 properties opening this year alone, including: 25hours Dubai, which has already opened, and Copenhagen opening very soon; the inaugural Maison Delano opening in Paris; The Hoxton, Barcelona; SLS Puerto Madero, Argentina; Mondrian Singapore Duxton; and TRIBE Phnom Penh Post Office Square. And, with lifestyle bouncing back from the pandemic quicker, we're seeing strong demand for our brands in all regions.
If you could go back in time, what's one piece of advice you would give yourself 10 years ago?
SP: If there is ever a global pandemic forcing people to stay indoors, borders to shut and hotel revenue to decline to zero, keep calm and carry on! 
GB: Take more risk. Be bolder.
Please share something exclusive we can expect from Ennismore in the coming years – maybe a new opening?
GB: Now that would be telling! I think we have some exciting projects coming in the next few years, with some of the brands doing something a little unexpected.
How do you envision Ennismore's future?
GB: Ennismore is on a mission to be the most exciting hospitality company out there, and our five-year strategy is already very exciting. Growth is a key focus, and we look forward to building on the strong footprint we have in both Europe and the US, along with a rapidly expanding presence in Asia-Pacific, the Middle East and South America.
SP: Ennismore has always done things a little differently, and there will be plenty of innovations and exciting moments to come, to ensure we always stand out!
What would be your dream hotel project?
SP: For me it would be Hox on the slopes. Think mountain chalet, fondue and après-ski, all with a Hoxton twist!