Radisson Hotel Group is one of the world's largest hotel groups with seven distinctive hotel brands, and more than 1,400 hotels in operation and under development around the world. Radisson Hotel Group's portfolio includes Radisson Collection, Radisson Blu, Radisson, Radisson RED, Park Plaza, Park Inn by Radisson and Country Inn & Suites by Radisson.
What was your background prior to working for Radisson Hotel Group?
I have been with Radisson Hotel Group (formerly Carlson Rezidor Hotel Group) since 2003 and in 2017 was appointed Area Senior Vice President for the Middle East & Africa.  
I began my career in the UK as General Manager at the Radisson Blu Hotel, Manchester Airport which, at the time was Rezidor's largest hotel in the UK and where I positioned the hotel in Rezidor's top 20 performing hotels worldwide.  I then held leadership positions in two of the group's key properties in London, Radisson Blu Portman Hotel and Radisson Blu Hotel Stansted Airport. 
I briefly left the group to become General Manager of the Cumberland Hotel in London, before returning as the General Manager of the Radisson Blu Hotel, Dubai Deira Creek. In 2015, I was then promoted to Regional Director Middle East & Turkey.
What does your current position involve?
Based in Dubai, I am responsible for leading hotel operations and delivering business growth and profit across the group's largest area in EMEA, with over 100 hotels in operation and over 80 hotel projects in the development pipeline. I have been fortunate to work with inspiring leaders and mentors to build a strong level of local knowledge, skills and experience, which are critical to Radisson Hotel Group's expansion plans and strategic operations across the Middle East and Africa.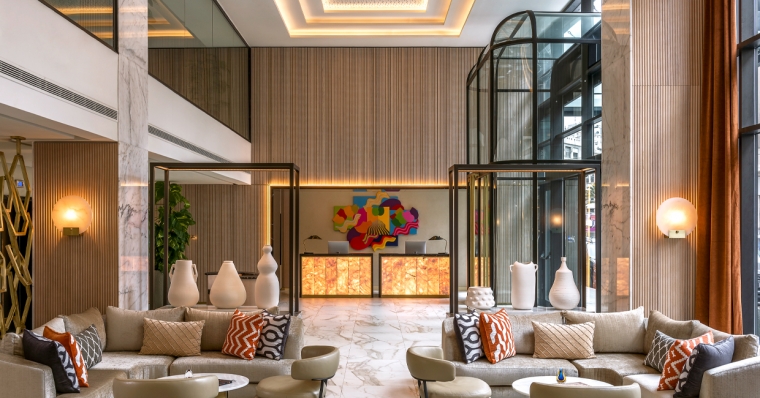 What do you love most about what you do?
I enjoy working with and supporting the teams across a diverse geographical area and the variety of the role.  Seeing people succeed and grow is one of the key reasons I work in hospitality and I'm delighted that my current role allows me to continue to do that. The variety of the area also gives me a real buzz – from Dubai to Cape Town, Lagos and Marrakesh, such rich cultural differences and each with their own incredible stories.
It's a difficult time for the hospitality industry. What do you think will be the hospitality sectors biggest challenge post COVID?
I think the biggest priority for hospitality brands is to ensure the health and safety of guests without compromising the guest experience. While location and experiences used to be the main deciding factor, consumers also want to be reassured that hotels are taking their health and safety seriously. At the same time, consumers still want to enjoy their holiday. For certain travellers, travelling itself might be a concern, so by the time they walk through our doors, we want them to feel reassured that they can enjoy their travel experience from check-in to check-out and won't have to worry. That is why Radisson Hotel Group launched their global Radisson Hotels Safety Protocol which includes a comprehensive 20-Step Protocol in addition to a 10-Step Protocol for Meetings & Events which hotels are implementing around the world.
How is the Radisson Hotel Group planning to 'hit the ground running' again in the coming months? Do you have any new project ideas in the pipeline?
We have had a busy start to 2020. While these have been challenging times, we are pushing forward with our hotel plans including our development plans. Radisson Hotel Group recently announced x15 new signings in EMEA in Q2, seven of which fall in our region. Africa is a strong focus for our development plans, and we are pleased to sign these hotels and further strengthen our positioning in Africa and Middle East.
What do you think will be the biggest change in how you do your job post-COVID-19?
While we all would like a speedy recovery, I think the global hospitality industry will still face uncertain times until medical innovations are able to mitigate some of the fluctuating circumstances. Every day is a new challenge but COVID-19 has also taught us the importance of communications – internally with our guests, team members with our partners and locally. Being able to swiftly adapt, respond and implement will be key moving forward.
What services can you offer to guests without little interaction at these times now?
In May, we launched the Radisson Hotels Safety Protocol which is a new program of in-depth cleanliness and disinfection procedures, in partnership with SGS, the world's leading inspection, verification, testing and certification company.
These guidelines include hand sanitizing stations at all entrances, express check-out process available for guests to minimise contact, cash-free methods of payments available and encouraged, the use of Personal Protective Equipment (PPE) and protective screens, enhanced and recorded cleaning and disinfection frequency, social distancing in all areas of its hotels, including in the Meeting & Event facilities, training in local, Centers for Disease Control, or World Health Organization recommendations and health guidelines, reiteration of food safety standards and comprehensive staff training.
What's one unexpected shift that you've seen in guest expectations or demands in the last five to ten years?
One noticeable shift in guest expectations is the focus on experiences. The unique selling points of a hotel no longer focus solely on location, it focuses on the type of experience the guest will receive when staying at the hotel. This is the reason we have adapted our philosophy to ensure that Every Moment Matters for our guests, to ensure our guests have the best experience.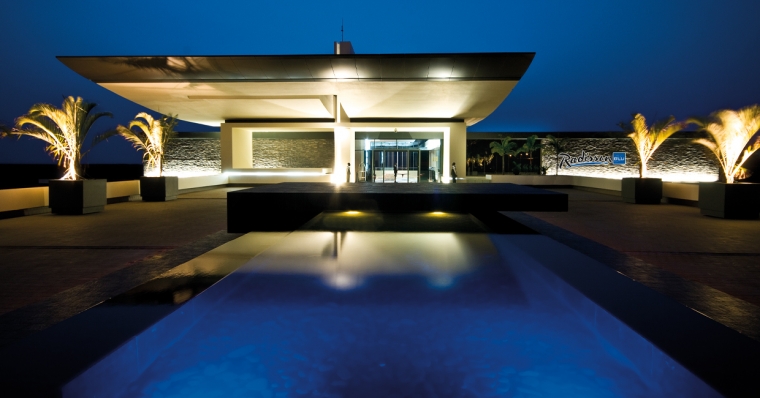 Do you think there is a difference in tone and texture between ideas of hospitality in the Middle East and Europe?
Trends are always changing, and I think the Middle East looks in part to Europe for wider hospitality trends but then brings them back and localises them with the unique Middle Eastern charm. In terms of a design aesthetic, our brands place quite a strong focus on locality in order to ensure our guests experience the destination authentically. With regards to hospitality, across the globe, our teams bring to life the group's renowned Yes I Can! service philosophy, which ensures the highest level of hospitality, no matter the geography.
What role does the Middle East and Africa play in Radisson Hotel Group's international growth?
The Middle East and Africa are two key regions for our ambitious development plan. We recently announced the appointment of Ramsay Rankoussi as the new Vice President, Development, Africa and Turkey and Daniel Trappler, Senior Director, Development for Sub-Sahara, as we continue to increase our presence in Africa. We also announced the signing of seven new hotels in the Middle East and Africa which brings the total to almost 100 hotels across 32 African markets and our UAE portfolio to 24 hotels in operation and under development.
How important is interior design within your hotels?
Design plays a key element in each of our hotels. For example, the Radisson Blu Hotel, Casablanca City Center has a unique artistic and modern design. The art-oriented hotel also houses an exceptional, permanent art exhibition by Moroccan modernist artist, Mohamed Melehi, whose paintings are famously characterised by a kaleidoscope of colour. We believe the aesthetic of the hotel plays a key role in the guest experience and therefore place quite a strong focus on the interior design, from construction to and throughout operation.
Have you noticed any particular trends in interior design?
Two particular trends in interior design is creating a sense of place by drawing inspiration of the city and location and weaving this into the design and aesthetic. In addition, sourcing locally, for example by exhibiting local artistry is another way locality is currently achieved.  The second trend is the increase in technology within every space all with the purpose to create convenience for the guest.
What are the key components of luxury and luxury design?
The key component with luxury remains the use of the highest quality elements and this is relevant for every aspect of luxury from design and apparel to cuisine.
How do you think people's expectations of luxury hotels are changing?
We've noticed an increased expectancy of personalisation, now more than ever, paying attention to every detail and tailoring it according to the guest's preference. With luxury hotels, this is more pertinent as the personalisation becomes a requirement.
How do you think the influence of new technology affects the traveller now and in the future?
Technology most certainly influences the guest experience, especially for travellers with a millennial mindset, who need to remain connected and rely on technology for its convenience.
What does this mean for the future of hospitality?
For the hospitality industry, it means that as hoteliers, we need to always be aware of our guests ever-changing needs, especially in relation to technology and how it is being utilised. It is then pertinent to take this insight and adapt accordingly to cater for our guests as their expectations and needs as travellers shift.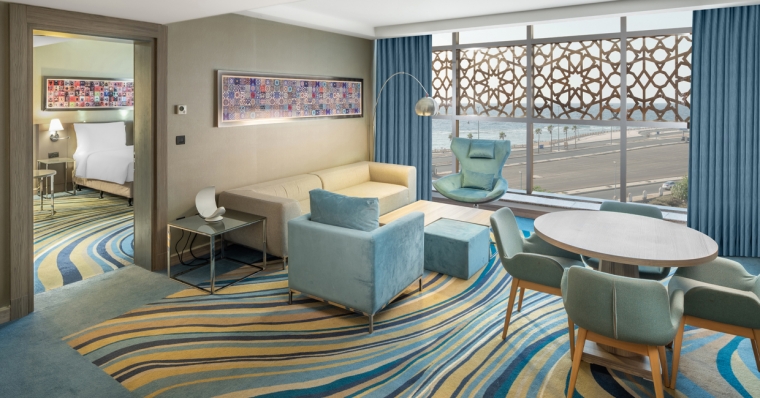 What plans and aspirations do you have for Radisson Hotel Group?
Radisson Hotel Group recently announced 15 new hotel signings across EMEA in Q2 2020. The new signings re-affirm the Group's commitment to our ambitious 5-year development plan. Radisson Hotel Group continues to expand its new brand architecture and further strengthen its presence across EMEA. My plan and ambitions are to ensure we are top of mind to our guests, team members, owners, and partners, especially as we continue to expand across the region.
Tell me something exclusive which we can expect from Radisson Hotel Group in the coming years, maybe a new opening?
We have a number of new openings lined up across Middle East and Africa which include our entry into new markets, the introduction of additional brands within the territories we are present in and establishing scaled growth in our key regions. We are continuing to expand rapidly across the region with ambitious plans, such as reaching 150 hotels in operation and under development in Africa within the next five years.
What would be your dream hotel project?
Well I love cycling so I guess a small hotel in the mountains somewhere beautiful that caters to all types of cyclists!
What would you say are the three best places you've ever stayed?
I love the outdoors, so my best stays usually involve a tent!  Not very luxurious but the simplicity, peace and quiet appeal to me.  I also love Greece for its natural beauty, lifestyle and amazing history.
Let's finish with the issue of personal and work life balance. How do you aim to achieve a good balance and what do those closest to you think of your attempts?
I do work hard to find the right balance. It's not easy and I'm not always successful, I think my wife would say that I try hard but probably only score me a 7 out of ten. The best approach I find is that if a quiet day comes up in the office, don't feel guilty about taking the kids out for the afternoon, there will very soon be a 5am flight to catch.
Lastly, share some good news! Have you done anything to stay busy in these crazy times?
I spent some time improving my Greek, a language that I have been trying to master for a few years and I also put some hours in on my old car which is in constant need of repair.