Consistent with Astro's creative ethos – good design demands simplicity – the new matt black bathroom collection elevates Astro's offering to present an edit of classic yet contemporary luminaires.
Applied to existing collections and new season innovations, the tactile matt black finish has been carefully created to allow each light to stand alone and be a supporting player within well-established designs.
Reflecting the essential role lighting design plays within residential and hospitality settings, tone and texture were key in establishing a finish that sustained the credentials of an Astro product.
 "Light is often not looked upon for its essential human need," comments James Bassant, co-founder and design director. "Today, it provides a form of creative expression, using materials, colour and texture to create both experience and function.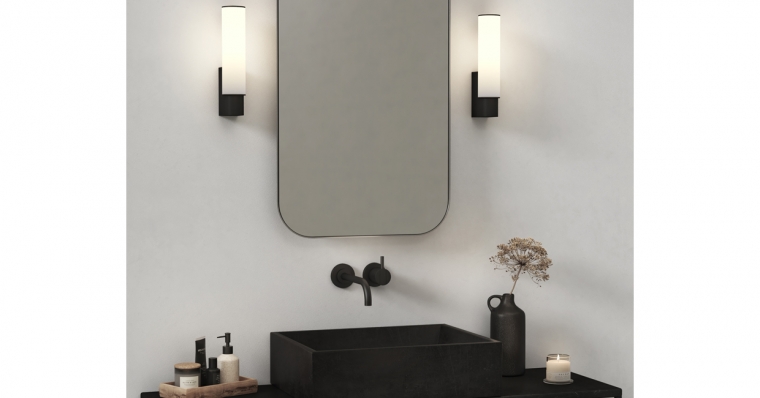 "With an Astro design, neither the light nor its physical form is compromised. We create strikingly beautiful luminaires that act as seamless vectors for what is, in its pure form, light. Our latest matt black collection epitomises this concept, delivering well-designed lighting that is both bold in design and illumination."
As the latest finish within the portfolio, matt black now adorns many of Astro's most popular products. Mascali, Epsilon and Kappa designs are now available in matt black and feature streamlined silhouettes that complement surrounding architecture and provide essential illumination in minimalist form.
Taken as an opportunity to revive legacy designs for contemporary interiors, the new collection also welcomes updates to Sagara and Kyoto, spherical and cylindrical shapes that present a modern approach to essential bathroom lighting.
For added drama, Astro presents a new season design in matt black – Tacoma and Tacoma Twin. Best paired with either a ribbed or smoked glass shade, the statuesque metal stem injects gothic style with a contemporary twist.