Astro Lighting has launched its first ever capsule collection of design-led, limited edition pieces.
Consistent with Astro's creative ethos, that good design demands simplicity, the Capsule Collection Volume 01 focuses on precision and restraint to transcend seasons and trends by being functional yet beautiful.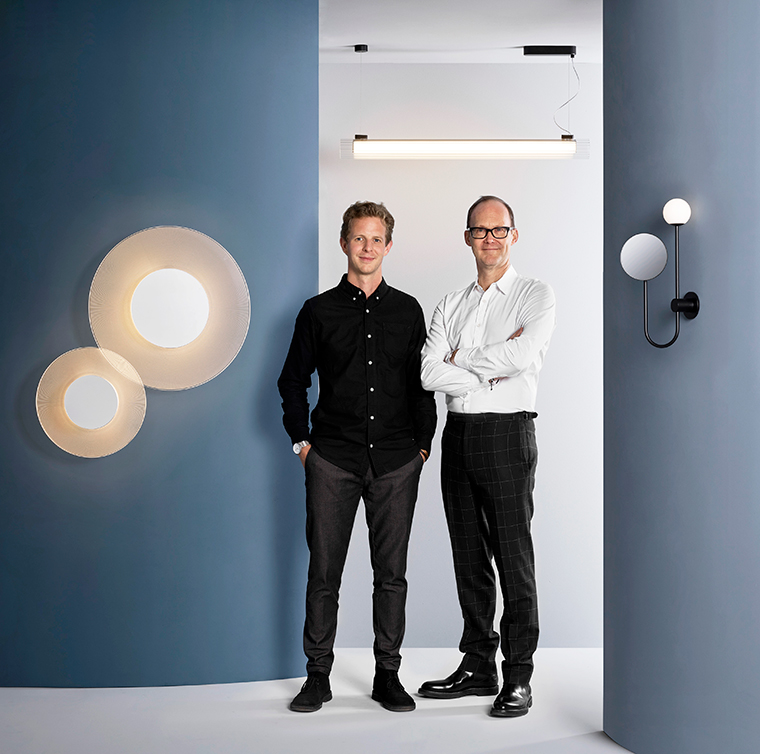 Above: Astro Lighting, Capsule Collection Volume 01 – (l-r) Halftone, io Pendant, Orb (with Riley left and James right)
Created by co-founder and design director James Bassant and senior designer Riley Sanders, the collection's three products – the Orb, io Pendant and Halftone – are designed to stand out, but also stand the test of time.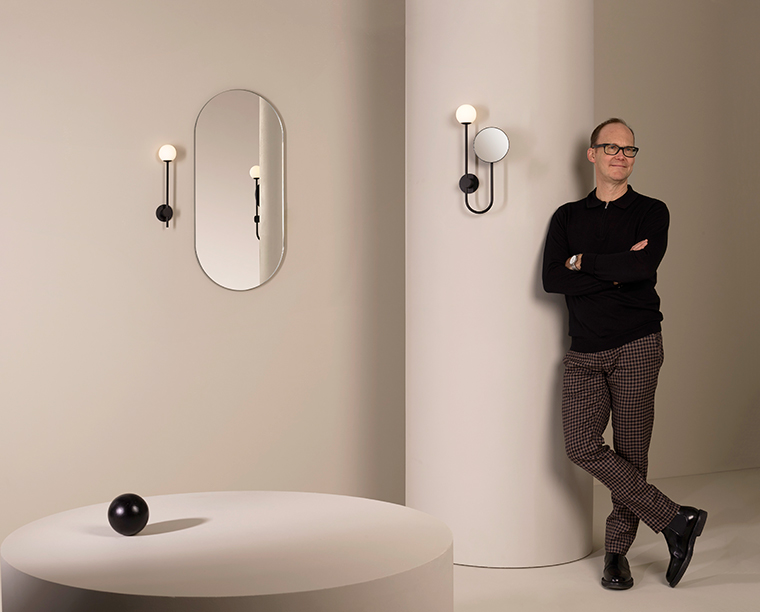 The Orb and Orb Single designed by Astro Lighting's co-founder and Design Director, James Bassant
Inspired by the mechanical perfection of an orrery, the Orb light presents an illuminated spherical ball, with a fully adjustable and magnifying mirror that 'orbits' around the luminaire at its centre.
The delicate moving parts are robust but with a sense of lightness, masking a complex engineering solution behind its simplicity. Primarily designed to be positioned alongside a bathroom mirror, the Orb provides useful task lighting with an appreciable sense of design, and can be partnered with the single Orb light.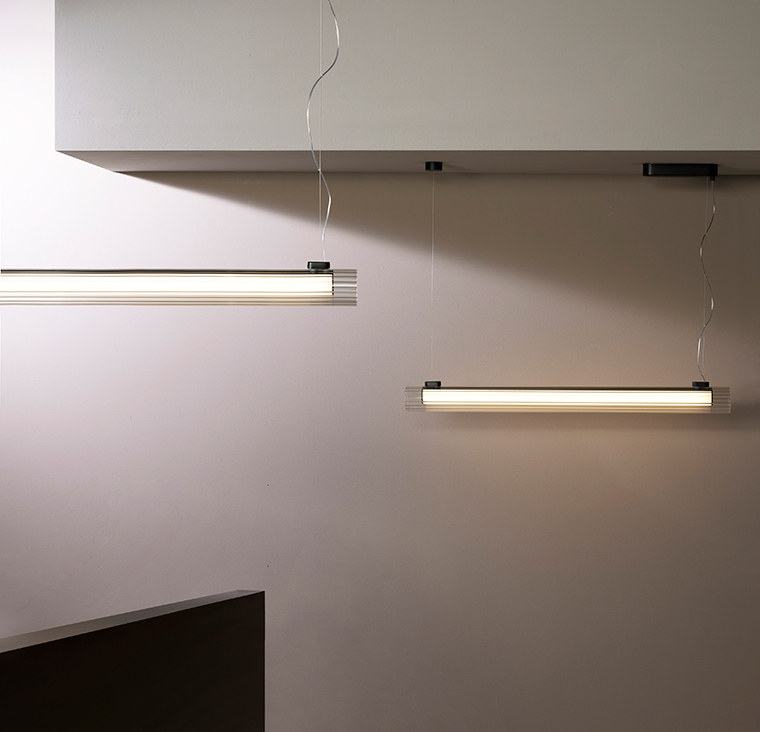 The io Pendant light, designed by Astro Lighting's Senior Designer, Riley Sanders
The io Pendant light takes inspiration from the fluted detailing of the ancient Greek Ionic pillars. Using the unique production process of gravity-fed glass extrusion, io Pendant takes a circular 2D design and extrudes the glass downwards to create a perfectly ribbed cylindrical form.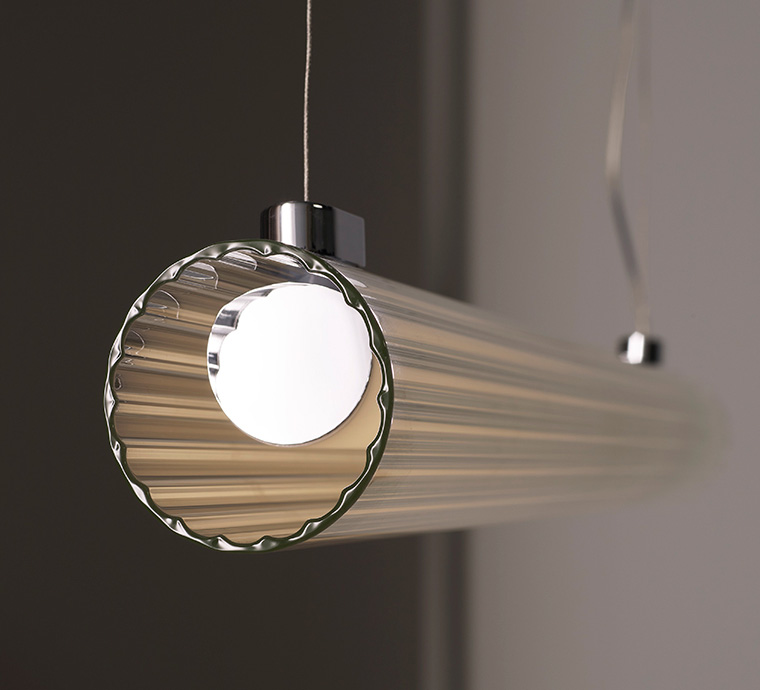 The luminaire's components are discreetly hidden, where the glass plays the leading role, allowing the light to subtly reflect and refract. Handcrafted to the highest quality, with no detail spared, the delicacy of the glass adds a real sense of luxury to any interior.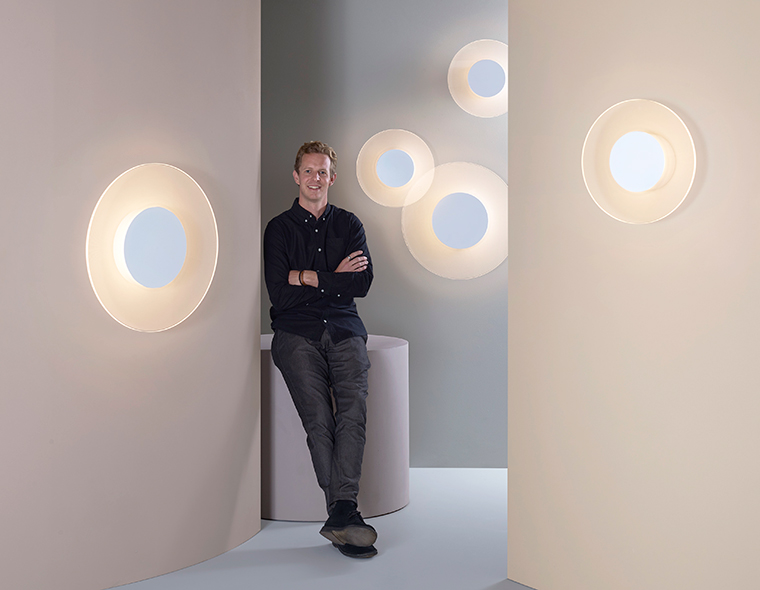 The Halftone wall light, designed by Astro Lighting's Senior Designer, Riley Sanders
A fusion between art, technology and science, the Halftone wall light focuses on the simple form of a circle with an engaging etched pattern on a translucent, clear acrylic. Its subtle, gradient etched pattern begins from the edge of the disc and increases with intensity, creating a vivid ring of light. The transparency of the acrylic allows the wall to still be visible, both when the light is switched on or off.
Designed in two sizes and depths, Halftone can be layered to produce more intense and striking illumination that will add interest to the surrounding architecture.