Gaia (meaning Mother Earth) is the latest collection of upholstery fabrics to be added into the Skopos portfolio. 73% recycled polypropylene (from recycled textiles) and 27% recycled polyester (post-consumer waste), Gaia offers a sustainable hardwearing solution which supports a future vision for interior textiles, which are environmentally conscious. A soft, textured upholstery boucle, offered in a sophisticated, muted, earthy palette, each of the 21 skus includes dapples of complimentary tones to give a grainy, organic, wool look to the quality.
With Crib 5 cotton backing for full flame retardancy, Gaia backing is halogen free. Gaia performs to 50,000 Martindale rubs, perfect for hospitality and leisure interiors and meets the standard set for severe contract use for commercial furniture. Gaia also performs to the requirements for IMO and carries the MED Wheelmark, confirming suitability for Marine/ Cruise interior environments.
Supporting Skopos' commitment to become 'Carbon Neutral' in 2023, Gaia is one of many new Skopos collections where the focus will be centred around positive environmental footsteps: Rethink, Renew, Reuse. Available immediately, with short lead-times for larger order quantities, Skopos are pleased to add this collection into their Accents range.
Rethink, Renew, Reuse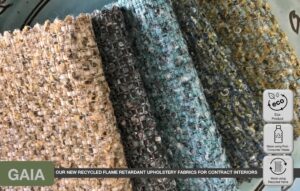 For a copy of our Gaia shade-card pls contact our customer service team: [email protected], …or for free samples of Gaia or any of our collections, visit our website: skoposfabrics.com