Luxurious engineered wood flooring is seen in opulent locations around the world, offering a connection to the outdoors. A bespoke floor from Woodworks leaves many intriguing questions for guests as the defined details provide a timeless look, whilst the quality has the longevity that will sit in a space looking tremendous for years to come.
An example of this is the work done alongside Corinthia London. Considered the ultimate 21st Century Grand Hotel, the Corinthia London is one of the top luxury hotels in the capital. The award winning hotel boasts 294 rooms and suites, as well as 7 exclusive penthouses showcasing individual interior styling and featuring handmade Woodworks wood floors, each as bespoke as the rooms they occupy.
During the hotel's modern refurbishment in 2011, we were approached by experienced interior designers GA Design to bring our artisan flooring into many of the penthouse suites.
Requiring something truly special and individual for these sought-after spaces, our team worked especially closely with the designers to craft bespoke finishes for the Musician's Suite, Actor's Suite, Inventor's Suite, Politician's suite and Royal Suite.
Each room had a different Woodworks design at heart, including Herringbone, End Grain and our own Parquet de Versailles which matches element to element throughout the entire floor – a design exclusively registered to Woodworks that cannot be replicated by any other manufacturer.
Espresso is just one floor used in this project and matches modern design benefits with artisan techniques. A double fumed floor, Espresso has smoky, rich tones and a distinctive grain. Each block is defined by a micro bevel edge, for a contemporary look. www.tedtodd.co.uk/product/espresso/
Our skilled craftspeople also created flooring for the five-storey spa area, spanning treatment rooms, a relaxation area and gymnasium. In these relaxation spaces the natural beauty of the wood links clients back to the natural world and demonstrates the versatility of wood in hospitality interiors.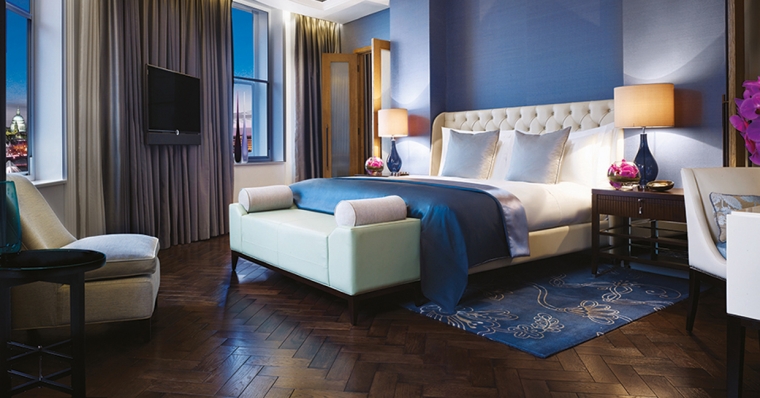 The brief was also to create custom stair treads and risers, which complemented both the flooring and the traditional features of the hotel.
By using our bespoke flooring service, our clients can experiment with pattern, scale, grade, texture, edge details, tone, finish and more to create a unique wood floor that you won't find anywhere else, just as GA Design did for the Corinthia Hotel.
Our bespoke floors not only allow you create your wood floor vision down to the smallest detail, but the variety of handcrafting techniques used in our Cheshire workshops means your end result matches your specification perfectly. You can also use this service to create complementing architectural details.
Decades of experience shows us the importance of understanding each project's individual requirements – we always work incredibly close with our clients to bring your extraordinary vision to life, on time and your unique requirement regardless of the complexity.
The hotel has since been renovated in 2015 and 2018, with updated wallpapering and soft furnishings. The Woodworks wood flooring, however, has remained, and still grants a luxurious feel at the heart of the penthouses and leisure areas. A true testament to the enduring properties and appeal of wood floors, and the longevity of their presence even in busy commercial environments.
The high quality result of this project has won multiple awards including refurbishment of the year. Find out how to get your own stunning Woodworks floor here: