Leading luxury linen supplier, Tradelinens, has been named as the official linen partner for the soon to open Chateau Denmark, on London's famous Denmark Street. Tradelinens, known for its quality and expertise in supplying leading five-star hotels across the world, has curated a made to order bedding and accessory collection.
"It has been an absolute pleasure working so closely with the team at CAW Ventures, the operational team behind Chateau Denmark on such an innovative project," comments Tracey Read, Head of New Business at Tradelinens. "We took our time to understand the vision so we could fully embrace the creative expression and create from scratch the perfect solution – a bespoke luxury linen collection that we are extremely proud to have delivered, especially working in such unique lockdown conditions. We've pushed the boundaries and had a lot of fun together along the way too, it's felt like a hobby! I can't wait for guests to enjoy the range of pieces we have created when it opens."
Working hand in glove with the creative team behind Chateau Denmark, the experienced team of consultants at Tradelinens has worked remotely to create a bespoke Style Guide for Chateau Denmark for the full bedroom experience, including a bed linen collection, bathroom towels and tote bag, which complement the distinct design narratives of punk, gothic, psychedelia and grandeur.
Each room and apartment has its own individual story referencing music and other happenings that once took place along the street. To balance this bold and playful theme, Tradelinens has created a timeless classic bed linen collection where guests will sink into luxury, whilst absorbing the spirited surroundings. The stylish, crisp, white 300 thread count bed linen has been responsibly made using the finest single ply thread, ensuring each guest enjoys an unrivalled quality.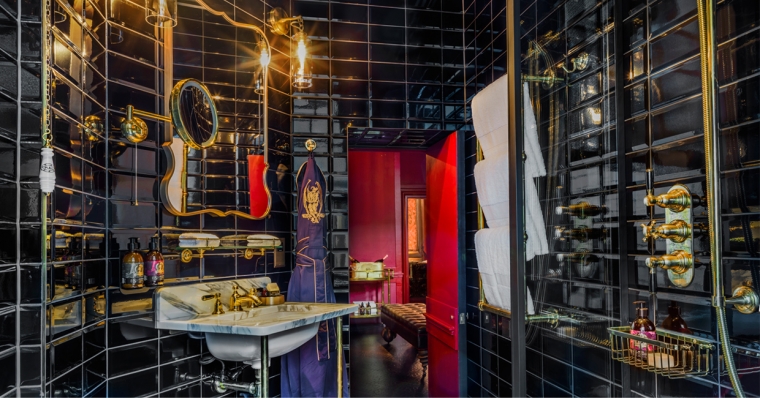 The bed linen has been lavishly filled with the finest, ethically-sourced 10.5 tog European White Goose Down Duvets giving the very best night's comfort and rest; the Savoy Pillows are super snug and made to perfection; the mattress protectors are crafted with the finest breathable cotton and the high-end ultra-soft Microfibre toppers are cosy and breathable so guests can drift off in luxury for a perfect slumber.
The bathrooms boast a cosy decadence thanks to the super thick and absorbent Turkish cotton towels. Designed with luxury in mind using a fine steamed yarn for a spa-like feel, these super soft 650gsm bath towels are considered the very best white towels. Guests can step out of their decadent bathtub onto a pristine picture frame bathmat, which has been made exclusively for Chateau Denmark.
Tradelinens has produced a reusable canvas laundry bag for guests, in keeping with the brand's ethical values. Made with recyclable material in an opulent dark purple, the bags are emblazoned with the word 'Filth' to reflect Chateau Denmark's ambition to turn up the eccentricities and quirks to reveal a new perspective on the modern guest experience. Tradelinens has also sourced elegant crisp white linen napkins along with delicate satin band napkins.
Catherine Morris, Managing Director, Tradelinens adds, "Our reputation is built on providing clear, expert guidance with a personal touch, so we were delighted that Chateau Denmark selected Tradelinens as its official luxury linen partner. It has been a privilege to be part of their extended team during a challenging time for the hospitality sector and we wish them every success."
CAW Ventures founder Carrie Wicks said, "Chateau Denmark is an attitude, one that celebrates freedom and independence but also quality and experience. So it was important for us to work with tried and trusted partners that we knew would deliver excellent solutions."