Given the complexity of running 30 hotel brands, covering more than 5700 locations in some 110 countries, hospitality giant Marriott International could be forgiven for losing sight of its roots – yet its founders' rural getaway proved a rich source of inspiration when it came to reinvigorating the Fairfield by Marriott hotel chain, writes Paul Farley –
Since 1987, Marriott's Fairfield by Marriott brand has offered simple, affordable respite from the road. Eschewing the glamour of a full-service model in favour of more utilitarian surrounds (and a hot breakfast), the Fairfield franchise has grown to comprise more than 900 locations worldwide, and expansion continues.
The brand took its name from Fairfield Farm, a 4200-acre ranch in Virginia which company founders John Willard (JW) and Alice Marriott purchased as a family retreat in 1951. Set in the rolling hills of the Blue Ridge Mountains, a stone's throw from Shenandoah National Park, the idyllic setting is just 60 miles west of Washington DC – yet it's a far cry from that bustling metropolis. 
In the past, generations of Marriotts would come together at the farm to ride, relax and play. Today, it remains a working cattle ranch, but it's also the hotel group's only B&B, a corporate retreat and wedding venue, offering trail rides, authentic local experiences and fine rustic hospitality.
Take me home, country roads
A stay at the farm is a truly refreshing experience. The heat of summer is fading when I arrive, the air crisp with the onset of autumn. In a week or two the leaves will turn, but for now the fields and woodland that surround the lovingly-restored 1814 manor house are lush and green. 
During a short stay, I enjoy a taste of all-American activities – trail riding, jeep tours, skeet (clay pigeon) shooting, al fresco dining, and drinking local wines on the farmhouse porch. It feels great to leave the trappings of modern life behind, however briefly. 
Indeed, JW bought the land in the first place because it reminded him of his childhood in Utah – for an East Coast setting, it definitely has a little Old West feel to it. It's all good, homespun fun – and it makes you feel like you're a million miles away from the everyday.
But how does this pared-down shot of authenticity relate to the sprawling hotel chain that was named after it? The short answer is very little – you're just as likely to find a Fairfield by Marriott on the freeway as in the middle of an urban conurbation, and, while clean, comfortable, consistent, well serviced, and much improved through extensive renovations over the last decade, the hotels still occupy the low-to-middle value bracket when it comes to business hospitality.  
To coincide with the brand's 30th anniversary, there's a renaissance taking place at Fairfield by Marriott – in the form of a thorough design overhaul that playfully evokes its roots and aims to strike a better balance between modern demands and healthy living.
"Here on the farm, it's like time stands still," says Marriott International's vice-president & global brand leader, Classic Select Brands, Callette Nielsen, whose extensive hospitality experience has led her to take charge of a wide remit of Marriott brands, with an eye to courting the millennial consumer.
"It's simple, stress free, warm, comfortable and inviting. But how do you even start bringing elements of that into a modern design?"
A taste of heritage
Much of this task fell to Debbie Huguely, Marriott International's VP of design. Despite having over 20 years' design experience and a keen understanding of what guests want from a Marriott hotel, Debbie acknowledged the scale of the challenge. 
"The farm has always been such a strong part of our company's heritage, but everyone thought we were crazy for trying to properly infuse its identity into that of the hotels," she says.
For inspiration, Debbie's team took to New York for a trend-spotting journey across the city's retail, hospitality, F&B and fitness venues, before spending time on the farm itself, and soaking up the natural environment. Debbie also drew upon Marriott's extensive consumer research to identify what would resonate with today's consumers.
"The biggest mistake in hospitality is treating every guest the same," Callette points out. "For example, our millennial visitors want a balance of work and relaxation in their lives, so we've gone out of our way to introduce as many multifunctional areas as possible, which can double up as gathering spots and office areas, and we've made sure that both health and productivity are high on the agenda."
Of course, the redesign has been tempered by reality – not least, the cost constraints of a business that's 98% franchised. As well as being in line with the Marriott family's wishes, the refurbishment needed to be viable for the hotels' owners.
Channelling the simple life 
Through carefully-chosen materials, textures, colours and motifs, Debbie's vision incorporates elements of the ranch retreat, but modernises Fairfield's décor to make the brand more relevant and appealing to the busy traveller, delivering a balance of comfort, healthy living and productivity tools.
The tone is set in the lobby, which comprises an open-ended front desk, gathering areas, snack vending points and 24/7 Market, and a small lounge set around an inviting hearth, in which a fire crackles. A natural colour palette of green and browns reflects the farm's rural setting, and is reinforced by rustic surface textures such as brickwork, woodgrain and herringbone patterns.
The lobby's layout strikes a balance between openness and intimacy, transparent room dividers helping create breakout zones in which guests can gather, relax, work or wait. 
"Everything in the lobby is beautiful and open," says Callette, "and there are cues from nature and the farm all over the place." The most direct of these are the wall-mounted photo prints around the room, which capture scenes from the ranch, such as rays of sunshine breaking through trees, or high grasses silhouetted against the sunrise.
"The photography is probably my favourite part of the whole project," reveals Debbie. "It's presented in such a unique way, and I think it really evokes the farm's calming, natural environment."
Elsewhere, subtler elements nod to the brand's heritage – for example, organic patterns across the carpet evoke the flow of water, a nod to the Rappahannock River which borders the ranch. 
The furniture, too, blends the rustic and the modern – here, a leather sofa, upholstered to echo a horse's bridle, and there, a traditional wooden spindle chair with a modern twist, adorned with a lush green horsehair cushion. The wealth of agricultural equipment reflected in the lights, tables and fittings might not be obvious, but it all helps bridge the gap between an agricultural past and the present.
The most important meal of the day
Fairfield by Marriott may not be a full-service hotel, but it takes its breakfasts seriously, offering a spread that's at once healthy and fulfilling.
"F&B expectations have changed a lot in the last 10 years," explains Callette. "Nowadays, just because I'm staying in a place that's simple, it doesn't mean I'm willing to sacrifice quality. Indeed, Mr Marriott would see breakfast as the most important meal of the day – so the details in the décor are important."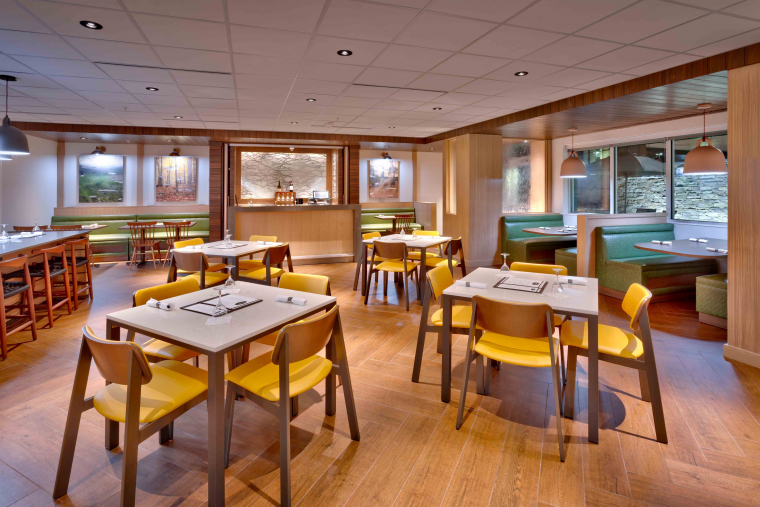 Classic subway backsplash tiles meet natural cabinetry in the breakfast station, near to which guests can sit at a large farm table. 
On one wall, a photo montage celebrates Fairfield's heritage, with historical shots of the farm, the Marriott family, and some of the ranch's famous visitors (which include Ronald Reagan, Roy Rogers and King Hussein of Jordan), reproduced on textured wood and metal surfaces, all set on burlap. "We've always had these heritage boards at the hotels," says Callette, "and guests really appreciate them."
An antidote to stress
The guest rooms needed to be uncluttered and easy to navigate – "exactly what the guest needs, and not much more", as Callette puts it. The colours are predominantly muted and natural, with a few pops of colour. 
The bed is framed by an angled, woodgrain-textured headboard and non-matching nightstands, and by bronze-finished lamps, which hint at the fixtures found on the farm.
"We made some last-minute changes to the contents," says Callette. "There was a little desk light that we loved, but it was too fragile – there's always this balance between beauty and function you have to achieve in hospitality design."
Reinforcing the natural theme, the window shade is printed with leafy branches, giving the impression of a rural setting, whatever the outlook.
Striking a balance between colour and neutral tones was difficult, admits Debbie, but the predominant greys, browns and beiges will help ensure the design's longevity. "Some of the natural elements are timeless," she says. "We can have more fun on those items that will be replaced over time – like the bright green chair – but the neutrals create a beautiful envelope for them."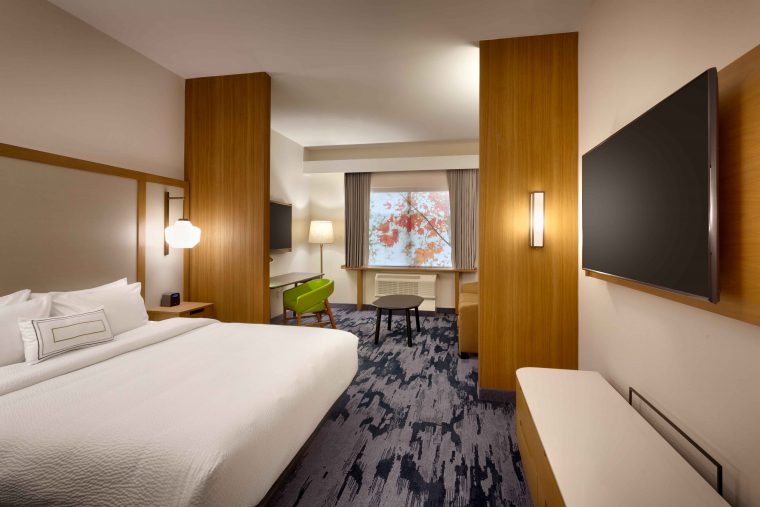 The room has been laid out to offer guests maximum convenience, with handles, cupboards and charging outlets within easy reach, and, with the addition of a hospitality centre comprising microwave, coffee maker and fridge, boasts all the essentials of a bedroom, lounge, kitchen and bathroom, with a smooth transition between each.
"We're presenting Fairfield as an antidote to stress," comments Callette. "We're here to keep people balanced on the road, and keep them moving forward."
Just another day on the farm
"We really wanted to get back to our origins with this redesign," confirms Callette, who is so pleased that the team has managed to bring elements of the Marriott family getaway into this modern travel stop.
She continues: "The original Fairfield Farm was a real inspiration. It was wonderful to hear the family's stories about getting back to a life of calmness, serenity and simplicity, and to try and deliver an experience that's calmer and more natural than ever. It turns out that delivering simplicity isn't always a simple matter, but I think we've managed!
"This will be the foundation of our brand going forward," concludes Callette, who is confident that this new look will endure more than one of the brand's seven-year renovation cycles.
The US redesign roll-out commenced late last year, starting in Brownsville (Texas), Boston Walpole, Fort Smith (Arkansas), Roanoke Salem (Virginia) and Allentown Breinigsville (Pennsylvania). Meanwhile, the design is being localised to suit consumer tastes in Fairfield's newer markets, including India and South America, and China, where Marriott plans to establish over 100 hotels in the next seven years.
There's also talk of bringing the Fairfield brand to Europe, via the UK. It may be a long way from Virginia, but the brand's story of healthy simplicity will surely resonate with a generation of business travellers that's fraying at the edges.
See more of Fairfield by Marriott's new look, plus an exclusive interview with Debbie Marriott Harrison, in the Jan-Feb issue of Hospitality Interiors magazine.