Blu on the Hudson brings a New York City-style dining experience to the waterfront in Weehawken, New Jersey. With stunning views of the Hudson River and the New York City skyline, land and sea come together at Blu on the Hudson not just as a view but on the menu as well, with a seafood forward menu accented by a top-flight steak program, homemade pasta, a one-of-a-kind cocktail program, and soon to-come rooftop event space.
The concept was created by Blu Hospitality Group led by Kosta Gianopoulos, who collaborated with Designer Peggy Leung—whose previous projects include Tokyo DisneySea and being one of the lead designers of TAO Las Vegas—to fill the expansive 30,000 square foot space, designing a dining environment generally reserved for Manhattan. The sprawling interior has a cozy lounge with a large fireplace and reception, segueing into a spacious main dining room with floor to ceiling windows that provide views of the Manhattan skyline. Centring the room is an elegant rectangular white marble-topped bar where artistically crafted cocktails are served. Behind the bar are an array of dining alcoves with green tropical-inspired walls. Beyond that are two private dining rooms with a beautifully curated wine wall. Separated from the main space by sliding glass doors is Blu Sushi Bar, marked by red wallpaper depicting cherry blossoms, natural wood tables and an elegant marble sushi bar.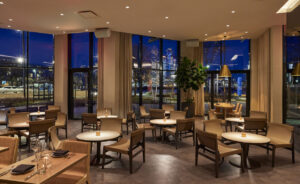 To undertake the massive project, Blu Hospitality assembled an all-star cast of industry veterans to bring it to life: Executive Chef Juan Carlos "JC" Ortega (BR Guest Hospitality's Blue Fin, Blue Water Grill, and most recently Catch Steak); General Manager Tom Blume; Beverage Director Jeremy Le Blanche (Thyme Bar, The Gibson, German Gymnasium); and sommelier Adam Greer (Dovetail, Chestnut).
Chef JC has brought his years of experience working with seafood and steak to create a menu composed of simple, clean ingredients that elicit complex flavours by drawing on a variety of influences from the Mediterranean and beyond. His cuisine is elevated yet remains approachable, offering selections for every diner to enjoy.
Blu on the Hudson's world-class steak program highlights Midwest Prime Steaks, Australian Wagyu sourced from Westholme and Japanese A-5 Wagyu from the Kagawa Prefecture. Headlining the program are an exclusive Wagyu Skirt Steak, sourced from Westholme and only available at Blu on the Hudson and a mouthwatering 16-ounce Delmonico, as well as large format cuts exemplified by their 40oz Wagyu Tomahawk and 32oz Prime Porterhouse.
Blu Sushi Bar, just off the main dining room, serves sushi as well as izakaya-inspired cuisine with flavor profiles similar to those in the main dining room created by Chef JC in collaboration with K Dong, who owns Hinoki Greenwich and MIKU SUSHI in Greenwich, Connecticut. The concept is meant to be more casual, offering creative dishes as well as lunch and takeout service. Please click here for Blu Sushi Bar's full menu.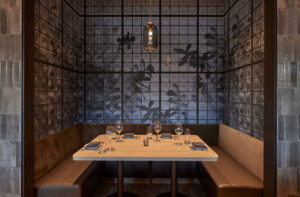 To create the cocktail list, Beverage Director Jeremy Le Blanche drew from his experience in working at the best cocktail bars around the world, including—Thyme Bar, The Gibson in London, and German Gymnasium in London—to create a program that while unique, is still accessible. His drinks substitute fussy ingredients in favor of theatrical presentations and uncommon garnishes to retain their familiarity while creating a memorable experience for each guest. Please click here for the full cocktail menu.
The Wine Program was built by Sommelier Adam Greer, who worked with Chef John Fraser at Dovetail and received much of his early wine education from Michael Connolly while working at Chestnut on Smith Street. He has curated a global wine list, with strengths in Bordeaux and Burgundy that features lesser-known wines for a great value relative to their plus quality alongside legacy producers. It includes a robust selection of wines by the glass, including five sparkling, eight white, and twelve red selections as well as a reserve list beautifully displayed in the restaurant's wine wall.
Blu on the Hudson is just minutes away from Hoboken and Jersey City by Light Rail, and a picturesque six minute NY Waterway ferry ride from Manhattan.