Caia is the latest café addition to Boxpark Dubai – a trendy urban lifestyle destination that incorporates various dining experiences, lively cafés and trendy boutiques.
This colourful destination cleverly recycles and stacks disused shipping containers, and has a distinctly Middle Eastern feel.
Caia, meaning "pure" or "beautiful lady" in ancient Greek, lies at the heart of this buzzing neighbourhood, on Al Wasl Road in the Jumeirah district. Renowned Dubai-based design agency, K.art Group, has created a peaceful interior, inspired by the cloud-piercing mountain terrains of the United Arab Emirates. 
Throughout the café, K.art has used an earthy, mountainous palette to create a natural, bright and inviting tone. The muted decorative paint finish matches the stone flooring throughout the bright space.
At the centre of the space lies an impressive five-metre stone counter which forms the hub of the café. The same stone has been used throughout for the tabletops, accent decoration, and an impressive floating planter. Various Maldivian palms form the greenery throughout, completing the natural theme.
One of the most critical aspects of the design was the stonewall and oversized counter. The design team made silicon moulds of the Hatta mountains and poured glass fibre reinforced concrete into these moulds to create the rock wall panels. A local artist carried out comprehensive post-processing to ensure realistic appeal. As with any of K.art Group's designs, an exquisite attention to detail was key.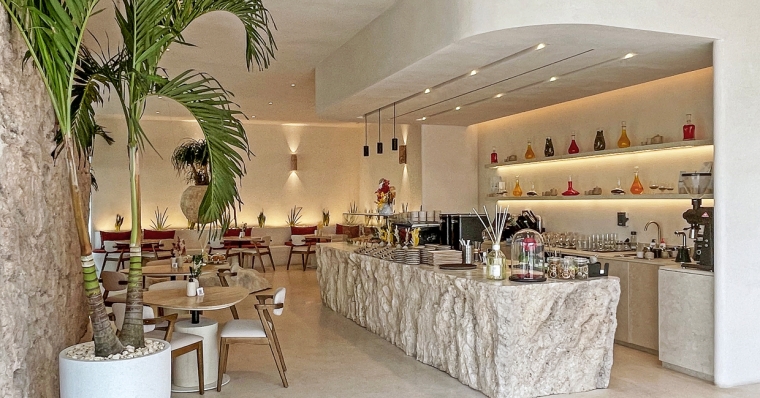 "The design team at K.art Group had a clear vision for Caia," comments Caia's founder. "They were committed to excellence in all aspects of service and luxury design; we've cultivated an open and long-lasting relationship. They recognise the importance of the environment and the necessity to merge organic principles into the culture and attitude ofthe organisation.
Boxpark perfectly showcases smaller brands striving to be different. This well-visited destination has an eclectic mix of homeware, boutique fashion, and dining alternatives. Guests will enjoy visiting Caia and its peaceful mountain vibe. Healthy juices and farm-to-table food accentuates outdoor living in this fashionable neighbourhood."