Ideally situated on the French capital's Left Bank, this design-led hotel is influenced by the rich culture and history of its surroundings, which served as the inspiration for local and international writers, artists and musicians for much of the 20th century.
Amongst the neighbourhood's illustrious visitors was Irish novelist James Joyce, who finished his seminal novel, Ulysses, while staying on the site of the new hotel over a century ago.
Renowned interior designer, Didier Benderli, has brought Pavillon Faubourg Saint-Germain to life, reimagining the hotel with a contemporary flare that remains true to quirks of the historic buildings.
Each of the 47 rooms and suites features a unique design that complements the contemporary and sophisticated style of the spa, restaurant and communal spaces. Solid oak herringbone parquet flooring creates a timeless aesthetic, while discretion and efficiency are prioritised with details such as in-room televisions concealed by decorative mirrors.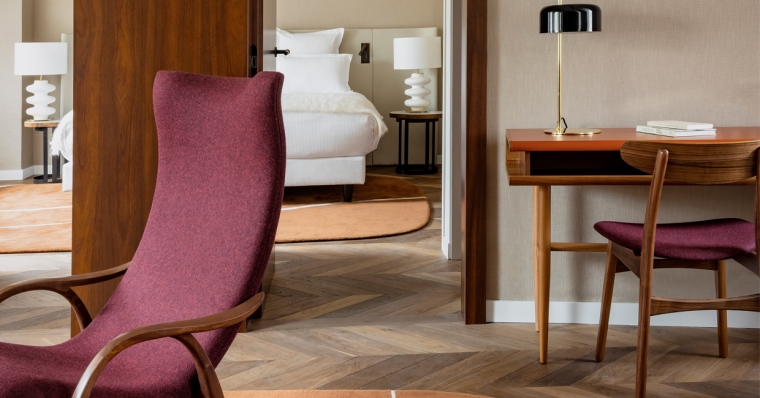 The traditional style windows draw the gaze to immersive views over the Parisian rooftops, while en-suite bathrooms are tucked behind sliding wooden doors, with terrazzo flooring and marble wall panels decorated with geometric art deco detailing to compliment the wood and brass fittings.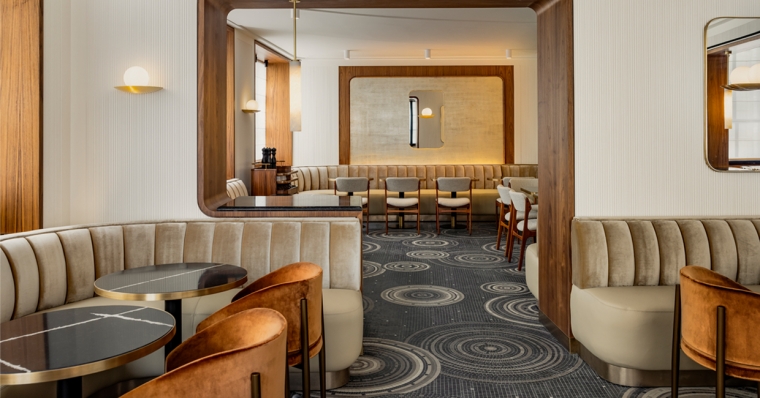 At the new restaurant, curved finishes combine with wooden accents to provide a warm and intimate feel, with leather and velvet benches, quartzite tables and expansive mirrors that reflect the liquid gold of the lacquered canvases adorning the walls.
At The Bar, luxury and comfort are combined with plush sofas and armchairs in midnight blue and powder pink velvet, which contrast a bold bronze carpet. At the hotel's centre, The Library acts as a passage to the various communal areas, with cosy nooks offering a secluded space for reading, relaxation and quiet contemplation. The walls and ceilings are wood panelled, thick rugs muffle footsteps and shelves are lined with immaculate copies of Gallimard foreign literature.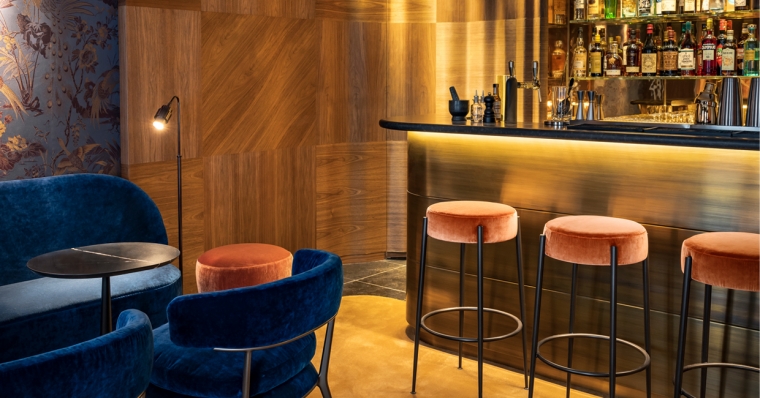 Set to make waves on Paris' diverse culinary scene, the hotel's signature restaurant, Les Parisiens, serves refined and original cuisine created by Chef Thibault Sombardier, inspired by the flavours of his childhood spent growing up between Burgundy and Beaujolais.
Adjacent to the restaurant, the James Joyce Bar honours the iconic writer with a collection of signature cocktails inspired by his works and the heritage of the area. In keeping with the lively neighbourhood scene, the bar is open throughout the day and into the night, spilling out onto the street-side terrace with a menu of fine wines, draft beer and small bites.
The tranquil Spa des Prés provides a zen retreat from the vibrant streets of Paris. The spa features a meditation room, hammam, plunge pool with water jets, fitness room and two massage cabins.