Rocco's Sports & Recreation (1 West Third Street, NoHo) is the newest establishment from The Garret Group, the New York hospitality group beloved for their approachable – but stylish – neighbourhood haunts.
An elevated celebration of sporting culture, Rocco's turns the run-of-the-mill 'sports bar' concept on its head with cheeky, vintage-inspired decor and clever takes on nostalgic game day eats and drinks. With a warm and lively atmosphere, Rocco's welcomes all in glory or defeat — for game day, or any day.
Nodding to the many inspiring athletes who are devoted to important causes, a portion of Rocco's Sports & Recreation's proceeds will be donated to SEED Project, ensuring youth access to quality education, high performance sports training and leadership tools across Senegal, Gambia and the U.S.; and DREAM charter schools.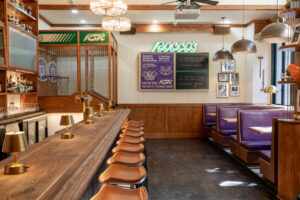 Rocco's Sports & Recreation was designed in partnership with Angus McIntosh of Yakka Studio. The space features a main bar area with operable windows that open to the street and a classic, 14-seat wooden bar (with shelves of craft spirits to the ceiling).
Vintage sports iconography and cultural moments are referenced throughout the space in gallery walls, photographs, art and memorabilia — from Wheaties boxes, trophies, bobbleheads and vintage tennis rackets, to hockey helmets, fencing gear, Sports Illustrated covers, ticket stubs and more.
Quintessential sporting elements converge with smart design to create Rocco's custom Jumbotron, anchored to the ceiling with televisions on all four sides. The Jumbotron can be lowered for a big game, or retreat into the high ceilings. When not in use for live games, TVs will show history-making sporting events from the 1950s to today. Rocco's also features two fully custom, millworked Pop-A-Shots with branded basketballs for guests to play. The exterior features an eye-catching tin sign inspired by vintage, hand-operated scoreboards.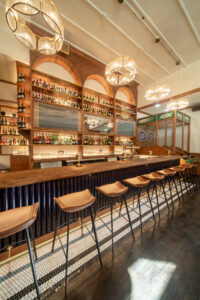 Rocco's menu is full of playful riffs on traditional sports bar staples, created by consultant Will Horowitz (the former executive chef and owner of Duck's Eatery and Harry and Ida's Meat and Supply Co.), alongside executive chef Luis Ramos, who also leads the kitchen at Bandits. Chef Horowitz has implemented an impressive state-of-theart oak, hickory and maple hardwood smoker, which can smoke up to 250 pounds at once, churning out seasonally-rotating carnivore-driven and inventive vegetarian options.
The Garret Group's Food & Beverage Director and Partner Max Stampa-Brown brings his signature, creative take on craft cocktails to Rocco's, inspired by classic sporting drinks with a focus on seasonal ingredients and high-quality production. The cocktail menu includes lively conversation starters like the Get Ya Old Fashioned Here! with Cracker Jack-infused whiskey, salted honey and bitters; Champions Cup with rum, tequila, passion fruit, pineapple, ginger and lime, served in a trophy for four guests; Broadway Joe with tequila, honeydew, pistachio, coconut cream and lime, served in a glass football; and the Rocco's Palmer with mezcal, buffalo-spiced peaches, black tea and lemon, and more.
Founded in 2014 by Adam Fulton and Gavin Moseley, The Garret Group (previously Den Hospitality), is a New York City hospitality group encompassing six approachable – but stylish – neighbourhood haunts: Borrachito (East Village), The Garret East at Borrachito (East Village), The Garret West (West Village), Cocteleria (Nolita), and Bandits (West Village), and Rocco's Sports & Recreation (NoHo). For almost a decade, The Garret Group has led New York City's bar scene with sophisticated, cleverly-executed concepts, each displaying a strong sense of identity and the team's distinctive, artful brand of hospitality. With design-forward but unpretentious spaces and eclectic food and drink (from beer and shot combos with house nachos, to world class cocktails with steak au poivre and everything in between), The Garret Group's properties provide a warm and welcoming home away from home, no matter what you're drinking.