Treehouse Hotel London, the 'little brother' of renowned sustainability-driven US brand 1 Hotels, which opened in November 2019 reopened on July 4th in line with the recent government guidelines to safeguard and protect guests.
True to its iconic location, Treehouse London is the gateway to everything British. The property is perfectly perched across the street from the BBC and a stone's throw from London's Oxford Street.
Benefiting from the hotel's central location, guests can enjoy a staycation in the city.
The hotel occupies floors nine to 16 of the building, which means all the rooms get fabulous views. The lifts are encased in bark offering guests the sensation that they are travelling up a tree trunk and all the interiors are nature-inspired, with loads of shrubbery, woods of different kinds and, bizarrely, cuckoo clocks.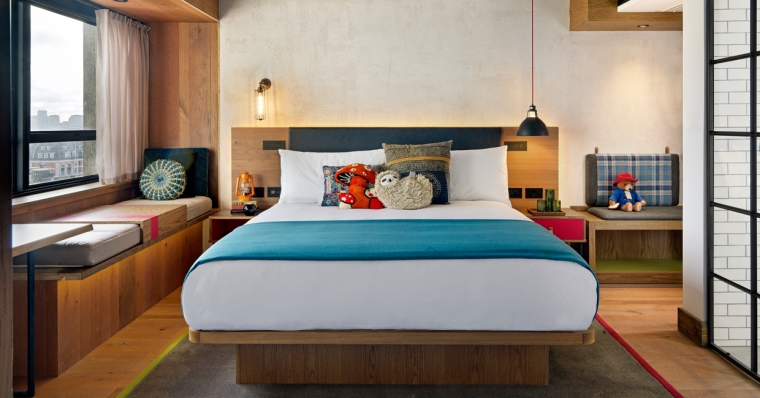 Guestrooms and Suites
All 95 rooms, including 15 suites ranging from 258ft2 to 431ft2, are inviting, colourful, and perched high in the city skyline, with all rooms featuring nature-inspired interiors. As the rooms are situated between floor 9 and 14, all the rooms feature big bay windows with cushioned window seats that look out to some of London's most iconic landmarks.
Each bathroom is designed to combine luxurious living with the latest technical advancement. Nestled against the iconic birch trees found throughout the hotel's interior, all of the en-suite bathrooms are fully equipped with quality and innovative brassware from the classic AXOR Montreux range. Complementing crittal-style screens and cabinetry, the industrial-inspired basin mixers, hand showers and accessories are finished in brush black chrome to create a truly unified aesthetic. It's clear to see the brilliant SH design team used a number of quality fixtures and fittings throughout the guestrooms, which also included lighting supplied by Astro.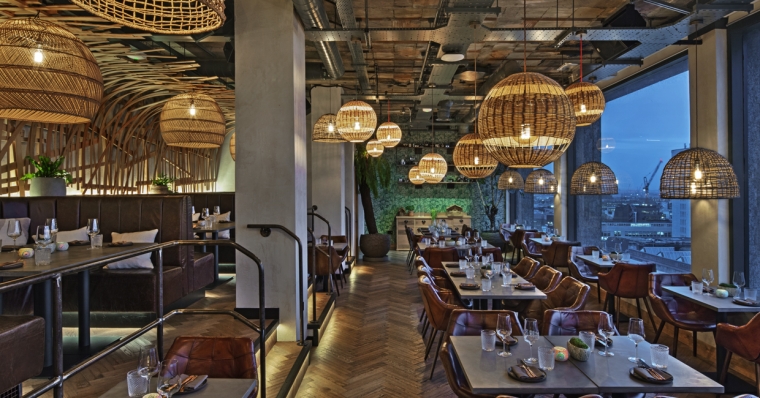 Madera at Treehouse London
The sister restaurant to Toca Madera in Los Angeles and Scottsdale, Madera at Treehouse London brings an elevated take on traditional Mexican cuisine to the British capital. Located 15 floors up, its plant-filled interiors, quirky design touches and sweeping views are proving a big draw already.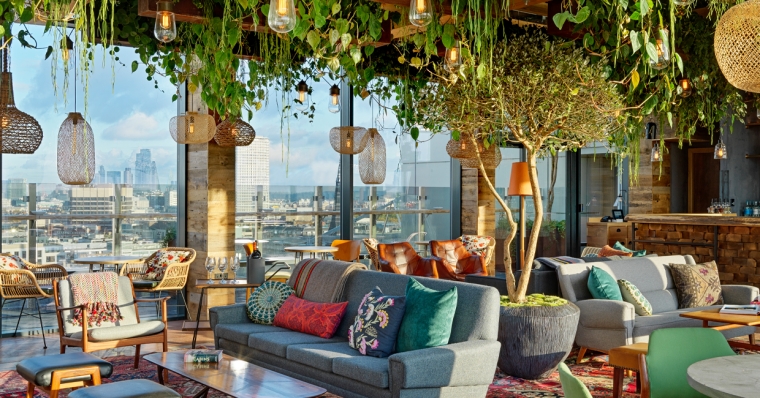 The Nest
Situated on the 16th floor, a spacious and open rooftop terrace awaits you, as you settle into the indoor lounge filled with green foliage and natural materials or relax on the outdoor wraparound terrace decked with loungers. Where you can take in the landscape of London Town from above at its rooftop oasis offering world-class views of the London Eye, The Shard, Canary Wharf and Regent's Park. 
Treehouse Hotel was founded on the ideas that inspire a child to build a treehouse. Adventure, independence, comfortable spaces and repurposing crafty things are what make a place warm and special. That's why every Treehouse Hotel will celebrate found objects, nostalgic tunes, handmade details and locally sourced treats.
Treehouse Hotel London is playful, accessible, witty and nostalgic, designed to 'inspire joy' with nature-inspired interiors. Treehouse London is the first of the brand's portfolio to open, with additional locations in the U.S. and beyond.