Sparcstudio, an independent, creative design studio with an established reputation for excellence in the spa, wellness, fitness hotel and resort sectors, has announced its key trends in spa design for 2022. Creative Director, Beverley Bayes explains: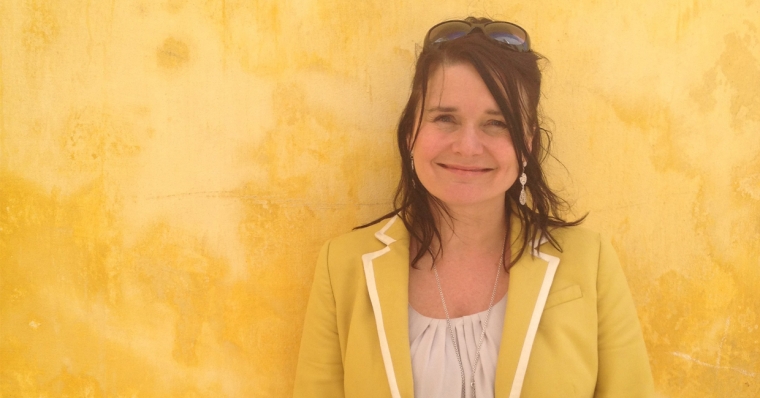 RETURN TO SOCIAL SPA EXPERIENCES 
Whilst traditionally guests have opted for privacy in a spa, many now crave human connection & shared experiences. Spa design will reflect this shift by offering social spaces within the spa that cater to couples or a collection of friends who wish to enjoy the spa journey or an experience together.
We anticipate a rise in the popularity of small group treatment suites, cabanas (poolside or in the grounds) such as the 'Scandinavian snug' that we created for Aqua Sana Spas, perfect for between treatment relaxation and reconnection around a fire feature.
Within the spa, Hammams and Banyan sauna suites are ideal for social spa-ing. They can be an integral part of a spa journey, if they are reserved for private groups of friends, can add additional revenue to the spa's income. Expect to see the emergence of more Banya Suites in 2022 and beyond.
Thinking beyond the obvious spa lounge area serving as a social hub, we look at spaces throughout the spa journey to create a social niche or nook. Within the newly launched Harrods Hair and Beauty Salon designed by Sparcstudio, we created a luxury club like vibe with the integration of 'in-between treatment' relaxed social spaces. This included timber lined window seats where guests can enjoy a glass of champagne from the fifth floor overlooking the prime Knightsbridge shopping street below.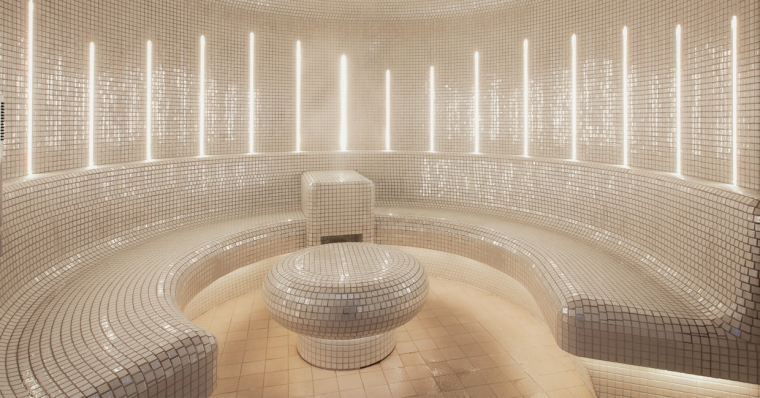 Pictured: Champneys Mottram Hall
SPA 'REWILDING' 
Connection to nature has been a central theme to wellness for the past two years. Guests expect to experience spas that embrace the outdoors. Clever design and space planning can make this connection to nature seamless. Reflecting the current initiatives for 'rewilding' of agricultural land, spa is also 'rewilding'. It is moving beyond the 'spa garden' model, deeper into the countryside and forest, providing experiences and immersion in a wilder natural setting. Wild swimming, foraging, forest bathing, guided meditations are all concepts that can be designed into the spa journey.
Expect also to find individual treatment cabins, bathing and heat cabin experiences, such as the Sauna on stilts that we helped to create at Aqua Sana Sherwood many with open or glazed sides providing the ultimate connection to the landscape. This trend also extends to the creation of bedroom suites which are located in cabins or tree houses away from the main hotel.
Natural swimming pools offer a sense of freedom and escapism whilst tapping into the popularity of 'wild swimming'. These fresh water naturally filtered pools and ponds are set to become an essential element for any forward thinking, eco-conscious spa developer. A large natural filtered outdoor swimming pool forms the center piece of The Spa at South Lodge to great effect, the pool has proved a great hit with guests, many of who are experiencing 'wild swimming' for the first time.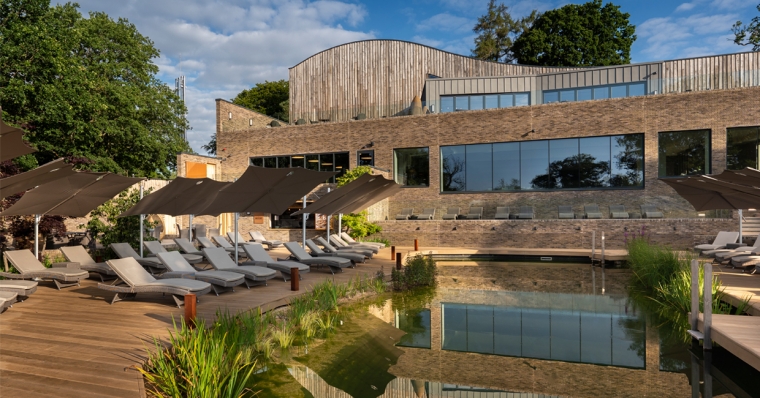 Pictured: Spa at South Lodge
THE UBER-MODERN GYM 
For many millennial gym-goers, a trip to the fitness studio will often replace a night out at the pub or nightclub. This is especially true for many young urbanites. New high-end boutique gyms are aiming to cultivate a tribal loyalty and community. Club membership has become a status symbol for some and savvy hoteliers can embrace this, designing their fitness space and offering within to match the needs of this growing subculture.
Many spas and hotels are focusing their attention on the interior design of their gyms, fitness studios and wellness facilities by fusing elements of wellness with biophilic design to create green, healthy spaces that are a world away from the darkened, equipment filled gyms of old. Often incorporating outside training facilities, they should also incorporate social and flexible spaces to facilitate group training, enabling members to connect with each other and their personal trainers.
Modern, urban finishes and high-end joinery, elevates the look and makes for a warm, welcoming experience. At the Cottonmill Club at Sopwell House, Sparcstudio took this to another level with bespoke elements and the use of beautiful timber paneling and wooden floor finishes.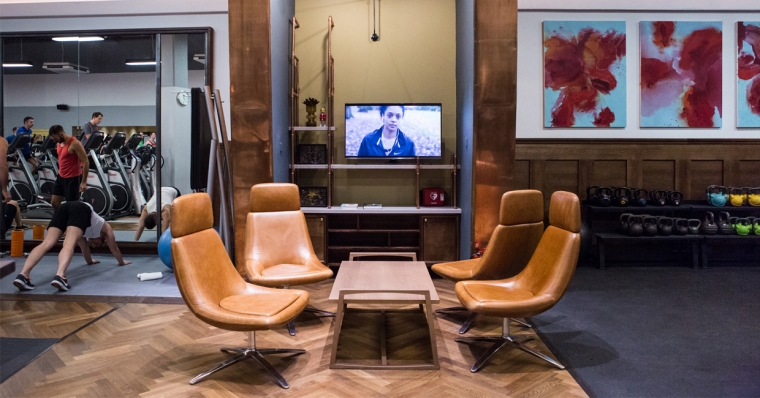 Pictured: Gym at the Spa at South Lodge
BESPOKE FURNITURE & LIGHTING
Every spa project wants to make its mark in the spa industry and offer a unique experience. The visual image is essential to capturing the attention of future guests and this is even more pronounced online with the dominance of social media sites like Facebook, Instagram and Tik Tok. Bespoke pieces of furniture, joinery and lighting can help create a real sense of place, that really tell the story of the spa and its concept.
Examples of this can be seen at South Lodge spa, which had a Botanical theme emanating from the Botanist owner of the house, who had amassed a collection of over 360 species of trees and plants sourced from around the world). Sparcstudio designed bespoke tables formed from a large cross section of a fallen tree from the estate, and a restaurant host station inspired by an oval seed Pod form, sculpted by a local artist.
Sparcstudio is an independent, creative design studio with an established reputation for excellence in the Spa, Wellness, Hotel fitness and Resort sectors. It has recently completed a major new project 'The hair & Beauty Salon' on the 5t floor of Harrods, which has opened to great press reviews. Other recent projects include: Champneys Mottram Hall, Cottonmilll Spa at Sopwell House Spa, Aqua Sana, Longford Forest Center Parcs , Ireland, and The Spa at South Lodge. Renowned for delivering a whole number of award-winning creative projects over the past decade, the team of designers and architects offer a personalised, tailored service from conceptual design and space planning through to detailed design, specification, & on-site consultancy.