Bowie House, Auberge Resorts Collection, a new, luxury, urban retreat embodying the unique character of Fort Worth, is now accepting reservations. Merging the classic Western personality of Texas with a decidedly modern feel, the hotel captures the approachable sophistication, cultural vibrancy and equestrian spirit of Fort Worth on Camp Bowie Boulevard in one of the city's most iconic neighbourhoods. Located 35 minutes from Dallas/Fort Worth International Airport and the very first of its kind, the resort is a love letter to the community, further establishing Fort Worth as an exciting destination for discerning travellers from around the world.
Anchoring a 30-block promenade of acclaimed museums and restaurants just moments from the legendary Will Rogers Memorial Centre, Bowie House, Auberge Resorts Collection sits at the heart of Fort Worth and celebrates past, present and future with owner Jo Ellard's signature, art-savvy style. Renowned architectural and interiors firm BOKA Powell has achieved a masterful union of time-honoured and contemporary design, combining brick and cast stone harking back to the days of cowboys with gravity-defying glass features, a verdant pool terrace and convivial gathering spaces. A luxurious spin on Texan cuisine in three dining and drinking venues, a nature-inspired spa, and adventures with a Texan soul offer kindred spirits the chance to revel in and appreciate every facet of this flourishing metropolis.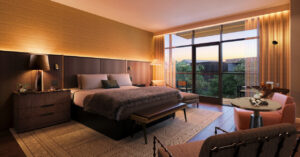 "It's with great excitement that we'll soon welcome guests to Bowie House and bring our unique style of approachable luxury to this already vibrant city," said Gaylord Lamy, general manager, Bowie House, Auberge Resorts Collection. "Fort Worth is a culturally rich gem with some of the best parks, gardens, museums, restaurants and entertainment in Texas, and we are excited to help open up this city to global travellers while providing a new and exciting home base for our beloved community. "
Encapsulating the generous welcome of a classic Texas home, each of the resort's 88 Studios, 12 Lofts and 6 Suites are imbued with the warm spirit of the West. Several boast open-air balconies and all claim beautiful views over the Cultural District or lush courtyard gardens. Inviting amenities such as hat racks, boot benches, customisable boot shines and bath rituals create a true sense of place and make guests feel at home, while original artworks adorn the walls. The spacious Lofts feature distinct lounge areas and naturally accented bathrooms with striking green marble vanities and soaking tubs. The expansive Suites offer abundant space with dedicated sleeping, living and dining spaces. The magnificent three-room Goodnight Suite with its dining room for 8 and bird's eye views of the Cultural District is the property's signature suite.
A new epicurean institution in Fort Worth that is set to be one of Texas' most exciting new dining destinations, Bowie House, Auberge Resorts Collection offers a taste of modern Texan cuisine across its dining venues and through unique culinary experiences – from backyard cookouts to multi-sensory food and spirit tastings. Open for breakfast, lunch and dinner, Bricks and Horses is the hotel's signature restaurant – a contemporary chophouse specializing in dry-aged local beef – that will soon be the social hub of Fort Worth. The restaurant opens onto The Garden, the hotel's nature-ensconced urban courtyard, featuring large and small social spaces to enjoy shareable bites and lively entertainment. Drawing on the rich history of Fort Worth ranching and the cornucopia of produce available locally, menus driven by the season's bounty inspire connection – and a new go-to community hub. Artful cocktails, a vast range of whiskeys and all-day bites can be enjoyed at The Bar at Bowie House, where friends will come to linger and share stories from the day. The hotel's tree-lined pool terrace is home to Whinny's with its refreshing menu of bright bites, salads, ice cream sandwiches and frozen drinks perfect for warm-weather grazing. The Billet Room is the hotel's game room, a social club as elegant as it is convivial, and The Mulberry Room is the library, a venue for discovery, sipping bourbon as you read or engaging in deep conversation over drinks and snacks.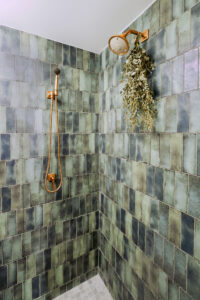 A haven for self-care and rejuvenation, Ashis the hotel's serene spa, offering a luxurious and cutting-edge wellness experience that has never existed in the destination. Inspired by the outdoors and all things wild and free, this new wellness destination offers sanctuary and transformation in a space exuding all the comfort and steadiness of the barns so ubiquitous across Texas. Enjoying private access to the pool deck, it encompasses 5 treatment rooms, a sauna and steam room, a fitness centre, nail studio, boutique and relaxation lounge. Thoughtful experiences include water dancing, synergistic skin treatments, infrared therapy, non-sleep deep rest massage and made to measure apothecary, while daily fitness classes and a program of visiting wellness specialists ensure guests and locals alike have every opportunity to optimize their wellbeing.
A modern retreat and gathering space for those with a passion for life, Bowie House, Auberge Resorts Collection is designed to connect family, friends and colleagues through experiences that embrace both the cultural sophistication of Fort Worth today and its wealth of Western traditions. The city's cultural landscape is extraordinarily diverse, with five revered museums easily accessed on foot from Bowie House. These include the Tadao Ando-designed Modern Art Museum of Fort Worth and the Louis Kahn-designed Kimbell Art Museum, home to a much-envied collection by masters the likes of Picasso and Monet. The storied halls of the National Cowgirl Museum enable time travel, as does the Fort Worth Stockyards complete with saloons, cattle drives, dance halls and more. A visit to the rodeo invites appreciation of the state's rich heritage, while nearby Fort Worth Botanical Gardens, Zoo, Botanical Research Institute and Trinity Park – ideal for jogging or biking along the river – reveal the city's natural beauty.
The perfect destination to convene a crowd – whether an intimate gathering for a milestone celebration, a corporate retreat or a grand affair for up to 400 guests – Bowie House, Auberge Resorts Collection boasts over 10,000 square feet of extraordinary indoor and outdoor space over seven distinct venues. Customisable amenities, a committed team and personalised, chef-driven menus ensure unforgettable, seamless events whether private dining on the breathtaking terrace of Laney's Room, a wedding reception in the Silverton Room – the property's light-filled ballroom – with welcome drinks in the lofty Arcadeor a birthday party in The Billet Room. No matter the occasion, a special Texan soul infuses every corner of this singular destination, ensuring every event exudes bespoke individuality and signature Western flair.