Greek luxury lifestyle brand, Domes, has announced the opening of its newest hotel, Domes Noruz Mykonos.
In partnership with investor Bain Capital Special Situations, the adults-only retreat located in Agios Stefanos, a 10-minute drive from the vibrant heart of Mykonos, offers guests a chance to indulge in a sophisticated atmosphere and marks an exciting chapter in Domes' portfolio, now covering Corfu, Crete, Milos, Zakynthos, Halkidiki and Portugal.
Set to welcome guests on July 6th 2023, the hotel is a 38-suite resort near the heart of an island known for its vibrant culture. Perched above the rocky coastline with sandy beaches just metres away, and surrounded by lush foliage, the boutique hotel cleverly balances the playful spirit of Mykonos with the relaxing hospitality synonymous with the Domes brand. Guests can take in sweeping views of the Aegean Sea while soaking up the sun by the sparkling pool.
Design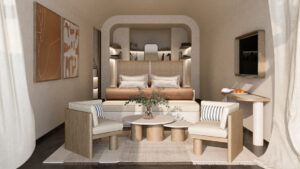 Greek architects Urban Soul Projects have masterfully designed this architectural marvel, drawing inspiration from the natural landscapes and distinctive Cycladic charm. The interiors boast a harmonious blend of white-washed and earthy tones, complemented by elements of rattan, natural wood, fresh fabrics, and cool stone. At the heart of the hotel, guests will discover a captivating main pool area where vibrant music and breath-taking views of the Aegean Sea combine to create an unforgettable ambiance at this Mykonian oasis.
Domes Noruz Mykonos offers a range of luxurious accommodation options, including suites with terraces, sea views, and private pools. Wellness enthusiasts can pamper themselves at the acclaimed Soma Spa, a sanctuary of tranquillity where modern techniques meet ancient Greek rituals.
Experiences
Food and beverage experiences lie at the heart of the Noruz brand, and Domes Noruz Mykonos is no exception. The resort showcases three outstanding dining venues, each a culinary delight. The signature Domes restaurant, Topos, helmed by Executive Chef Dionysios Pliatsikas, tempts guests with a neo-Greek menu brimming with delectable seafood sourced from the island.
For a chic dining experience, Raw Gastro Bar entices with an exquisite array of champagne, cocktails, and raw bar snacks, including ceviche. Lastly, The N Bar, a lively cocktail bar infused with Mykonos' effervescent spirit, invites guests to indulge in a wide selection of cocktails and an extensive wine list. The Noruz Symposium bar concept combines the luxury of premium Greek wines and cocktails with authentic Greek cuisine. Guests can enjoy cocktails with seasonal flavours influenced by ancient Greek recipes, alongside delicacies of traditional Greek cuisine named after gods and their myths, creating a chic setting, while engaging in ancient Greek rituals, and modern revelry in a truly unforgettable experience.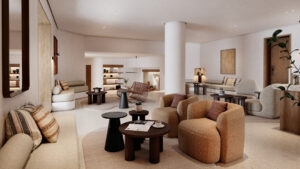 Domes Noruz Mykonos exudes an exclusive atmosphere, enhanced by a vibrant daily schedule of events. From sunset DJ sessions to captivating live music and mixology shows, guests are enveloped in an electric ambiance. When the desire to explore arises, the tried and tested concierge team of Mykonos specialists are readily available to curate extraordinary experiences, from securing coveted tables at upscale beach clubs and restaurants to navigating the ancient streets and vibrant shopping districts.
Dr. George P. Spanos, CEO of Domes, said: "We are thrilled to bring Domes' signature hospitality to the island of Mykonos in a valuable partnership with Bain Capital. This newly constructed hotel allows guests to unlock the best the island has to offer and enjoy more of our brand-wide experiences in a new destination. As we proudly open our third Noruz property, we eagerly await the joy and memories our guests will create at Domes Noruz Mykonos."
The Noruz concept is a celebration of the finer things in life and is brought to life at celebrated nightlife destinations, merging stunning coastal landscapes with an electric atmosphere.