Due to open in Spring 2024, Escapade, Silverstone's immersive trackside hotel and recreation experience welcomes motorsport enthusiasts to join the racing driver lifestyle year long.
Escapade Silverstone redefines experiential living, taking inspiration from the home of British motorsport's relentless pursuit of excellence. The 60 contemporary spaces and heart-of-the-action Clubhouse, offer a rare opportunity for racing enthusiasts, culinary connoisseurs, adventure seekers, families and corporate pioneers to wake up trackside and immerse themselves in this high-octane world.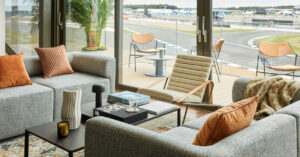 Escapade Silverstone General Manager, Stephen Nash, a motorsport enthusiast who has worked with five-star hotels and private members clubs said: "Silverstone now offers best-in-class accommodation and hospitality that connects guests with the action on and off of the race circuit, from motorsport events to track days, year-round."
Escapade Silverstone's 60 new residences and Clubhouse sit in a privileged position on the legendary racing circuit. They offer sightlines of nine corners, including the renowned Copse, Maggots & Becketts and two high speed straights. This broad view of the track will appeal to true motorsport enthusiasts who wish to see a lot more of the race and be immersed in the action in a totally new way.
Jenson Button, F1 World Champion was impressed when he visited the site and said: "This is probably the best place in the world to watch a Formula 1 car."
Every building, space and touchpoint is designed to give an elevated experience through architecture, interior design and art curation, inspired by the precise beauty of motorsport. The result is a welcoming environment for drivers, team principals, collectors and enthusiasts to relax and share their passion. Guests can gather on their residence's private balconies or roof terraces to watch the action or head to the Clubhouse's optimised viewing spaces to enjoy best-in-class hospitality, restaurant and amenities.
The Clubhouse's ground floor offers a driver-focused gym, a 15-metre swimming pool, sauna and treatment rooms where every aspect of the experience is dedicated to maximising guests' potential. When guests climb the stairway, they are greeted with sweeping floor-to ceiling views of the track through windows angled to prevent glare and maximise viewing integrity. The first floor offers a restaurant, bar, private dining room and a roof terrace with sightlines stretching across the Silverstone estate.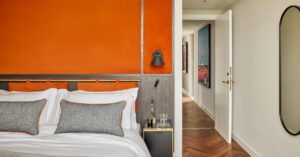 The restaurant will become a foodie destination, led by renowned Head Chef Adam Bateman. It will offer food and drink with 'British spirit' and global influence ranging from abundant breakfasts to satisfying nightcaps. Reflecting the Escapade community, the menu is internationally minded, well-travelled and culturally savvy. The private dining room will also provide a space for special occasions and the open-air roof terrace will offer unbeatable, above-the-track views during the light summer months.
The interior design of the Clubhouse, amenities and residences blends an industrial motorsport aesthetic with warmth and high-spec detail. The result is an atmosphere that's both energising and incredibly relaxing. Nash says: "The Clubhouse provides guests, drivers and their teams with the chance to come off of the track, power down and connect with like-minded individuals. The space celebrates Silverstone's rich heritage and elevates its innovative future."
Artwork will be on rotation in the Clubhouse, curated by Renata Fernandes, founder of Sleeping with Art and a key player in bringing artists, motorsport and hospitality together through creative collaborations. The art spaces will spotlight established and up and coming artists, including ex-racing drivers such as Stefan Johansson. The Clubhouse will include mixed media works ranging from original paintings, photography and sculpture, to bespoke digital art created for events as part of a rotating programme of exhibits. Fernandes said: "Escapade Silverstone is an open space to showcase interpretations of speed and the sensations of racing as well as the beautiful forms and materials found in motorsport."
Residence types
There are three types of immersive living options available. Guests staying in a non-trackside property will always have access to the Clubhouse:
Trackside Residences: The front-row 3–4-bedroom residences all have direct views over the circuit – with the terraces cantilevered out, so guests can get even closer to the tarmac – and feature a showcase double garage beneath.
Countryside Residences: These 2-bedroom residences provide the greatest privacy and a peaceful countryside outlook.
Dual-Aspect Residences: The middle-row 4-bedroom residences offer partial views of the track in one direction and expansive views of the rolling countryside to the other, in particular from their large roof terraces.