Four Seasons Hotel Hampshire reveals the renovation of its conference and banqueting spaces led by RPW Design. The refreshed interiors of the Hotel's meeting and event spaces seamlessly breathe fresh life into the historical Georgian property, adding a stylish sense of sophistication.
To appeal to both the social and business clientele at Four Seasons Hotel Hampshire, RPW Design has artistically designed different identities for each of the conference and banqueting rooms. These offer guests a more varied collection of options to fulfil their individual requirements. To ensure the Hotel remains quintessentially British, RPW Design chose to work with British manufacturers and suppliers for the space's artwork and fabrics.
"We are thrilled to breathe fresh life into our conference and banqueting rooms with our recent renovation. Staying true to our property's rich history and British design, we've worked with British manufacturers and suppliers and look forward to welcoming guests and hosting events in these new spaces," says Andrew Harrison, Four Seasons Hotel Hampshire General Manager.
"We are delighted to unveil the results of the collaboration between the team at Four Seasons Hotel Hampshire and RPW Design. True to our convictions as a firm, the results are testament to our ability delivering designs that will stand the test of time," says Elizabeth Lane, Partner at RPW Design.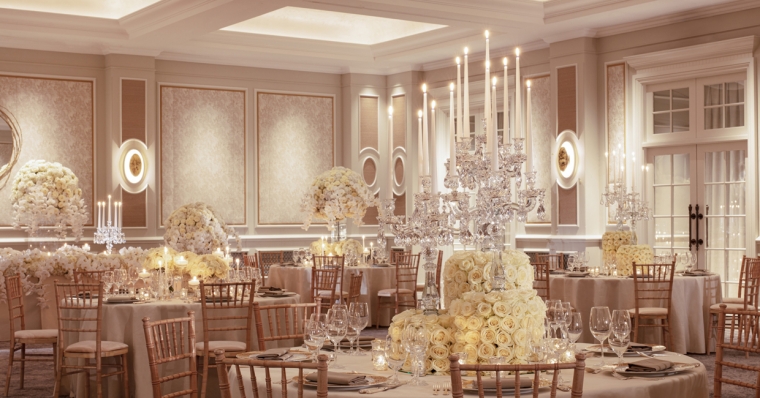 Four Seasons Ballroom
Intended to be both adaptable and flexible, RPW were given a brief to design the Four Seasons Ballroom to appeal to a bride celebrating her special day, with a soft aesthetic that easily lends itself to a business or conference room set up. To achieve this in the largest room in the renovation, the focus is on neutral colours to complement the natural light coming into the room. To create a stylish aesthetic and reconnect with the property's magnificent architecture and picturesque countryside location, RPW Design has chosen sophisticated furnishings and light fittings to complement the soft tonal colour scheme of the overall refurbishment. By choosing neutral tones, the design lends itself to personalisation of the space for a variety of clients' needs.
Pre-Function Foyer
The design of the Pre-Function Foyer showcases RPW Design's distinctive flair with a marvellous ceiling installation by London-based Haberdashery design studios, composed of 1,100 floating bone china leaves in natural white with 14 carat gold finishes. This spectacular yet organic display emphasises the central visual axis and circulation, welcoming guests into the Mandeville Ballroom.
Mandeville Ballroom, Beckington Room and Bathurst Room
To create a sense of intrigue while maintaining a very classic design throughout, RPW Design has carefully chosen contemporary crystal chandeliers for the Mandeville Ballroom, Beckington Room and Bathurst Room by Vaughan and Dernier & Hamlyn. Within these rooms, classic soft blues and greys complement the neutral shades, providing an elegant contrast and breathing fresh life into the space.
Shrewsbury Room
RPW Design has not only modernised the Hotel's spaces but reconnected it with the area's rich history. Drawing inspiration from the surrounding Dogmersfield Park, RPW Designs has collaborated with Scottish fabric artisans Timorous Beasties to develop a beautiful, bespoke chocolate-coloured velvet with gold printed bird motif upholstery for all four walls of the Shrewsbury Room. This gives the room warmth and a luxurious feel, coupled with the unique carpet design that incorporates oak leaf canopies. Styled in this way, the Shrewsbury Room now acts as a polyvalent space, lending itself to whatever the client may need. Whether this be a "minema" with an 85 inch screen, a dining room or a board room that includes a lounge set up throughout the day, the options are endless.