Award-winning global hospitality interior design firm HBA (Hirsch Bedner Associates), along with Destination Gold Coast Consortium – a joint venture between The Star Entertainment Group, Chow Tai Fook Enterprises, and Far East Consortium – are unveiling interior renders of Dorsett Gold Coast, a 313-room, 4.5 star hotel located at The Star Gold Coast on Broadbeach Island, Gold Coast, Australia.
Work to install the golden-glazed windows on the 13-storey façade of Dorsett Gold Coast is nearly complete, providing locals and visitors with a shimmering look at what's to come in 2022 from the first Dorsett hotel in Australia and The Star Gold Coast's first mixed-use tower. In addition to the Dorsett hotel, the tower will also consist of residential levels, offering 400+ one and two-bedroom apartments for residential living on the island for the first time.
As the project surpasses its two-year mark, construction has reached the 24th storey out of a total of 53 storeys.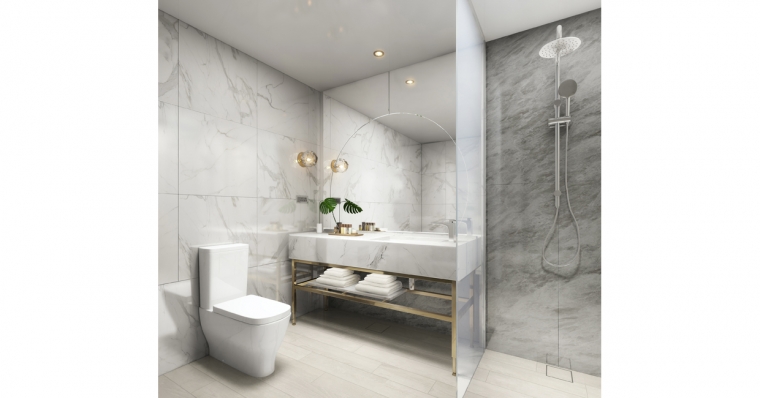 Inspired by the beautiful coastline views of Broadbeach Island, the lush vegetation of the hinterland and the calming ocean waves, HBA designers sought to achieve harmony between the hotel's interiors and its surrounding environs through a fresh, sophisticated, and relaxing overall design aesthetic. Soft nods to botanicals will be incorporated through custom carpet designs while subtle references to lapping ocean waves and abstracted underwater scenes will be woven into the design narrative of the lobby, guest room artwork, and custom wallcoverings to establish a true sense of place.
A stunning custom chandelier installation composed of kinetic lighting and reflective materials will serve as a focal point in the main lobby, enhancing the concept of soothing tranquillity and light dancing on the ocean's surface. Guest rooms will be well-appointed with fully custom-designed furnishings and decorative lighting elements to provide guests with a one-of-a-kind, memorable stay.
Dorsett Gold Coast is part of a wider, $2 billion+ approved masterplan for Broadbeach Island, which will feature four additional towers and associated resort facilities. The Star Gold Coast will continue to transform into a world-class integrated resort that brings a new level of sophistication, service and style to the Gold Coast.