Despite the challenging circumstances surrounding US travel regulations, the inaugural Hospitality Leadership & Design Conference (HLDC) New York event went ahead with great success, providing an informative and inspiring event for its audience of top-level hospitality and design professionals.
The conference took place on the 11th November within the striking surrounds of the InterContinental New York Barclay, and marked HLDC's initiation as a global conference series. Delegates from leading hotel groups and design firms – among them Hilton, Marriott International, Hyatt, HBA, Wimberly Interiors and Tihany Design – took to the stage for an action-packed programme of panel discussions, compered by the talented Vince Stroop.
Topics ranged from differentiating and maintaining a hospitality brand and cruise ship design, to the future of the development landscape. 
Keynote address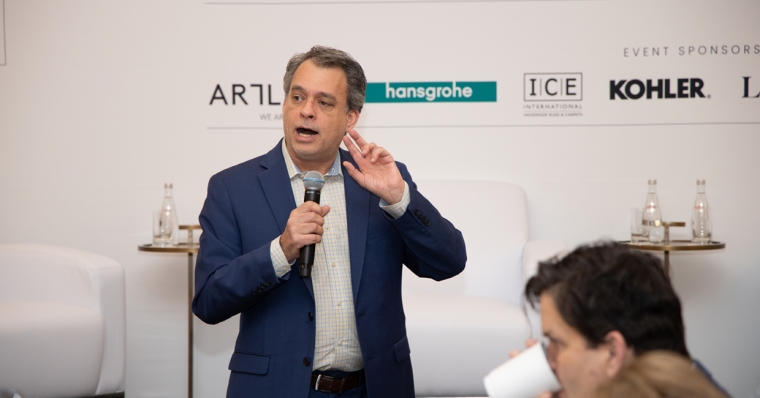 Glenn Haussman, founder and host at No Vacancy Live, started proceedings with a rousing call to supersede the disconnect and fear of recent times, and reconnect guests through hospitality design.
"We're not really seeing a wholesale reinvention of how we live and work," said Glenn. "What we're really seeing is an acceleration of trends that have been around for decades. People need to be close to other people … and they need to feel that they have a place where they can be themselves, where they're taken care of, and a place where they can fully express who they want to be.
"It's important now more than ever to break down those emotional barriers between us, as well as the physical barriers between us" Glenn Haussman
"It's important now more than ever to break down those emotional barriers between us, as well as the physical barriers between us. It is encumbent upon all of us to figure out ways to bring people back in the hospitality environment. If you can do that, you're going to make great memories that wil ensure people come back again and again." 
Using technology in a considered way will be fundamental to this, Glenn suggested: "Technology has allowed us to change the way we live and work, and is really increasing the opportunity for all of you to find ways of connecting with guests to combine how they work and live and play into incredible places."
Glenn concluded by emphasising the importance of critical thinking, of avoiding decisions based on fear, and of trusting in our vision. These strange times can be reframed as an opportunity to "hit that reset button," he asserted. 
Design pivot in the new world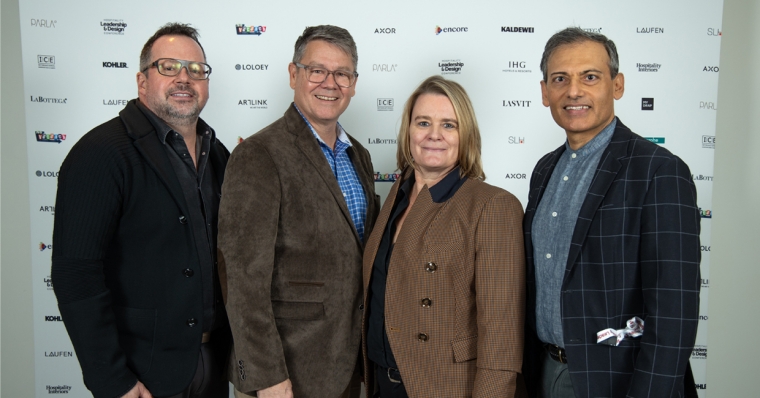 Rick Evans, president, Samuel Lawrence Hospitality, led a fascinating discussion with: Beth Campbell, CEO, Campbell House; Hemanshu Parwani, CEO, Olson Kundig; and Jacques Coetzee, managing partner of HBA Americas. 
First, the panel reflected on the immediate impact of the pandemic, and were in consensus that the hospitality shutdown that ensued reaffirmed the vital importance of experiences and memories surrounding hospitality and its design. 
"We are creatures of comfort and habit, and memories connect us to our past," said Hemanshu. "A lot of our clients were clamouring for these memories and were trying to replicate them in their homes. In that way we are seeing more of a pivot for how we bring residential experiences or opportunities into the hospitality realm."
Discussion moved to the blurring lines of business and leisure, and how hospitality environments might accommodate this flexible approach.
"What we're really seeing is that a lot of these lifestyle-to-upscale brands are really leaning into that trend," said Beth. "You want to have a workspace in your room, so you need flexible furniture … of course you want to have the communal space so that you can have some meetings, but it's also about being able to work in your room."
"That's what's great about our industry – whether there's a formal mentorship programme or not, all the advice and thoughts that you give really help people, tremendously"
Despite this emphasis on a flexible working space within the guest rooms themselves, the panel suggested dwell times in a hotel's public spaces are highly significant. 
"One of the things that we are hearing from the brands quite often these days is to move away from the REVPAR model to the total revenue model," said Hemanshu. "They are realising that people are spending less time inside the room and more time on or around the property. The question is, how do we maximise that for the brands?"
The panel moved from guest behaviours and attitudes 'post-pandemic', to those of their own teams. For Olson Kundig, there was a collective decision to come back to the office, while Beth and Jacques' respective teams and colleagues remain remote. 
"We are fortunate to have offices and teams all over the world," said Jacques. "It's a challenge, but with challenges come opportunities."
"What we're looking at in the future is more of a design hub," Beth added. "We wanted to emulate Andy Warhol's The Factory with the design hub feel, that concept where you come and roll up your sleeves and interact, and it's really like a war room feeling."
The conversation came to a close with a reflection on the profound impact the pandemic has had on valuable opportunities for mentorship. "It's going to take years to get our teams up to speed, but it's something we as leaders have to try and recultivate somehow," Jacques commented.
"That's what's great about our industry – whether there's a formal mentorship programme or not, all the advice and thoughts that you give really help people, tremendously," concluded Rick. 
Brand positioning and the value of design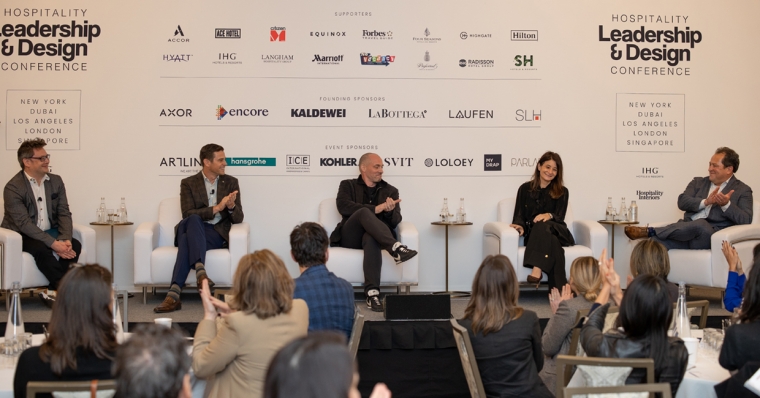 Next up, Dennis Irvine, director of Richmond International, discussed the key to differentiating and maintaining a hospitality brand within a competitive market, with: Larry Traxler, SVP global design, Hilton Worldwide Hotels & Resorts; Julie Frank, SVP of design, Highgate; Aaron Richter, SVP of design, Equinox Brands at Equinox; and Bruce Rohr, VP and global brand leader, JW Marriott at Marriott International.
Dennis asked his panel whether there was still room for new hotel brands, or whether it was a time for consolidation. For Bruce, it's a question of regional demand, rather than global. "Many years ago when we acquired Protea in Africa it was a great way for us to have presence quickly in a continent where we didn't have a lot of distribution," he said. "Maybe that's not a brand we would expand globally, but it's still very relevant in that market. Not everything has to be a global brand."
Larry suggested that it centres around clear distinctions between the brands' message and offering. "I guess in the end it's not important what we think, it's important what the guests think … whether they understand the differentiation, whether it resonates with them," he said. 
As SVP of design at Equinox, Aaron has a different perspective on the topic. "Equinox is a disruptor in the sense that you're attacking hospitality from a totally different angle, you're starting with lifestyle, and that answers every question you have about what you need to do," he said. "We're lucky to have one brand because we're very clear what our mission statement is, but it requires a lot of people to be involved early on to make those commitments."
"We can make pretty stuff all day long, but if it's not pushing boundaries I don't want to do it"
The panel moved on to the shift in guest experience from a physical and emotional perspective over the past 18 months. "I think it's changing on a weekly basis," said Larry. "We have to be incredibly agile and flexible around what guest service means. We have to consider the varying degrees to which people are coming out of their cocoons from the lockdown, so that we can give them options." 
Aaron has observed a change in guests' priorities when it comes to wellbeing. "What's exaggerated for us is people's belief that the hour or two they get to spend on themselves is sacred, so we see people doubling down on their self improvement and wellness and mindset, and that's come with the time to think about what they want out of their day," he said. "People have all taken a hard look at that."
For Bruce, guests' desire to come together again has meant a hard look at their F&B offering – not just from a service and food quality perspective, but at whether the interior design creates an inviting space that encourages guests to dwell there.
The panel concluded on the question – what is the difference between good and exceptional design? Julie spoke on the merits of design firms stepping outside of their usual spheres of work. "One thing we're seeing is firms that were traditionally in one space trying their hand in another," she said. "I think it's really interesting … we see firms that you would never think to hire for lifestyle as they're traditionally in luxury, but there's an interest from their side for shifting categories, and we're getting really rich product as a result. The first thing that comes to mind is Yabu Pushelberg, who was always a luxury firm, trying their hand at Moxy."
For Aaron, it's about originality. "It's questioning everything about how we go about life and creating products that are fundamentally new to the marketplace," he said. "That for me is great design. We can make pretty stuff all day long, but if it's not pushing boundaries I don't want to do it." 
Reinventing the rules of hotel design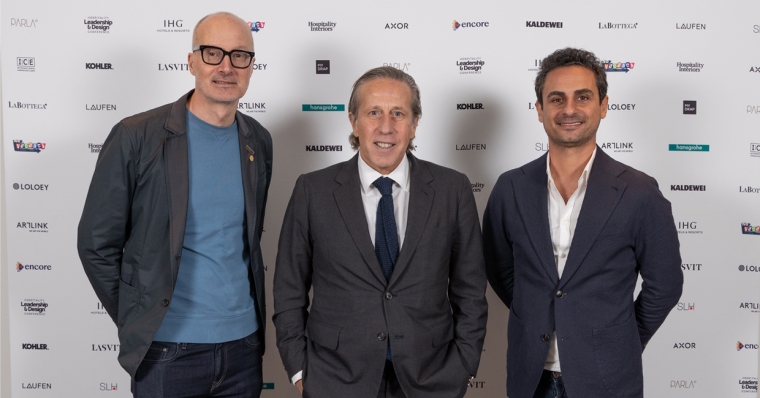 Glenn Haussman, founder and host at No Vacancy Live, moderated this discussion surrounding the challenges of leadership and design, picking the brains of his talented panel: Izak Senbahar, president, Alexico Group; Yves Naman, founder and CEO of Namron Hospitality and Encosta Creative Trading Group; and Brad Wilson, president, Ace Hotel Group/Atelier Ace.
Glenn kicked off the conversation by questioning what people are looking for from a luxury experience in today's world. The panel was unanimous in its response – uniqueness.
"Luxury is about uniqueness and rarity, and you can really leverage that special experience through design," said Brad. "A brand exists for one and only one purpose, and that isn't to design it the same as the last hotel – it's to please a certain customer, to bring more money to the owner every day."
"I believe today we're all competing on social media, but real luxury is about uniqueness," agreed Yves. "It's by design, and even more than design, it's about creating moments. I question, how can I put my guests at the centre of what we are doing?"
"Luxury is about uniqueness and rarity, and you can really leverage that special experience through design"
Conversation turned to the notion of 'friction' in the guest experience, and the dangers of form over function in hospitality design. "It's a tough world out there, so when the guest comes to your place, they're already stressed because they've been travelling … the last thing you want to do is create friction, you want to make everything easy for the customer," said Izak.
"Design cannot always take away frictions from clients – I believe that service is the key," said Yves. "You need to design a hotel that will bring you good service. What we do is that we design an architecture of process and system so that any guest error that occurs will not happen a second time."
"You should be designing to your guest," added Brad. "If you create excellent design and you're designing to your guest, you're eliminating these frictions. But we have all worked with architects and designers that are doing the opposite – they're designing for their design."
Glenn then opened up to questions from the audience, one of which focused on the emergence of two new demographics – Generation Z, who are leaving the nest, and older Millennials who perhaps have a bit more spending power – and how the panellists approach these social groups.  
"We introduced a secondary brand right before Covid called 'sister city', which was this efficient Gen Z-concepted property," Brad explained. "Ace is very much an analogue hotel, with record players and guitars and so on, but Sister City was introduced with self check-in, and everything was co-ordinated through a mid-layer data system sharing APIs across the systems, where guests could do everything from request pillows to making reservations, all in one seamless website. Human interface at Ace, we believe, builds beauty, while at Sister City we saw eliminating it as eliminating the conflict, and that absolutely worked.
Yves shared on how Namron Hospitality has built a further three brands over the past two years, which diversify its appeal. Spending less on the room design, whilst retaining the aesthetic appeal and superior level of service that are crucial to the group's DNA, is key, he felt.
"Design continues to be the most important element of the hotel experience," Glenn concluded. "It sets the tone, it tells people what they're going to be able to expect, and finally it gives you a platform from which you're able to create incredible experiences."
Crossing disciplines – bringing land-side design to the oceans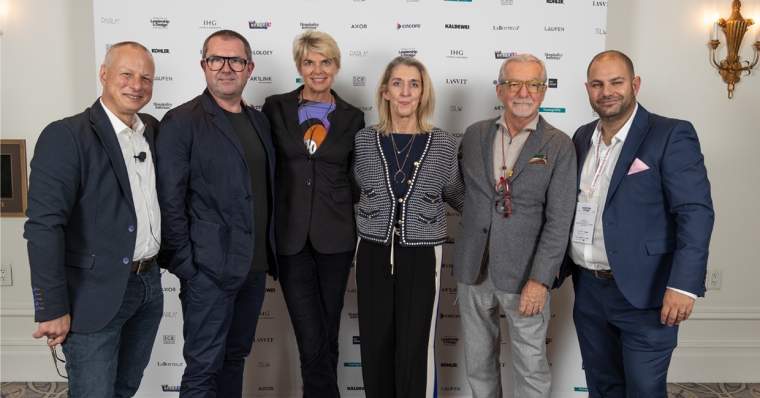 With Tal Danai, founder and CEO at ArtLink, as moderator: Adam D Tihany, founder, Tihany Design; Sybille de Margerie, founder, Sybille de Margerie; Fiona Thompson, principal, Richmond International; and Simon Rawlings, creative director, David Collins Studio spoke on the process of applying their signature design philosophies and approaches to deliver a cruise ship.
The panel assembled an exciting team that has been working on Cunard's highly anticipated new ship, set to launch in 2022. In the spirit of blurring boundaries and fresh perspectives, the majority of the panel has either a small amount of cruise design experience, or none. 
"This is where you get new ideas, not from someone doing the same thing over and over again," said Adam. "For me, the fun part was identifying the talent, and giving them things they normally didn't do. It's very similar to being a film or stage director, you first put together a narrative and then assemble a group of people who you think can execute it or rewrite the script, because these colleagues and friends of mine can write narrative better than I can."
Discussion turned to the unique challenges of cruise ship design, and how the designers brought their voices to the project, despite the many technical considerations.
"Before bringing land to sea, you have to understand what 'sea' means"
For Simon, it was key to consolidate a very strong concept, before delving into the highly technical aspects of cruise ship design. "You can't really approach this in the way that you would any other design project," he said. "We always approach design from an operational perspective, but I had no idea how a ship worked, and it's a completely different set of rules.
"Rather than getting trapped in the world of IMO materials and a world we knew nothing about – which in itself was going to be a huge undertaking – we just started designing it as an interior, and delivered the look and feel that we wanted it to, before starting to understand how we would make it work at sea."
For Sybille, it was fundamental that the team immersed themselves in the cruise ship environment to really understand the guest experience. "Before bringing land to sea, you have to understand what 'sea' means," she said. "I think the kick-off meeting on the shipyard was really key for us, just to really understand the way people experience ships. Once you've experienced what the client is going to experience, then you can bring your DNA, your vision of luxury and your personal input."
The panel agreed that the collaborative nature of the project was an experience they would like to apply to their land-side projects in the future. 
"The nice thing is that you're seeing how other people work – everyone does everything slightly differently – and that collaboration is something we don't experience that much with land-based hotels," said Fiona. 
"I would definitely take the experiences from this and, when working again on larger projects with hotels and landside properties, really encourage the owners and operators to plan it in this way, where there is more synergy between the different teams," said Simon.
Hybrid hospitality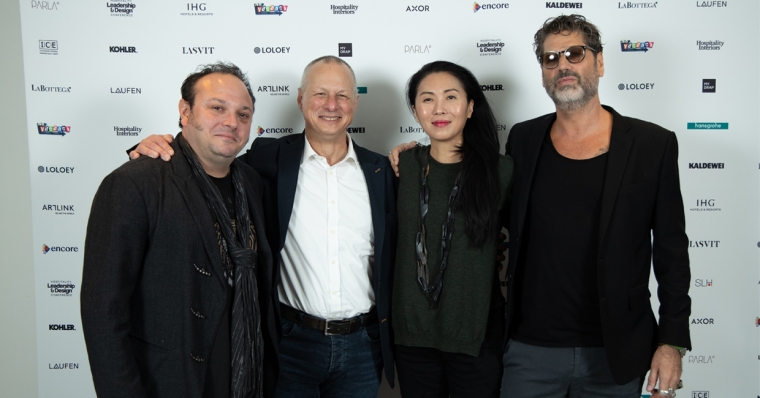 Also moderated by Tal Danai, founder and CEO at ArtLink, the penultimate panel delved into the current and future evolution of hospitality in line with our shifting lifestyles: Josh Held, VP director of entertainment, Wimberly Interiors; Nancie Min, design director, Clodagh Design; and Paul Bishop, owner and founder, Bishop Design, gave their perspectives.
Throughout the course of the conference, the concept of designing for experience was raised as a crucial component of successful design. But within this, there are a multitude of perspectives and approaches – therein lies the beauty of the design community!
"Beyond aesthetics, our intention is to design for experiences, and the foundation of this is to address the senses," explained Nancie of her approach. "We register our environment through our senses, and these senses lead to our emotions. Our sense of sound and smell are most closely linked to our memory, so you can create this sense of nostalgia that will leave a lasting impression on the guest."
"We're trying to take the end-user, step them out of their normal day, and transport them to some other world"
"We sometimes find ourselves over-intellectualising what we do," Josh commented. "At the end of the day, it's about the guest and their experience … all we're really trying to do is create the most extraordinary, multi-layered way for somebody to eat, drink and sleep, etc. We're trying to take the end-user, step them out of their normal day, and transport them to some other world."
Tal Danai spoke about some research that he has been part of that suggests the activity we do in a space is more important to our mental wellbeing than the space itself. "It's not just about the ergonomics or the visual aesthetics of a space, it's about the experience someone's going to have there," Paul agreed. "Everyone seeks or craves for something different. There's a novelty factor to it."
"We design spaces with function in mind, but I think you can also strip away that function because the end reaction you want from the guest is always the same – you want them to have the emotional connection, to see the layers of the experience, you want them to leave and feel compelled to come back," added Josh.
The discussion concluded with mention of social media's role in expanding the narrative of a property and building an 'afterlife' for the design. "People are fixated on that Instagrammable moment – it might be a great platform, but it doesn't capture the soul or the spirit of the venue," said Paul. 
Transformed values inspired by new motivations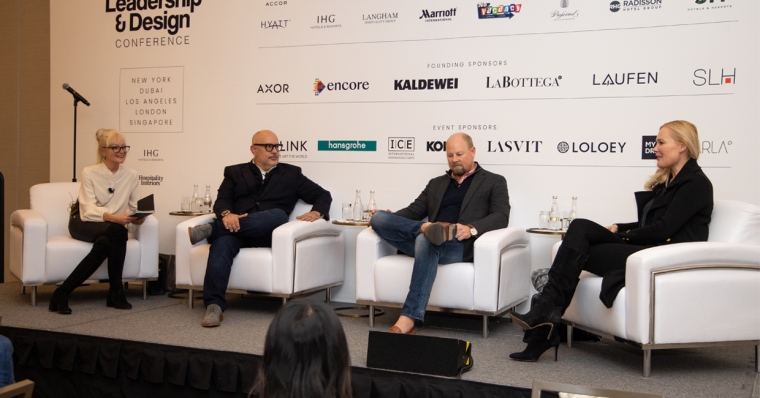 Moderated by Corinna Kretschmar-Joehnk, founder and partner at JOI-Design, the final panel of the day saw: Rika Lissl̦, VP development Americas at Hyatt; Bashar Wali, founder and CEO, This Assembly + Practice Hospitality; and Tyler Lavin, VP, development and investment РNorth America at citizenM hotels delve into the experiences and lessons of this challenging period, and explore how this transformation of values will affect the future development landscape.
The panellists cast their predictions and hopes for hotel development in the post-pandemic world.
 "I think I'm not going to be the first person to say that wellness will be the big winner coming out of this," said Rika. "The concept of wellness has evolved from a gym, all the way through to a holistic way of looking at everything from your mental health and how you work, to what you're eating. Your wellness is the red thread through your whole life, and I think that's the next winner in hospitality as well."
"For me it's about sustainability, and how we can take it to the next level," added Bashar. "Overtourism for example. My hope is that in a post-pandemic world we will engage in more meaningful travel. I think we're starting to see this idea of the 'Bourdain' style of travel, really focusing more on inner wellness, rather than chasing the ever-fleeting Instagrammable moment."
"We're in an inflationary environment that is going to change the way that people develop hotels"
"I'll talk in realities," said Tyler. "We're in an inflationary environment that is going to change the way that people develop hotels. I don't know how many hotels are going to be developed in the next couple of years, when you're facing construction costs that really destroy your returns. You're going to be seeing a lot more adaptive reuse.
"The blend of travel with leisure and business – 'bleisure' – is going to really change where we can pencil deals, so I think for us the eat, live, work, play locations are going to be the only ones we can  actually underwrite."
The question of where and how people will work now that a far looser working pattern is emerging was a key point for consideration. "I think for us it's going to be paramount to get the front of house right," said Tyler. "I think site-wise we're not going to compromise on an oversized, high-design lobby that has all those nooks and crannies for you to take your Zoom call, but people are still going to want to be in the lobby and I think we are going to have to go a little bit bigger."
The panel went on to discuss the challenges that lie ahead, from construction costs to the labour market and supply chain issues, as well as the question of maintaining a human experience within increasingly tech-driven hotels.