Hospitality Interiors is delighted to confirm that the Hospitality Leadership & Design Conference will be returning in 2024, with an exciting schedule of events taking place in first class venues around the world.
These senior-level conferences will see owners and operators, international designers and architects, as well as selected suppliers, come together to engage in a lively, informative and inspiring programme in an innovative new format.
Emma Sharp, Global Partnerships Director for Hospitality Interiors's publishers Lewis Business Media, said: "The intimate events will focus on networking and connecting with influential industry figures. We strongly believe that our conferences allow introductions which, in turn, open doors to future business between delegates."
HLDC 2024 will take place in design hubs around the world – London in February, Milan in April, Chicago in September and Dubai in October.
Party in the penthouse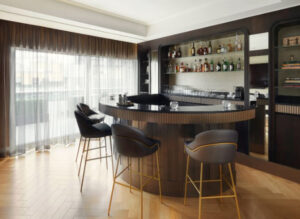 The first of the exclusive events will take place at the landmark location of Four Seasons Hotel London at Ten Trinity Square on February 22, 2024. The event will launch the night before the conference with a Hospitality Interiors House Party in the venue's stunning Thames Penthouse. where guests will experience the breathtaking views across the city whilst enjoying free-flowing refreshments, all included as part of the attendance package. A DJ, along with live musicians, will ensure the House Party vibe is extended throughout the evening, giving the opportunity for delegates to meet and network prior to the main event.
Conference
The conference itself will be held in the property's historic UN Ballroom, famously known as the setting for the inaugural reception of the United Nations General Assembly in 1946.
Following some extensive research, completed by the Hospitality Interiors team, the new format of the conferences will see some significant changes and improvement to previous events. The team have ensured opportunities for networking prioritised are throughout the day, a conference app will be in place to allow for delegates to share contact information, keynote speakers will provide thought-provoking talks, and problem-solving workshops, panel discussions and demonstrations are all planned to maximise the experience for all.
Visit www.hldc.co.uk or email [email protected] for more information