Located in Greenville, South Carolina, Hotel Hartness is the region's newest premier boutique hotel, completed by Sims Patrick Studios . Located in the award-winning Hartness community and building off the prominent Hartness family's decades-long history in the area, the hotel is nestled next to a nature preserve and sits on 467 acres of rolling meadows, lakes, trails, and pecan groves. The hotel's design concept relates directly to this idyllic setting, incorporating nods to nature and the environment throughout. Each of the many spaces within explore how light, textures, local woods, and foliage can provide a space with depth and meaning, as well as how this changes at different points throughout the day.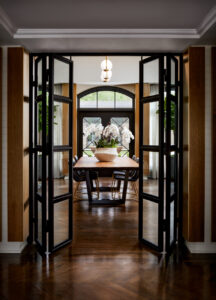 Guests enter the space directly through the Hartness family's mid-century French Manor House, which acts as the front door of the hotel. A beautiful arrival through the grandeur of the entry vestibule leads to an elegant reception area, which sets the stage for the hotel's singular guest experience. The space's unique aesthetic combines a variety of warm, earthy neutrals and textures, featuring a mixture of antique gold metal and black steel, smoky grey glass mirrored finishes, and raw cut quartz stone walls. Natural elements were also reinterpreted into the design of each space—the vestibule itself represents dawn with its sun-like dramatic light pendant, and the reception area represents the dark moodiness of night with its moon-like light fixture and rug design. Book-matched grey and taupe marble veined fireplaces, pecan wood veneers, and reclaimed rustic barn wood walls and beams are also featured prominently, with art sourced from local Greenville artists incorporated throughout.
Adjacent to the reception area is the boardroom, one of the hotel's dedicated conferencing spaces. Aesthetically similar to the reception area itself, the boardroom provides a sophisticated yet subtle, lived-in comfort, with a deep navy colour scheme reminiscent of the early hours of twilight. This space provides an environment conducive to professional or personal private engagements. Guests move further through the reception area to the Great Room which serves as the "living room" of the property, providing a distinctive destination to rest, relax, and unwind. This multipurpose area contains numerous windows, providing an abundance of natural light throughout, representing mid-day, with local foliage acting as a focal point on the room's communal table. Vaulted ceilings, beams, and dual two-story fireplaces located at either end complement the room's pecan wood-wrapped columns, juxtaposing the hotel's close proximity to nature with modern architectural detailing to create a comfortable yet contemporary feel. A curated collection of high-end art books is displayed on shelves throughout, providing additional opportunities for guests to unwind while speaking directly to the passions of the Hartness family.
The breakfast room's light and airy design evokes feelings of early morning, providing a fresh start to the day, while  the dark bar area features a moody atmosphere with authentic, rustic barn wood on its walls, representative of unwinding during the evening. Aptly named The Captain after a beloved Hartness relative, the space's other details further touch on the family's legacy in aviation, with a focal light fixture inspired by a machine part invented by another Hartness predecessor displayed prominently. Ultimately, these two spaces work with the Great Room to provide guests with places to enjoy a delectable meal or a hand-crafted drink on the first floor, embodying the Hartness family's southern hospitality while creating an area rich in ambiance and steeped in character.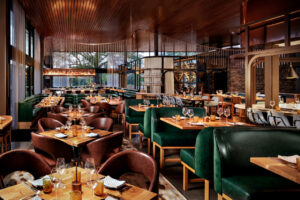 A curated backdrop of classic South Carolina architecture can be found throughout the tower's guest rooms and general living spaces, evoking a comfortable but refined elegance. The area's surrounding natural elements are characterised within each space through a selection of native floral scents, layers of texture and pattern, and comfortable furnishings, finishes, and materials. Accent wall coverings elicit images of geese in flight, with a warm palette representative of settling in after a long day. The Conference Centre levels aim to provide a perfect balance between the natural and built environments, with a variety of indoor and outdoor venues that can be customised for weddings, events, and general meetings. A large ballroom with the capacity to host 300 people further provides adequate space for any occasion, and both feature carpet patterns inspired by the organic lines of the winding stream the rooms themselves overlook.
The fitness centre provides a wellness-centric sanctuary for guests to retreat to for physical activity. Evoking green spaces and trails, the premium wellness experience of the resort-like fitness centre is compounded by the hotel's luxury spa. With tactile textures and finishes, a calming spatial ambiance, and a variety of ways to unwind, the spa provides the perfect environment to reset and rejuvenate. Dedicated spa suites allow guests to prioritise their wellness experience during their stay. Hotel Hartness' primary eatery is a free-standing restaurant called Patterson Kitchen + Bar, named in honour of a branch of the Hartness family tree. Located a short walk from the main hotel and next to the property's pond, its menu features a variety of locally and regionally inspired items in a serene setting.