Hotel & Resort Design South shines spotlight on design from the South and LATAM
Hotel & Resort Design South, the premier event for hotel and resort design professionals working within the Southern States and LATAM, is excited to announce its Conference Program, supported by NEWH.
This year's program features a dynamic line-up of speakers and panel discussions covering topics ranging from travel horizons and design trends to shaping hospitality through regional influences. Attendees will have the unique opportunity to gain insights from, and network with some of the industry's most innovative leaders, while also earning continuing education credits.
The conference will kick off with a keynote featuring; Francisco Jove, Principal Owner – Modus Operandi, Kavitha Iyer, Head of Design, Americas – IHG Hotels & Resorts; Emilio Perez, Senior Continent Leader Global Design – CALA, Marriott International.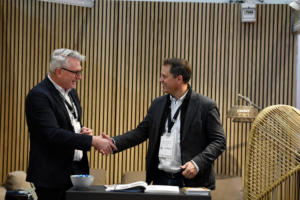 Following this, marine and land-based design collide in the joint session 'A tale of design – creating an emotional connection', panelists include Christopher Stubbs, AVP Sailor (Customer) and Crew (Employee) Experience – Virgin Voyages, Trisha Poole, President – Design Poole Inc. and Kristin Cullen, Interior Design Director  – Dash Design
Other highlights of the program include 'Shaping hospitality design through regional influences' and 'What's new in fast design, guest loyalty and micro experiences?'.
"The Hotel & Resort Design South Conference is a must-attend event for anyone involved in the design and development of hotels and resorts in the Southern States and LATAM," said show organizer, Toby Walters. "The program reflects current topics and trends emerging from this vibrant region, and we are excited to bring together such a talented group of speakers and attendees for the very first time."
Visitors will also have access to the schedule of content at the co-located CSI Design Expo Americas providing even more opportunities to leave the show inspired…
Secure your complimentary conference and networking pass here to join the hotel & resort design community in Miami on 6 – 7 June.