In a sun-drenched, beachfront location surrounded by evergreen gardens, Numo is a barefoot luxury resort offering a new take on escapism with earthy design touches and a serene ambiance.
Curiosity. Passion. Aesthetics. These are the main drivers behind Numo Hotels & Resorts, a new company aspiring to usher Greek hospitality into a new era of relaxed modernity. Numo Ierapetra, its first project, is an adult-friendly, seaside resort that showcases a unique part of southern Crete through a contemporary lens.
The 132 rooms and suites connect the inside with the outside seamlessly, regaling guests with the colors, scents, and sounds of the unparalleled locale. Private swimming pools, placed in cozy terraces, form pockets of serenity surrounded by mature gardens.
A secluded beach dotted with tamarisk trees, sunbeds, and cabanas sets the pace for upbeat holiday moments with international DJs and chefs. The hotel's swimming pool, nestled within a 3,000m2 bar and restaurant area, is the beating heart of the resort.
For Spyros Kouris, Managing Director & Partner at Numo Hotels & Resorts, this project showcases their hospitality philosophy in its entirety: "We see ourselves as the ambassadors of the destinations we operate in. Our goal is to reinvent unique locations by forming strong bonds with their respective communities and showcasing the best they have to offer. Numo Ierapetra uniquely offers all of that".
The design: A barefoot luxury approach
A bohemian sophistication inspired by nature was the main idea behind Numo's design. "Creating a flagship property for this new understated hospitality brand was a thrilling experience. We crafted an escapist palette, fresh color schemes, and took a simple approach. Instead of going in with a preconceived rigid plan, we allowed nature and the landscape to speak to our souls first. We then worked closely with the client team around the existing buildings and made enhancements where needed, adding outdoor terraces or private pools where possible and capitalizing on every opportunity to create memorable experiences. The result is a resort that feels intimate and invites you to slow down and enjoy," says Constantina Tsoutsikou of London-based Studio LOST, who oversaw the design of the resort.
Seventeen sprawling, low-rise guestroom buildings cascade towards the beach, effectively blurring the lines between the indoors and the outdoors. The rooms range from cozy to super spacious suites, each of them exuding a charming individuality that guarantees guests a different (albeit consistent in quality) experience every time.
Earthy, natural finishes complement the surrounding landscape with light gray tones, bringing to mind the beach outside, and gentle greens are inspired by the tamarisk trees adorning the area. The furniture is relaxed and versatile, with tactile materials and soft fabrics ensuring all surfaces feel like a warm invitation to touch. Arranged on the terraces are round beds for lounging on cool grey slate decking, while low chaise longues promise lazy afternoons spent under the olive trees.
An irresistible setting that elevates Cretan flavors
Numo's cuisine highlights local produce through a farm-to-table approach and is helmed by Konstantina Voulgari, a San Pellegrino Young Chef of the Year finalist. Her training at the Michelin-starred Auberge de l'Ile comes through in the way she elevates traditional local dishes, served with a modern sensibility.
This careful consideration is apparent in the restaurant Menoa, which specializes in contemporary Cretan fare with an emphasis on fine meats, as well as in the traditional meze/deli Kafenè, where guests can savor and purchase delicacies from local producers. As for Tamarisk, the main restaurant, diners can lounge on the laidback furniture and witness the theatricality of the open cooking stations. Its highlight is the degustation menu, a Greek ode to fresh seafood. Voulgari is also overseeing the creation of a bio herb garden that will be the centerpiece of a communal eating experience involving cooking workshops and various tastings.
Bordering the beach and main restaurant, the Marè Marè bar becomes a point of reference through the way it smoothly anchors the poolside, offering signature cocktails with liquor distilled with Cretan herbs. Private cabanas surrounded by trees and rugs piled with large, plush cushions offer the perfect resting place between dips.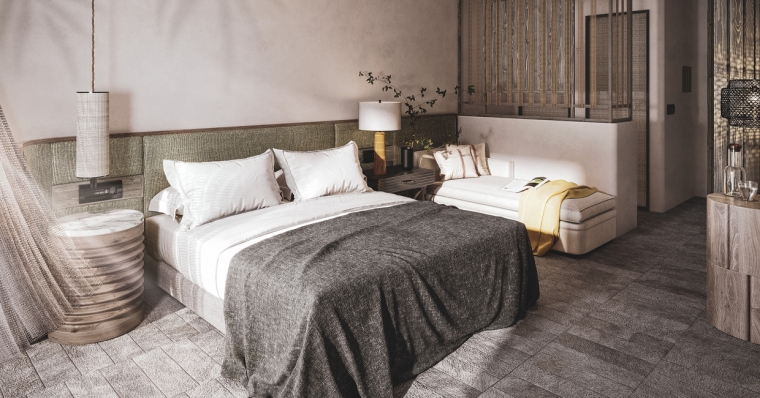 A clear focus on sustainability and community connections
To be a responsible part of the local ecosystem, Numo will adhere to various energy-saving protocols. It aims to be 100% plastic-free by 2022 and will recycle most of the waste produced. Its bars will implement a low-waste program, with plans to become zero-waste by next season. The majority of the produce will be locally sourced from small farms including, bio olive oil press Skoutari and the award-winning bio farm Karalakis, known for their vast range of herb and vegetable offerings, thus closing the loop between consumer and producer and minimizing CO2 emissions.
The sustainability angle is also inherent in all design choices. Tired, old wardrobes and headboards were upcycled, reassembled, and revarnished to fit in with the resort's fresh and airy aesthetic, while bedside tables and all the old timber structures of the outdoor areas were reconditioned.
Always looking for more ways to give back to nature, Numo will also hold donations and educational programs about wildlife in collaboration with ANIMA, Greece's most prominent wildlife care and rehabilitation non-profit association.