One&Only Mandarina, situated atop lush, coastal cliffs within Mexico's Riviera Nayarit coastline, is a modern architectural masterpiece, blending low-density contemporary style and sustainable design and architecture with unrivalled seclusion and adventurous atmosphere. Positioned under the emerald canopy of the awe-inspiring coastal rainforest lapping against the warm Pacific Ocean, One&Only Mandarina is an ultra-luxury beachfront sanctuary stretched across a 33-hectare landscape of unspoiled nature, just 45 minutes from Punta Mita.
Arrival
With each arrival, guests are welcomed by the ring of a suspended cast-bronze gong, subtly echoing across the pavilion to notify the resort team of new arrivals. One&Only Mandarina commissioned the Mexico-based Grez family group of artisans – who have been manufacturing bells and religious articles for cathedrals throughout the Mexican Republic for more than 60 years – to custom-make this piece.
Upon entering the resort, guests are greeted by a majestic ancient higuera tree, the 'guardian' of the resort, and breathtaking views of the Pacific Ocean. The arrival experience is designed as an open-air, outdoor living space centred around a glistening black pool, mirroring the reflection of the higuera's leafy canopy and bright sky beyond, while creating a moment of heightened immersion with Mandarina and its rich and unique history. Reminiscent of the open porches of traditional Mexican haciendas, the outdoor living area features cosy woven settees and cradling rocking chairs made of Mexican tropical woods, such as parota and teak, welcoming guests to lounge while gazing into the lush and vibrant natural surroundings. To complete the arrival experience, celebrated Mexican workshop Fervor created a grand three-piece artwork display, utilising the ancient technique of gold leaf foil, while fusing geometry and abstract contemporary art. 
Nestled amidst rich biodiversity with tropical rainforest, twin-mountain peaks, and calm, swimmable beaches, One&Only Mandarina was thoughtfully planned, utilising intelligent and resource-efficient architecture as well as sustainable practices to blend with the nature and honour the resort's commitment to local communities. Botany experts were consulted throughout the design and construction process to preserve the land as well respect the historic and ecological significance of the natural habitat.
As resort guests become immersed in the surrounding nature, from the ocean to volcanic mountains, these unspoilt vistas are framed against contemporary architecture designed to embrace the dramatic setting, rather than reshape it. Open structures capture natural light, filtered through the towering trees, while traditional Mexican design elements are reimagined – including pitched roofs with large overhangs, a nod to local palapas featuring modern, luxury design. Earthen walls emerge from the ground with low visual impact, inspired by the historic buildings once constructed on the site by the Cora, an indigenous settlement in Western Central Mexico, who covered their buildings in earthen plaster.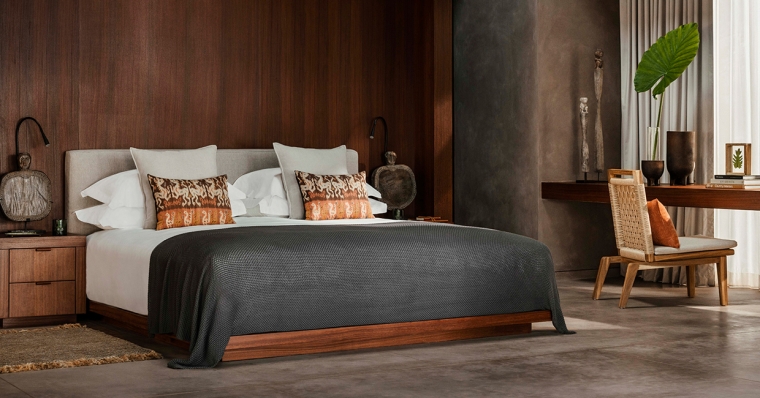 Accommodation
Hidden between the verdant rainforest and untouched coastline, One&Only Mandarina is an all-villa resort with 105 luxurious standalone treehouses and ocean-facing villas perched cliffside amongst the trees – all designed for indoor and outdoor living, with spectacular views of the Pacific Coast. Accommodations boast holistic interior and exterior elements such as private plunge pools and terraces, floor-to-ceiling windows, glass walls and expansive bathrooms – all framing the natural surroundings and welcoming in the light and shadows filtered through the trees and reflected by the water.
Constructed with clay, wood, precious metal and stone, all indigenous to the region, the villa accommodations are private sanctuaries, grounded in the earthen spirit of the local Cora and Huichol cultures. The floors, walls, and ceilings in the treehouses are all radically consistent in the local cumaru wood, to heighten the impression of living lightly in the canopy, disconnected and one with nature. In contrast, the Cliff Villas, built on the volcanic land set upon the mountain top, feature concrete floors and high, sky-lit ceilings above the heavy stone walls and wooden built-ins in cumaru with a raw finish.
Terraces and courtyards are made from volcanic rocks directly sourced from the location, while the tropical rainforest provides woods including cumaru, rosa morada, and tornillo. Locally crafted custom woodwork, stone accents and earthy tones add rich, textural warmth throughout the interiors, complemented by intricate artefacts curated specifically for the space by local artisans. Fervor was also commissioned to create entry pieces for each treehouse and villa, utilising decorative copper leaf to bring harmony and light into each accommodation.
Villas are adorned with custom handmade textiles by local artisanal company Colorindio, which seeks to weave stories of ancient Mexican cultures through its fabrics. Mexico-based Nouvel, a pioneer in the design and production of blown glass for over 25 years, was commissioned to design floral vases for desk areas. Guests will also find custom contemporary brass and copper décor by Mexico City's Detaller throughout the space, while a nod to history is celebrated with intricate tea sets made of clay, a primary material used by indigenous people which archaeologists found in the region. A selection of villas will also feature a large coffee table made from locally sourced clay.
A special touchpoint in the villa design is evident throughout the bathrooms, which include either an outdoor shower in an immersive jungle setting, some with ocean views (Cliff Villas), or an outdoor soaking tub with jungle or ocean views (treehouses). In the Cliff Villas, bathrooms open to their own rainforest courts, with lush vegetation and ample sunlight piercing through the tree canopies. In the treehouses, bathrooms are fully glazed and immersed in their surroundings, allowing for natural light to enter the room from different angles, directly through a skylight, in the morning filtered by the vegetation, and open to the setting sun in the evenings.
One&Only is renowned for its collection of expansive villas, offering optimal space and privacy within each resort. One&Only Mandarina will be home to Villa One, the pinnacle of resort living, stretching over 1747m2 and boasting three bedrooms, infinity pool, private spa and gym, full-screen cinema, wine cellar and generous outdoor dining terrace. The resort's signature villas have all been thoughtfully designed to hero local craftsmanship, such as Villa Pacifico – a 342m2 elegant sanctuary boasting attractive scenery of the surrounding tropical flora and fauna and spectacular views of the Pacific Ocean.
Ideal for family gatherings and celebrations, Villa Pacifico sleeps up to eight guests and features two bedrooms with a king suite and a double queen suite, two private swimming pools, plenty of entertaining and living space including a full-screen cinema, office space, walk-in closets, outdoor rain showers, and outdoor covered dining terrace with barbeque grill. Unique design elements adorning this expansive villa are the custom-made outdoor firepit and side tables created by Guadalajara-based independent design studio Peca, which is recognised for its ability to work with natural materials while exploring texture and form, and bringing nature indoors in innovative ways.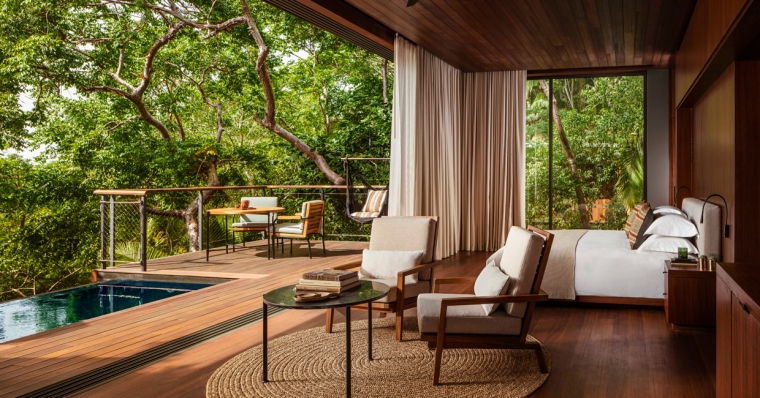 Dining
The natural architecture seamlessly blends within the environment, revealing the idyllic beauty throughout the entire development – including the impressive dining options. One&Only Mandarina embraces the cultural traditions and signature warmth of Mexican cuisine and hospitality, from casual beachside selections to globally acclaimed cuisine.
Taking centre stage is Carao, One&Only Mandarina's signature contemporary Mexican restaurant, by renowned Mexican chef Enrique Olvera. Located at the southernmost peak of the resort, the restaurant – and adjacent infinity-edged pool and deck extending out over the mountainside – is positioned atop a dramatic cliff, with unobstructed views of Mandarina and the ocean beyond. With heavy wooden structures constructed from locally sourced Tornillo wood, Carao will feature an open kitchen, indoor and outdoor dining areas and a cosy bar and lounge, with interiors adorned by Xavi Bou's project, Ornitographies, a collection of photography prints inspired by the Barcelona-based photographer's curiosity for the invisible patterns traced by birds in flight.
Positioned as the heart of the resort, Alma is designed to both capture the morning sun above the rainforest and the cascading sunset on the horizon. The strong presence of two large, wood-fired hornos creates an open kitchen concept in the centre of the restaurant, where guests can indulge throughout the day. Alma was carefully designed to preserve three iconic trees, and the plateaued area steps down to a series of sun terraces and lounges beside two long pools, both extending over a cliff – one shaded under lush greenery, the other toward the glistening ocean. Alma's accompanying open-air bar, The Treetop, is perched atop the hillside, showcasing refined twists on classic cocktails served with edible flowers, indigenous herbs, and tropical fruits.  
Nestled along a secluded cove with plush daybeds, chaise longues and terraces, the ultra-stylish Jetty Beach Club is the resort's trendy destination for casual beachside dining, overlooking two cascading infinity-edged pools adjacent to the deep blue waters of the Pacific Coast. Resort guests will head to the Jetty Beach Club for a lively ambience, far-reaching vistas and an open charcoal grill. Beyond the beach club is The Jetty, extending out over the sea over 600ft, where guests can moor their yachts or watercrafts, experience sea excursions, and swim and paddleboard in the blue-water cove, unique to the region. Resort guests are met by a gentle buzz in the atmosphere, with an overwater sunset lounge area set around a large fireplace at the centre of a long-extinct volcano site, which can be seen from almost all villas at the resort, creating an iconic hearth for all to gather round.
Spa
In line with the innovative design, low-impact architecture and natural elements have been incorporated throughout the resort, including One&Only Spa. Situated in a natural volcanic rock garden, the spa features a collection of six isolated treatment rooms, bringing to life the wild nature surrounding One&Only Mandarina, all cocooned beneath the jungle canopy observed through skylights.
Inspired by indigenous and pre-Hispanic culture, spa treatment rooms will also feature custom textiles crafted by Colorindio. A large, iconic higuera tree frames the spa relaxation garden, with treatment rooms and a mud therapy facility positioned conscientiously around its roots. The spa design accommodates uniquely local treatments and cultural experiences, including mud baths and a Temazcal. Inspired by ancient healing practices from the indigenous Mayan tribe of Sonora, the Temazcal combines traditional medicinal herbs, heat, steam, indigenous music and copal incense to stimulate detoxification, heal the body and purify the mind.