Nestled in a private laid-back setting just steps away from Kamari, Santorini's most prominent beach, the Radisson Blu Zaffron Resort offers sophisticated elegance in a vibrant setting.
The 103-room resort brings a strong lifestyle element to the island via an eclectic mix of experiences, events, and international brand collaborations. Taking its name from the rare and delicate saffron flower that still flourishes in a few parts of the island, Zaffron aims to elevate Santorini's experiential offering and deliver a much-needed touch of hedonism.
This opening marks the first luxury hospitality offering from Fais Group; the Athens-based distributor of a vast luxury, fashion and sports brand-portfolio, with world-renowned brands such as Tod's, Hogan, Salvatore Ferragamo, Philipp Plein, Princess Yachts, KIKO Milano, Under Armour, Adidas, Puma, and Technogym, to name a few.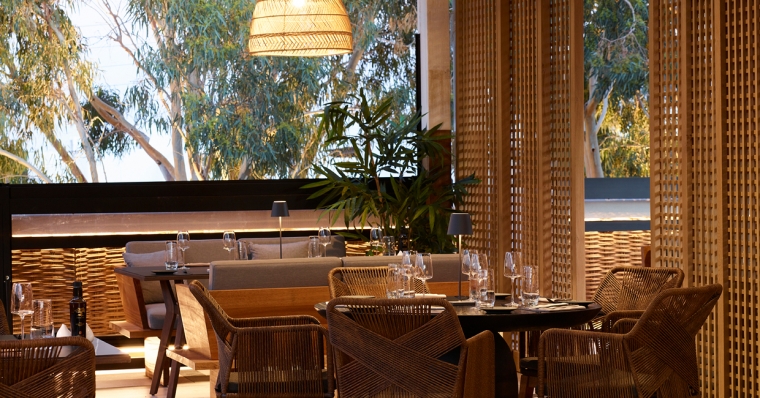 "With Zaffron, our goal is to showcase our sui generis approach to hospitality in a way that's respectful to the island's heritage," comments Manolis Papadakis, Radisson Blu Zaffron Resort's Director of Hospitality Division and general manager. "At the same time, we want to introduce a new concept where our guest's stays are enriched and elevated via international brand collaborations and a rich variety of exclusive events."
Greek-based architects, Arc-Set, were responsible for Zaffron's concept design and master plan. After two years of meticulous planning, the hotel's design elements were selected with a mission to match Santorini's raw beauty.
The lobby's elegant domes and arches, a gentle nod to Santorini's prevalent architectural theme, are combined with natural materials such as wood and stone (in the form of embossed walls), providing an earthy ambience that makes guests feel instantly welcome. The use of domes is also apparent in the interior of the generously spaced 103 rooms, suites, and villas that range from a superior room with a king bed to the presidential suite with a private plunge pool.
Overseen by Designteam's – Nikos Theodorakopoulos, the interior design establishes a serene and calming environment with the use of tactile materials, rich textures, and a neutral colour palette, featuring sought-after furniture and homeware brands such as Ethimo and Pols Potten.
Sustainable wood surfaces are complemented by linen and cotton fabrics, while the walls are adorned with black-and-white photography that captures Santorini's breathtaking beauty. Keyless entrance and various amenities such as Nespresso coffee machines and Korres toiletries, contribute to the feeling of effortless luxury.
The element of water is ever-present with Jacuzzis and heated private pools being part of almost every room, as well as with two imposing, central heated pools, spanning 220 square metres and 138 square metres respectively. Acting as the beating heart of the resort, the master pool with its eye-catching, black-and-white meander pattern bedazzles visitors. An ideal setting for both relaxed noons and upbeat nights, the pool bar will be home to special performances by international guest DJs, and other events.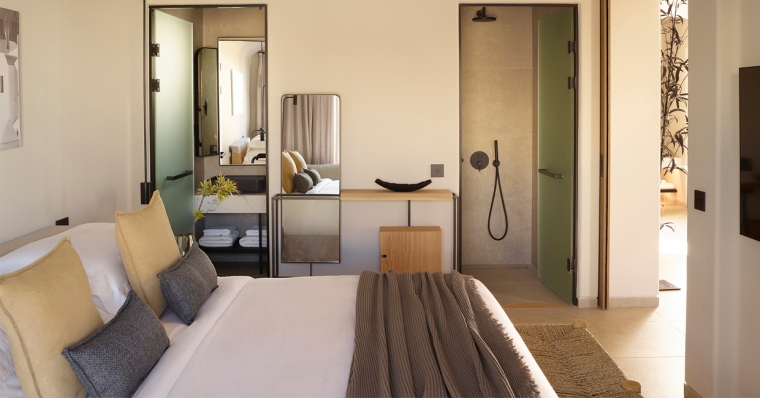 The property's F&B offering includes Zeffirino restaurant, which carries all the gravitas of its world-class, historical counterpart in Genova. Set against the backdrop of Santorini's spectacular views, Zeffirino offers guests an authentic, Italian fine dining experience with the use of local produce and much-loved recipes created by the family of Zeffirino Belloni. 
For more laid-back moments, Trattoria Belloni offers a choice of classic Italian dishes and comfort food, while the Blu Pool Bar is unmissable for its sushi and signature cocktails. Being a few steps away from the sea, Zaffron also features a beautiful beach setup, with sunset parties as part of its entertainment programme.
At the resort's spacious spa, guests can benefit from wellness treatments that tap on the healing properties of Greek nature. The spa uses exclusively Korres skincare and beauty products made from natural ingredients inspired by homoeopathic remedies and rooted in tradition.
The ultimate indulgence setup would not be complete without bespoke touches of comfort and practicality, from the moment guests arrive as they are picked up by luxurious and environmentally friendly electric cars. The switch to pure escapism mode continues with island hopping in the Aegean through private yachts and tailor-made sailing trips into endless sunsets.