Romer Waikiki at the Ambassador will open October 1, 2023 following a multi-million-dollar renovation. Formerly known as The Ambassador Hotel Waikiki, the eclectic and spirited hotel will reemerge as the heartbeat of the neighbourhood – a place where guests and residents come together to share ideas, break bread, and discover something new.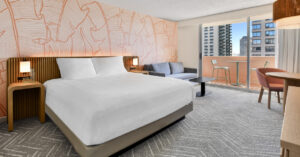 Every Romer guest journey begins with artfully designed key cards that double as each guest's key to the neighbourhood via curated maps, programming and happenings. The 368 easygoing rooms offer a variety of layouts for every type of traveler. Guests can expect private lanais, lounge space, and noteworthy touches such as all-gender uniforms featuring pieces by local Hawaiian designer Matt Bruening, all overlooking Waikiki's glistening shorelines.
Thoughtful and distinct design elements capture the spirit that is modern Waikiki, and the hotel's nonconformist exterior pays homage to its roots dating back to the 1960s. New interior décor includes a custom-fit lava rock wall that adorns the perimeter of the lobby to reference Hawaii's volcanic landscape, along with a curated gallery wall featuring local artists such as J.D. Nālamakūikapō Ahsing, Susan Maddux, Brennan Alexa, and Kris Goto. Green accents and unexpected pops of colour allude to the juxtaposition of local street art against the surrounding lush landscape. At the third-floor pool, Romer's Waikiki Swim & Social Club serves up drinks and bites with a grooving and laid-back cabana scene. A new open-air restaurant featuring bright and locally sourced fare will debut in 2024.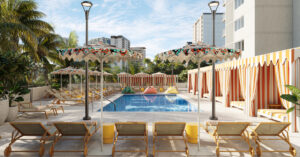 Managed by Highgate, Romer personifies the local landscape and takes shape around the people, ideas, sights, and sounds that make a neighbourhood unique. Romer promises the good-neighbour experience through a boutique portfolio of unique and progressive hotels that weave seamlessly into the surrounding landscape, with the culturally connected insights that only local talent can provide. Romer Hell's Kitchen will open in New York City this fall and Romer House Waikiki is set to open spring 2024.
Highgate Hotels in Hawaii, including Romer Waikiki at the Ambassador, is donating $10 from every upcoming hotel booking to the Highgate Charitable Foundation, with the goal of raising $1 million collectively for Maui families and community relief efforts. For those who are able to provide monetary support, please visit Highgate Hawaii's Love Maui donation page.