Rosewood Castiglion del Bosco – the 5,000-acre country estate located in UNESCO-protected park, the Val d'Orcia – is delighted to announce the official full reopening of the hotel on 2 June 2021 including a brand-new renovation of the Osteria La Canonica restaurant, as well as a one-of-a-kind property expansion with the launch of 19 new designed private suites later this Summer.
Known for its refined Italian charm and welcoming families, couples and culinary seekers alike, the idyllic Tuscan hideaway will be expanding to offer guests a sophisticated upgrade. Opening its doors to 19 new suites exuding the rich sense of Tuscan authenticity guests have come to expect, Rosewood Castiglion del Bosco will have a total of 42 suites, alongside the 11 homely, exclusive villas all uniquely restored from 17th and 18th-century farmhouses.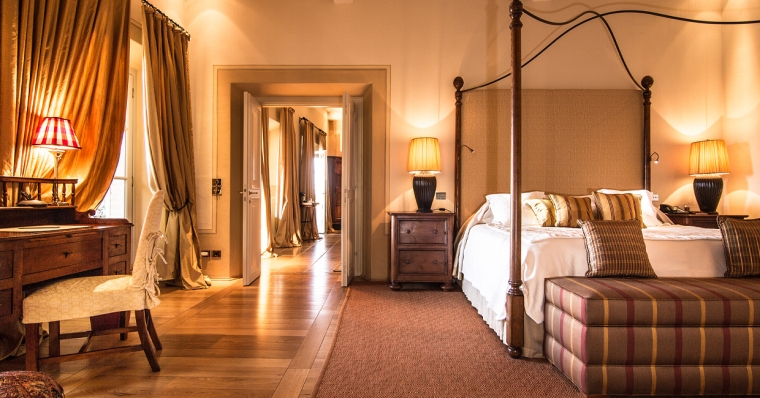 Summer Property Expansion and New Suites Design
The 19 new suites, with interiors by former Castiglion del Bosco designer Teresa Burgisser, will be located within a new complex, an extension of Il Borgo – the historic heart of the property's bygone farming community – and will each benefit from a heated infinity semi-Olympic lap pool with panoramic views over Montalcino hill-top town and Val d'Orcia. Garden Suites will also boast a private garden with an exclusive entrance.
The design will reflect the estate's unparalleled house style – timeless but contemporary, where discreet luxury meets Tuscan elegance – with disguised technology such as sophisticated lighting and audio systems through acoustic diffusers. All new suites will be one bedroom, with some connecting for a three bedroom suite option, perfect for reunited families and friends.
Working with local artisans, the newly-made furniture integrates elements of 1800s antiques formerly found in historic Tuscan residences, and sourced by Rosewood Castiglion del Bosco co-founder Chiara Ferragamo amongst trusted antique dealers and Parma and Arezzo antiques fairs. 1700s and 1800s antique prints have also been acquired, as well as tempera and oil paintings – walnut-framed by small Florentine workshop artisans in the Oltrarno – all of which will be curated for the 19 new private suites.
Other key design features include wrought iron and walnut wood canopy beds, entrance floors in Burgundy stone, ceilings varying from attic beams and rafters to salvaged tiles, Tuscan terracotta, ceramic mosaics, and bathroom cladding in walnut and cream travertine from nearby Rapolano Terme. With entirely hand-sewn curtains, pure virgin wool carpets worked on a loom, and raw fabrics specially designed for Rosewood Castiglion del Bosco, Burgisser has drawn inspiration from earthy colours and Sienese nature. For enhanced accessibility and comfort, and made specifically for the property's new suites, each includes the ultimate leather minibar lined with wood and alcantara, and equipped with glassware and tea set drawers, cocktail ingredients, and fine wines.
Chiara Ferragamo says, 'The vision behind the creation of the new Suites is one that has always distinguished Castiglion del Bosco: in this pristine estate with timeless charm, guests find that sense of home that we Italians know how to create. Warmth, hospitality and comfort blend with elegance and excellence through the unmistakable work and wisdom of local artisans and restorers. Our Suites and Villas all reflect these qualities and our guests will always carry with them the indelible memory of how we Italians know how to live in that perfect harmony between simplicity, taste and refinement'.
Davide Bertilaccio, Regional Vice President and Managing Director at Rosewood Castiglion del Bosco says, 'We are delighted to be reopening the hotel at Rosewood Castiglion del Bosco in June and sharing our news on the exciting property expansion later this summer. Our new dedicated Commitment to Care health and safety program will ensure that our guests and associates feel safe – their comfort is our utmost priority – and we're excited to welcome them once again to our authentic and truly private Tuscan retreat.'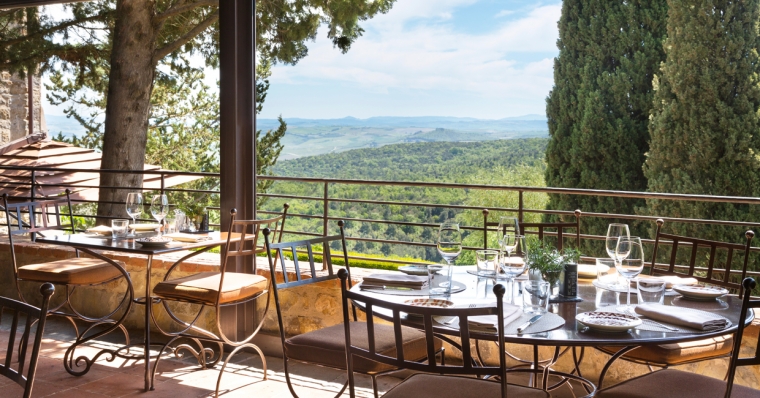 Hotel Reopening and Restaurant Renovation
To celebrate the full hotel reopening, Rosewood Castiglion del Bosco has chosen a symbolic date, 2 June, the Italian National and Republic Day. The resort is unveiling an extensive renovation of its restaurant Osteria La Canonica, including a larger newly equipped kitchen and new breakfast concept offering all-day, indoor or alfresco dining. With authentic Tuscan cuisine by Executive Chef Matteo Temperini – known for his previously earned Michelin stars and passion for locally-sourced ingredients – fresh produce from the hotel's organic garden, and wine offerings from the on-site vineyards, the Osteria's relaxed atmosphere will perfectly complete the recipe for a restorative and intimate getaway. Wine tours and tastings are also famed at Rosewood Castiglion del Bosco, including The Vertical Tasting – an extraordinary and private experience where guests can learn the detail in winemaking by visiting the cellars and pairing six of the winery's finest vintages of their Brunello di Montalcino.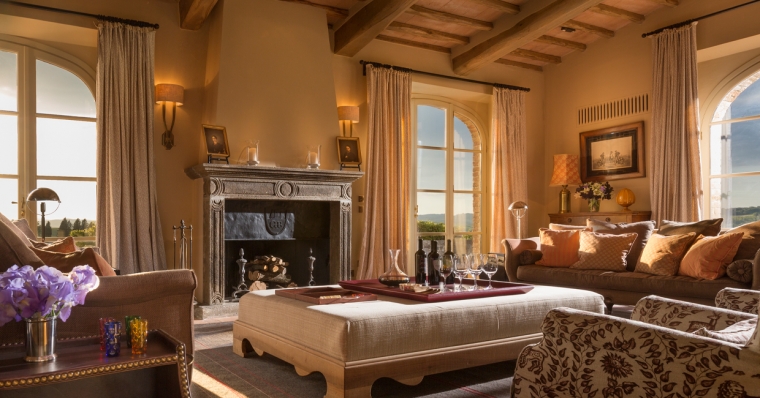 Private Villas Offering
In 2021, travellers are dreaming of the perfect private escape more than ever. In addition to the suite offering, the property's 11 one-of-a-kind luxury villas, scattering the Tuscan landscape, offer guests an unparalleled oasis. These lovingly restored private homes provide luxurious lodging and are crafted from 17th- and 18th-century Tuscan farmhouses. They feature fully equipped kitchens, heated infinity pools for ultimate exclusivity, terraces and gardens with views of the beautiful landscape.
Wellness
To elevate the property's existing wellness offering, Rosewood Castiglion del Bosco is also launching its new 'Journey to Resilience' programme this Spring. As part of Rosewood Group's wider holistic wellness retreat concept born out of learnings on what travellers now desire, the programme offers guests a range of resources to reconnect with themselves and the thriving nature around them – from Forest Bathing and holistic spa treatments to yoga, naturopathy and seasonal cooking classes.
Truly Tuscan Experiences
Rustic meets luxury in the heart of this charming Tuscan retreat. Amongst breathtaking nature scenes of lush greenery, the 800-year-old estate founded by Massimo and Chiara Ferragamo comprises the ancient castle ruins, a medieval church, and historic village – or Borgo – that now forms the heart of the resort. Celebrating local tradition and authentic experiences such as truffle hunting and Val d'Orcia nature walking tours, the hotel also offers a culinary school and spa while a winery and an 18-hole private members' golf club complete the estate offerings.
Commitment to Care Program
The travel arena has faced unprecedented challenges over the pandemic. As the industry begins to adapt to a new normal, Rosewood is committed to operating to the highest levels of health and safety vigilance, providing guests with the safest experience while enjoying the high standard of service expected of Rosewood Hotels & Resorts. Guided by health experts, Rosewood has introduced Commitment to Care, the brand's new global health and safety program offering heightened standards for hygiene and cleanliness at all Rosewood properties.
In following the World Health Organisation, along with the Italian health authority (Istituto Superiore di Sanità) and Rosewood Commitment to Care, Rosewood Castiglion del Bosco have put in place the highest health and safety measures – in addition to the already robust protocols – while preserving the flawless Guest Journey in the resort.
Rosewood Castiglion del Bosco villa rates start from €3,905 per night and suites from €700 per night.