Rosewood London marks its milestone 10-year anniversary with a unique campaign that celebrates a decade of innovation, craftsmanship and exquisite experiences. The campaign, titled 'Rosewood London X', playing on the roman numeral for 10, will commemorate the property's affinity to fashion, and art in a series of unique and innovative partnerships.
From 9th – 15th October, the property will see creative expressions and collaborations from notable brands. Each partnership in this series, whether in the world of fashion, art, or food, is fuelled by innovators who dedicate themselves to their craft.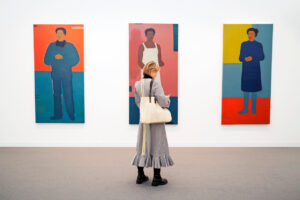 "We are honoured to be celebrating this moment, it has been an incredible journey for Rosewood London so far. We look forward to bringing our communities together for a week of activations led by true visionaries in their field" said Michael Bonsor, Managing Director of Rosewood London who opened the property 10 years ago and has been instrumental in building the property's identity and community. "We will continue creating a hub for people to come together for many more years to come, after all, it's the people that make the place".
ROSEWOOD LONDON X ANYA HINDMARCH
This October, The Pie Room at Holborn Dining Room will see renowned British designer Anya Hindmarch takeover with her iconic eye motif from the windows to the pie packaging itself. For a non-edible keepsake, Anya Hindmarch has created a limited-edition 'Pie with Eyes' keyring for pie lovers to celebrate the occasion, a fun and irreverent take on the designers' iconic merchandise, priced at £150. This playful partnership has been built upon both The Pie Room's and Anya Hindmarch's shared values of craftsmanship, as well as their creativity and cheeky outlook in their respective industries. A selection of delicious pies crafted by Head Pie Maker, Nokx Majozi and her team will be available to buy for takeaway from 9th – 14th October, 11am – 4pm with a chance to win prizes including a one-night suite stay, a private dining experience for six in The Pie Room and more.
On 13th & 14th October, Anya Hindmarch will be popping up in Rosewood London's lobby with iconic and colourful pieces from her 'Labelled' collection. For those looking to make their purchase extra special, a personalisation station will be on hand in the hotel's lobby for guests to emboss their initials or sentimental messages onto the leather pieces.
ROSEWOOD LONDON X IMOGEN KWOK
Food visionary, Imogen Kwok has been appointed to reimagine Mirror Room's dining concept. Over the last decade, the Mirror Room has encapsulated fine dining and art, with its contemporary Art Afternoon Tea inspired by the ever-changing cultural landscape in London. Kwok has a colourful portfolio, establishing herself in the fine dining realm at Eleven Madison Park prior to evolving her practice through design and fashion collaborations with houses such as Loewe and Hermes. She will bring her creative vision to life through an elevated culinary experience in Mirror Room, harmoniously complemented by Ruinart, a long-time companion of Rosewood London, sharing a belief in the power of art to transform, connect, and enlighten. Guests can enjoy Kwok's thoughtfully curated menu from Tuesday 10th October.
'DECADENCE' THE LAKES WHISKY LIMITED RELEASE FOR SCARFES BAR
World renowned Scarfes Bar at Rosewood London is partnering with The Lakes Distillery for The Whisky maker's Editions 'Decadence', to commemorate its remarkable 10-year anniversary. The limited-edition single malt will have 402 individually numbered bottles available to purchase on Rosewood London's website and to be picked up at the bar, embellished with Gerald Scarfe's caricatures and special 10-year anniversary logo. Scarfes Bar will also be holding an online auction for the N.10 bottle, signed by Gerald Scarfe, with the auction running for the ten days prior to the launch on 10th October. All proceeds will be donated to Equal Measures – an organisation dedicated to supporting underrepresented and marginalised people in the drinks industry.
ROSEWOOD LONDON X CHAAT FROM ROSEWOOD HONG KONG
Rosewood Hong Kong's One MICHELIN-starred restaurant, CHAAT, will be bringing the elevated street food and homemade classics of India to Rosewood London's British brasserie, Holborn Dining Room for an exclusive three-night pop-up. From 10th October – 12th October, Chef Gaurav from CHAAT will serve some of their award-winning dishes: Tandoori Wagyu Beef Cheek, Malabar Fish Curry alongside Old Delhi Butter Chicken and Hyderabadi Vegetable Biryani.
ROSEWOOD LONDON X FRIEZE ART FAIR
In celebration of Rosewood London's affinity to art, they will become an official sponsor for Frieze Art Fair 2023. Guests can book the Frieze experience in partnership with Ruinart and discover the show in style, complete with chauffeur service to the exhibition space, VIP access and a complimentary glass of R de Ruinart at the Ruinart Art Bar to discover French Contemporary Artist Eva Jospin's ultimate sensorial exhibition of her Ruinart Carte Blanche commission 'PROMENADE(S)'. The property, synonymous with art, has housed some of the world's most renowned contemporary and traditional artists over the last decade, whilst owning the 'Art Afternoon Tea' concept and partnering with British artist and caricaturist Gerald Scarfe to create Scarfes Bar.
ROSEWOOD LONDON X THE MACALLAN
One of the world's most valuable single malt, The Macallan, will partner with Rosewood London to celebrate the launch of their latest whisky with an impressive pop-up art installation bringing the idyllic landscape of Speyside to life in central London. Opening from 11th October, for a limited time only, guests can expect an immersive experience within the hotel's courtyard and terrace inspired by the magical evening glow of The Macallan Estate in the Scottish Countryside. Holborn Dining Room will offer a menu showcasing the essence of The Macallan's prestigious liquid for a luxurious gastronomic experience to remember. A unique guided experience featuring a tasting menu paired with innovative whisky cocktails will also be available to book on selected evenings from Rosewood London's website.
ROSEWOOD LONDON X GARRARD
The celebrations will continue into the festive season as British jewellery house, Garrard, will take over Rosewood London's Christmas decorations this year. The ultra-luxurious brand that has been "coronating, commemorating and celebrating since 1735", will mark 20 years of their iconic Wings collection by transforming Rosewood London's Christmas tree, lobby and Mirror Room with decorative, jewelled wings as well as a dedicated Art Afternoon Tea especially for the Christmas season. Wings Rising, a bold new interpretation of the Wings motif which made its debut in 2003 will introduce sparkle and sophistication across the property this festive season.