A landmark building begins a new life as an ultra-luxury heritage hotel
Showcasing a fusion of contemporary Burmese style and old-world grandeur, Rosewood Yangon opens its doors today. As Myanmar continues to welcome a fast-growing number of international travelers, the hotel takes on a transformative role in the country's largest city, combining an elevated level of luxury with strong cultural outreach. 
Housed in one of the grandest and most expansive buildings built during the colonial era, formerly the New Law Courts built in 1927, the hotel is located in the heart of the historic centre amidst other heritage buildings at the junction of the famous Strand and Sule Pagoda Roads. With its dramatic row of original three-story-high Ionic colonnades, the hotel forms a formative presence on the banks of the Irrawaddy River.
"Rosewood Yangon exemplifies a perfect balance between heritage and chic modernity in this vibrant city," says Sonia Cheng, chief executive officer of Rosewood Hotel Group. "We are thrilled to be a launching point for 'affluential explorers' to begin a journey of discovery in one of world's most evocative, captivating and still relatively undiscovered destinations."
The hotel exquisitely expresses the Rosewood brand's A Sense of Place®, the Rosewood Hotels & Resorts® brand philosophy of reflecting the history, culture, architecture and sensibilities of the location.
Guests arrive at the hotel's majestic portico, lit by three immense, 1920s chandeliers, before stepping through two sets of grand iron-framed doors into the lobby. Above the reception desk, a stunning mural by famed local artist Than Kyaw Htay immediately evokes the charm of Myanmar with sunset-bathed pagodas atop peaks floating over a rugged landscape. 
Every step throughout the hotel showcases the hotel's transformation – one that preserves the architectural past while offering the ultimate in contemporary comfort. A wide range of facilities available under one roof includes five distinctive dining venues; recreational options including a spa, a rooftop infinity pool and a fitness studio; extensive meeting facilities featuring a grand ballroom, bridal suite, event studio, Heritage Salon and three meeting rooms; and a sophisticated retail gallery and barber shop.
"Our hotel's blend of sophistication, relaxation, highly personalized service and support for city arts and culture not only offers a portal to the past, but helps spearhead Myanmar's leap into the future," says Ed Brea, the hotel's managing director. "Through our rich and diverse arts and cultural program in collaboration with various embassies, we are encouraging people in Myanmar to discover Western cultural heritage as well."
1927 Grandeur Meets 21st-Century Design
A conservation management plan assured that the conversion of the New Law Courts to Rosewood Yangon maintained the architectural integrity of the building as part of the neighborhood's highly intact historical streetscapes.
The two internal courtyards are entirely preserved and restored, as are the original portico on Bank Street, the pyramidal pavilion rooftops, the majestic promenade along Strand Road and the entrance halls on the building's north and south sides. Among the many interior details conserved are perforated metal screens set in wall openings to provide cross-ventilation, cast-iron balustrades along first-floor landings and wooden screens and panels in various public rooms throughout.
For its efforts to restore the building to its original form, Rosewood Yangon has received the 31st Yangon Heritage Trust Blue Plaque to commemorate the building's deep historic and cultural significance and its enduring legacy.
Groundbreaking design comes through the collective work of leading interior designers. New York-based Lillian Wu Studio for guestrooms and spa, and Tokyo's Bond Design Studio for restaurants and lounges, with the full support of Yangon Heritage Trust and local artisans, transformed the historic property into an ultra-modern and energy-efficient building.
"Our biggest challenge in approaching the décor was working within the restrictions that necessarily come with designing for any heritage landmark," says Lillian Wu. "But it was very important for us to adapt and make sure the concept not only complements the existing space but allows the design to flow seamlessly as well."
Unparalleled Stays
The hotel's 205 stylishly designed rooms and suites are carefully crafted to highlight the architectural beauty of the building. Along with high ceilings and abundant natural light, most guestrooms feature patios and balconies with view overlooking the city or beautifully landscaped internal courtyards.
The refined Executive Rooms, starting at 45 square meters, have been thoughtfully conceived to create comfortable, residential-style living spaces that are equally suited to business and leisure stays. The property's suite collection boasts the 90-square-meter Rosewood Suite, which includes a separate enclosed bedroom and a spacious terrace that is ideal for afternoon tea or in-room dining experiences.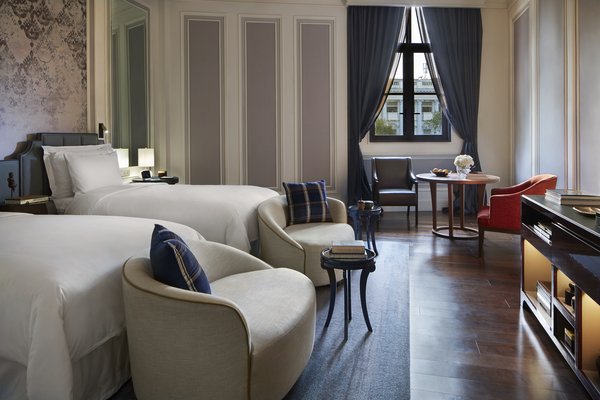 The Suites have been tastefully decorated using a combination of the old world and the new. Dazzling lacquerware and papier-mâché objets d'art from upcountry Bagan, along with handwoven bed-throws and cushions created by artisans from non-profit Turquoise Mountain, evoke a sense of place. Paintings by Nyein Chan Su lend a contemporary ambience to the elegant guest suites with his bold use of color in semi-abstract compositions. Meanwhile, Pyayt Phyo Aung's stylized portraits of young Myanmar women wearing traditional thanaka paste on their faces, displayed at guestroom entryways, create a warm and welcoming touch.
High-Concept Dining and Entertainment Experiences
Each of Rosewood Yangon's five dining venues possesses a distinctive character and showcases creativity and a contemporary interpretation of accessible gastronomy and refined beverage craft. The hotel's culinary approach is characterized by an accent on local producers and seasonality via its Partners in Provenance program.
Vibrant and fast-paced NOVA European Brasserie features an open kitchen and a huge skylight for natural daylight dining. Seasonal vegetables and herbs are sourced directly from farms in the Shan State of northern Myanmar and fresh seafood comes from the Andaman Sea; in fact, at least 70 percent of all ingredients are the bounty from Myanmar's land and waters.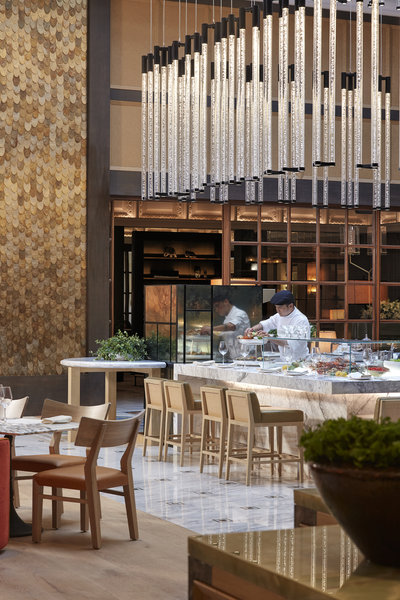 "We aim for authenticity and traditional cooking, but with an up-to-date flair, using modern cooking methods," says executive chef Vladimir Siljegovic, who comes from a long line of French restaurateurs. The menu boasts European dishes such as Salmon Pastrami and Roasted Porchetta, along with contemporary Burmese fare. A well-balanced wine list with an excellent mix of international labels complements the menu. Conveniently located near the entrance of the restaurant, a crudo bar serves the freshest oysters, seafood and more.
Destined to become a popular Yangon gathering place, Living Room & Patisserie is the perfect venue for a cup of local artisan coffee or premium quality tea paired with chocolates and homemade French desserts. Here, afternoon tea meets the highest expectations in terms of service, creativity and quality, including a bespoke selection of loose teas. Retail counters showcase chocolates, cookies and cakes for guests to enjoy.
At CourtRoom Bar, an impressive heritage décor featuring restored dark teak wall paneling creates a luxurious, intimate experience. Here the city's best whiskey selection takes center stage, along with bespoke cocktails, a curated selection of fine wines and sophisticated bite-size snacks. The Judge's Chamber, a separate lounge in CourtRoom Bar, offers a world-class variety of premium cigars amidst faithfully restored wood parquet in a space where the New Law Courts' judges once deliberated. A large-scale portrait of a cheroot-smoking Pa-O grandmother, painted with acrylic on canvas by Zay Zay Htut, presides over the lounge.
When it opens in spring, the rooftop Y Bar will be the jewel in the crown of the heritage building. The only luxury bar in the city offering a panoramic view over Yangon River, it will undoubtedly become a prestigious evening gathering place for Yangonites, expatriates and international guests. It will provide a differentiated, stylish experience with a live DJ at night and a selection of cocktails inspired by Yangon's eclectic streets.
A Chinese restaurant, to open late 2020, will showcase authentic, uniquely presented Cantonese and regional Chinese specialties served in a contemporary interior. A wine cellar and tasting room at the restaurant's entrance will cater to wine lovers, while a tea library inside the heritage cage lift will offer a comprehensive, bespoke selection for guests who appreciate the Chinese art of tea as well as bespoke tea-infused cocktails. An interactive dessert bar will be the finishing touch for afternoon or evening. Four private dining rooms and two semi-private rooms will be available.
Rich Cultural Experience
To showcase the true richness and dynamism of Myanmar culture, Rosewood Yangon goes beyond historic preservation and exquisite dining and drinking, and provides guests an opportunity to experience the city in a deeper and more meaningful way.
The hotel has created a suite of bespoke experiences to provide guests this insider perspective including its "Rosewood Limited Edition" package, available to April 2020. It consists of a one-of-a-kind arts and history experience in which visitors both preserve and help make history at this turning point of Myanmar opening up to the world. Guests have the exciting opportunity to discuss the Yangon's preservation efforts with Dr. Thant Myint-U, Myanmar's leading historian and writer, and founder of the Yangon Heritage Trust, in a rare private audience. To better understand how Yangon is managing its transition to modernity, guests also get a hands-on experience with Delphine de Lorme, artist and co-founder of Yangon Walls, and see how the city's burgeoning creative community is responding to its modernization. Together with de Lorne, guests will get the opportunity to rejuvenate Yangon's back alleys with colorful murals. These and more rich experiences, plus three nights accommodation, are also included.
Relaxation & Recreation
The Fitness Studio offers a complete line of state-of-the-art fitness equipment, available 24 hours a day so that guests can maintain their fitness regimes while away from home. The resident fitness trainer is available for assistance on request. An infinity swimming pool is also located at the rooftop level.
Rosewood Yangon will be enhanced with additional facilities opening later this year. A sophisticated retail gallery will feature gifts and collectible souvenir items inspired by the hotel's rich heritage and the local Burmese culture, while a classic barber shop will offer a premium grooming experience with a highly skilled barber.
When it opens in late 2020, Sense, A Rosewood Spa, Rosewood's award-wining, signature spa brand, will offer guests a sanctuary of simplicity and purity, where they can surrender to a completely genuine and authentic experience. Time-honored Burmese practices will be perceptively customized to guests' needs, and paired with natural ingredients that are sustainable, carefully cultivated and thoughtfully sourced.
Events
Rosewood Yangon boasts prestigious event spaces, including the Grand Ballroom, the Heritage Salon and the Terrace Suite for hosting exclusive private celebrations, from talk-of-the-town weddings to international conferences and important corporate meetings. The hotel's majestic and capacious Grand Ballroom offers one of the most distinguished and elegant event venues in Yangon with its lofty, coffered ceilings and custom-designed crystal chandeliers. A movable partition allows the 1,400-sq.m. ballroom to be divided into two spaces. Meanwhile the Heritage Salon, formerly Parliament's Chamber of Nationalities (1948-1962), has been meticulously restored and modernized to become, in late 2020, one of the city's most impressive and unique venues with its double-height ceiling and decorative frieze, renovated to all its past glory.
Introductory offers are available from now until 30 June 2020 and include personal butler services throughout the stay, roundtrip airport transfers and breakfast at NOVA European Brasserie. "Heritage Discovery" with rates starting from USD320, and "Enchanting Yangon" from USD350 for a minimum two-night stay, include selections of hotel signature experiences.
The complete hotel opening is scheduled to follow in the coming months as the remaining room inventory, restaurants and Sense Spa are completed and opened to the public.