Sparcstudio, an independent, creative design studio with a reputation for excellence in the spa, wellness, hotel and resort sectors has prepared an action plan for hotel and resort spas to considering during this enforced period of closure. With practical steps and advice, the team at Sparcstudio remain on hand during this period to offer online consultations to clients who wish to regroup, refresh and ready their spa for the opening date, without major expenditure. 
Beverley Bayes, Creative Director, Sparcstudio explains: "We recognise that mothballing your Spa and your team is a traumatic thing and sadly it also not just a case of flipping the off switch to mothball the building. Technical issues such as maintaining pumps and seals, loss of pool heat and thermal suite heat are just some of the issues that Spas are needing to address and carefully run through with their maintenance team to ensure a smooth reopening."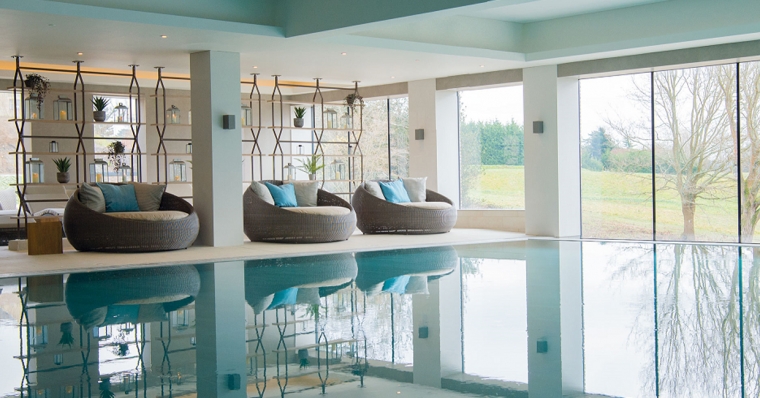 She continues: "Apart from practicalities, the enforced closure period is an opportunity to take stock of your spa and think about the little things make the guest experience even more special and ways in which the spa journey can be refreshed and made more beautiful and can also in-still an even greater sense of pride in your therapist team. This period of closure is a great opportunity to review your spa environment with fresh eyes!"
Preparing for reopening – Refresh as well as maintain
Don't let the maintenance team grab the usual pot of paint to redecorate, a new colour palette is an economic way of creating a fresh look to complement the more permanent finishes which are more expensive to replace (such as tiled/timber floors). Some tiled walls can be over-tiled or over-clad – adding a panel of accent colour or one of the amazing reclaimed timber textures from fluted to geometric designs. Cladding panels can create a new vibe and add texture and warmth to a poolside or dry space.
Adding light and space
Declutter and space out! Inevitably after the lockdown, guests will appreciate more personal space in the spa setting, so it's important as a spa operator to be mindful of this.
From the reception / arrival space, to the spa lounge and relax rooms, review the furniture layout and declutter as much as possible. Also look at window dressing – is total blackout essential in all treatment rooms? Could some rooms make the most of a view or would they benefit from linen roman blinds or curtains to provide privacy whilst letting in the light.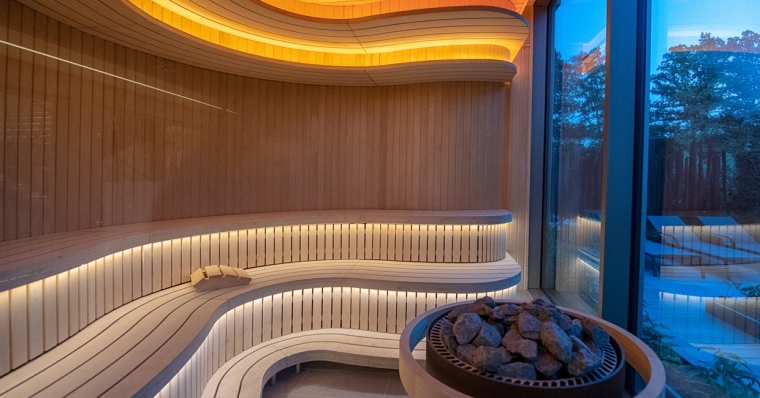 Creating an outdoor space using your current design
The importance of green space and the connection with nature will be even more important than ever when our spas re-open. A spa garden doesn't have to include expensive hydro pools and heat cabins. Maximise use of any outdoor space as part of your spa experience. Be it a garden, courtyard or roof terrace or just a view through an open window. Outdoor sensory experiences could include individual relax zones dotted around an aromatic herb garden, daybeds arranged around a firepit sprinkled with cedar chips, or playful swinging seats alongside a beautiful trickling water feature: all can be a great pre or post treatment way of relaxing in nature. Careful and creative thought should be given to the layout, planting, furniture and lighting can create an uplifting, natural and serene ambience.
Sustainability Audit
Now is the perfect time to conduct a sustainability audit looking at energy suppliers through to the use of plastics to create a caring and conscious environment. It is also an opportunity to add unique character, style and thoughtful touches to your spa. For example, by replacing plastic swimsuit bags with a biodegradable alternative or even better, provide a branded more permanent re-usable / covetable bag to take away. The days of one-use spa slippers should be over – there are now beautiful environmentally friendly alternatives that guests will want to keep including stylish biodegradable slippers formed from waste palm leaves.
Undertake a Sensory Audit
Review the levels of comfort that you provide your guest with the comfort 'touchpoints throughout the Spa, including refresh points and vanity station amenities, to improve the quality of the products that are provided and also the way in which they are presented.
Review soft furnishings – consider replacing tired synthetic throws with soft stonewashed organic cotton and new cushions to add colour or create a different refreshed feel to an area. Provide further links to nature with planting and review the planting you currently have. Ditch the trailing ivy or potted rubber plant and replace with some of the beautiful new planting that is now available. This could include low maintenance suspended Air-plants, Terrariums or succulents mounted on driftwood to add a more contemporary vibe.
Aroma – what does your spa smell like really? Undertake an aroma audit and look at how relax rooms, and heat cabin aromas can be improved to provide a more natural and botanical ambience.