Waldorf Astoria Las Vegas has announced the phase one completion of a multi-million dollar property-wide transformation which includes a floor-to-ceiling redesign of all guest rooms and suites; upgrades to all 15,000+ square feet of meeting and event space; and a new arrival experience with the complete redesign and relocation of the 23rd-floor lobby and front desk to the ground floor.
"We are thrilled to debut the highly anticipated first phase of our property-wide transformation of Waldorf Astoria Las Vegas, further positioning the hotel as a premier, luxury stay of choice while visiting our famed city," said Sebastian Stutz, general manager, Waldorf Astoria Las Vegas. "No detail is too small and upon its completion, Waldorf Astoria Las Vegas will undoubtedly be one of the world's most sought-after and exciting destinations with a design-forward environment matched with the unparalleled service and amenities that our guests have come to expect."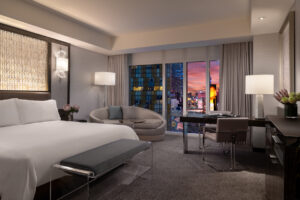 All 389 guest rooms inclusive of 84 suites now complement the property's surrounding desert landscape with a neutral color palette and calming hues contrasted by deep, warm colors to add depth and richness. With a residential feeling, the signature suites – which include the Penthouse Panorama Strip View Suite and One-Three Bedroom Presidential Suites – also feature a new contemporary design, updated wall coverings, elegant new furniture and pops of jewel-toned accents and brilliant lacquers showcasing a Las Vegas flair. Boasting floor-to-ceiling windows with sweeping views high above the Las Vegas Strip, spa-soaking tubs and sophisticated amenities, the refreshed guest rooms exude a feeling of timeless elegance and refined comfort, offering guests a glamorous reprieve in the heart of Sin City.
Boasting an Art Deco-inspired design, the debut of the hotel's new arrival experience includes a complete redesign and relocation of the former 23rd-floor front desk and lobby to the ground floor, which called for expanded space, new furniture, European wallcoverings, and lush landscaping in the porte-cochere. A nod to the desert meadows of Las Vegas and the unforgettable glamour of Waldorf Astoria Hotels & Resorts, the new lobby and porte-cochere transformation took architectural inspiration from the iconic Waldorf Astoria New York and Nevada's iconic Hoover Dam with emerald accents representative of the surrounding desert plant life, eye-catching art, and more. Thoughtfully crafted with layers of tailored design elements that create an impressive welcome, the new lobby also features artwork from contemporary Italian artist Angelo Musco, known for his large-scale figurative works, and visual artist Casper Faassen, whose mixed media photography and art have made him one of the most popular artists in the Netherlands.
With over 11,000 square feet of Calacatta Gold marble imported from Italy featuring its distinct gray and gold veining throughout the new lobby, the sleek new arrival experience will further delight guests with dramatic two-story high ceilings, a custom-designed crystal chandelier, gold and emerald furniture accents, and rich, textured fabrics.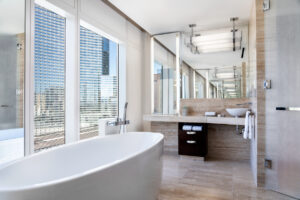 With more than 15,000+ square feet of flexible meeting space, including a one-of-a-kind balcony with sweeping views of Las Vegas Boulevard, each space now boasts a fresh and modern understated look while maintaining the extravagance and refined decadence that can only be found in Las Vegas. With fourteen different meeting and event spaces, including the Waldorf Ballroom, the hotel's largest space, each room offers floor-to-ceiling windows that bring in the natural light and, much like the other newly completed spaces of the hotel, are inspired by the surrounding landscape exemplified by the desert motif seen in the new carpet patterns and wallcoverings.
Phase two of the property-wide transformation is slated to begin in Spring 2024 and will be designed by internationally award-winning architecture and design firm Rockwell Group and will include the introduction of the iconic Peacock Alley, a name synonymous with the Waldorf Astoria brand. Located on the hotel's 23rd floor, Peacock Alley will be home to the hotel's stylish tea lounge serving the finest tea infusions from around the world, as well as a forthcoming new bar concept that will serve classic and inventive craft cocktails against the sparkling backdrop of the Las Vegas Boulevard. Upon completion of this final phase of the property-wide transformation, Waldorf Astoria Las Vegas will further cement itself as the premier luxury option on the famed Las Vegas Boulevard.
For more information on Waldorf Astoria Las Vegas or to make a reservation, please visit waldorfastorialasvegas.com.