Meaning 'rose garden' in Latin, The Rosarium is the official restaurant for Labyrinth which features Les Enfants Terribles' 'Alice's Adventures Underground'.
Named after the original title of Lewis Carrol's famed novel, the Olivier-nominated interactive performance takes place underneath Waterloo train station in London. And with a menu designed to 'heighten the senses', Faber and Company had the task of creating a dining experience that nods to this curious 'land full of wonder' while remaining an attractive establishment in its own right.
Founder, Tony Matters, said: "To achieve this balance, we developed the design around an idea that wasn't explicitly linked to the story but sat within the world of its creation. The structure of the concept was the idea of the quintessential English garden of the Lewis Carroll era."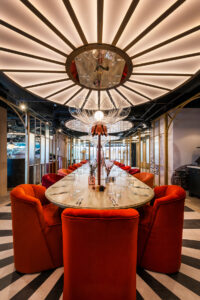 To reflect the architecture of these formally arranged gardens, the restaurant is split into three zones: The Terrace bar area, The Rosarium, which nods to a Victorian glasshouse, and The Secret Garden—an ethereal, hidden space that leans into the original story the most.
Lighting and colour were key to transporting this fantastical idea from the imaginations of the creative team into the real world. And the result is, in the words of esteemed exec chef Harvey Ayliffe, 'truly magical'.
Notable features include the parasol-style table lighting of The Terrace, huge rose centrepieces in The Glasshouse, and subtle colour-changing light in The Secret Garden (which gradually cycles through the seasons during each sitting).
"We had an approach to colour that was, to use a horticultural term, 'variegated'," added Mr Matters, who is also Creative Director at Faber. "For example, around the large communal table in The Glasshouse or 'Rosarium' you've got twenty chairs and each is one of five different colours, reflecting the varying shades found in a garden. Another example of this technique is the fixed seating in The Terrace, where we used a variety of different greens to make up the fabric, again playing with different tones of the same colour."
Faber's creativity and passion for telling each venue's story is attracting some of hospitality's most discerning names, including the prestigious culinary competition Bocuse d'Or. The team brings restaurateurs' visions to life by paying close attention to every customer touch point and how they work together. Nothing is considered in isolation during Faber's 'experience mapping' process. It's a key part of the creative team's Immersive Hospitality™ philosophy, which has been developed to enable restaurants to convey their unique identities and stand out in a saturated market.