Timed in with a relaunch of Skopos' wider print offer, the new Boutique print collection from Skopos, Treehouse, evokes a whimsical, enchanting mood in an uplifting colour palette of brights and elegant neutrals.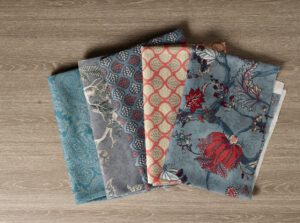 Twisting and winding through an imaginary forest, the hero design, Eve, a detailed floral, works well with Skopos plain velvets and sateens and is complimented by the second design, a subtle paisley, Guinevere, introduced previously as one of the anniversary prints. Finishing off the collection, Milly is a small graphic petal with a bold etched flavour, perfect for accessories.
The 3 designs can be used in various combinations and are offered on our wide choice of base-cloths, including upholstery velvets and antimicrobial fabrics for care alongside numerous drape qualities; blackout, dimout, linen-look etc.
Fabric is available on the roll or as part of our full service offer; including measure, design advice, curtain, bedding and cushion make-up and installation.
Skopos is proud to lead the way in elegant textile design, providing interior finishing touches that make a statement. Skopos are pleased to add this collection into their portfolio.