Aliya Khan is an award-winning talent, and the driving force behind the forward-thinking design approach for Marriott's Lifestyle portfolio. Here she tells Sophie Harper more about her role and hopes for the future of hotel design.
In her role at Marriott, Aliya Khan helps to define the foundational elements of Aloft, AC Hotels, Autograph, Element, Le Meridien, Moxy, Renaissance, Tribute and Westin, distinguishing each with a clear design personality and focus.
Aliya Khan began her career in hospitality with the iconic W Hotels in 2003 where she helped to expand the once domestic boutique brand into a global experience. In 2008, Aliya oversaw design efforts for the original prototype for Aloft, a select service design-led brand, that gave birth to a market where none had existed before. Now, nearly twenty years later, she has led efforts to reinvent both of these brands to further reflect today's changing culture.
"I fell into hospitality by accident," Aliya says, telling me how she began her career. "My father worked for a global corporation so the life of travel, hotels and movement goes as far back as I can remember. I loved the adventure of new people, languages, foods and all the other things that might colour the life of a child."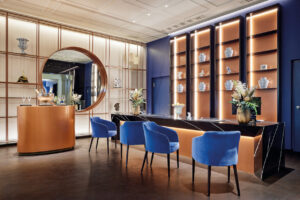 Following a brief flirtation with a pre-med course in her teens, Aliya Khan ended up in New York City to study Architecture. "After graduating I went back to Pakistan and practiced residential architecture. I had the most patient of teachers who invested in my growth and showed me the way. "But in time I felt that with every building that opened, not being able to impact the interiors was a miss. I would go into those homes and mentally re-layout the furniture. I wanted to be able to touch it all."
Design and detail
After much deliberation, Aliya decided to return to New York to study at Pratt Institute for Industrial Design, which gave her the design experience she was looking for. "It was a rich layered programme with exposure to so much more – tabletop, automotive, shoes, jewellery, exhibit design, strategic storytelling. Scales and methodologies collided and the possibilities of what could be grew."
The day she graduated, Aliya was offered a freelance opportunity working in hotels. The three-month assignment became a twelve-year run, and she hasn't looked back. "At last, I felt as though experiences and interests had come together into one place as a job. Art, architecture, culture, food, fashion, tradition, and watching people and how they travel became my every day. From then until now has been some of the most exciting times in the hotel industry, as it has moved towards tailoring experiences."
Aliya Khan joined the Marriott team six years ago and recalls her first thoughts, unaware that a global pandemic was just around the corner. "When I walked in through those doors at the now old HQ, I was acutely aware that I was going to be part of a larger machine that was quite different to my past. Little did I know what lay ahead."
Many thought Covid would spell the end of travel and tourism as we had come to know it, and while for a short period the industry was shook, Aliya says that in many ways it strengthened things. "In this time, I have had the opportunity to work with an inspiring, nurturing group of humans with different passions to collectively build memorable experiences. In many ways the pandemic brought a spirit that isn't easy to explain. A band of nimble talent that stepped up to fill gaps and collaborate in thoughtful, unexpected ways." She adds: "I consider our brands children (we have 30 of them) and like every family, you want each to shine while living well with its siblings. So, when I talk about my journey – it has been about my small part in painting this larger family story in the most unusual of times – and the fun that has resulted in."
Listen and learn
I ask Aliya Khan what she feels is the most important aspect of her role as VP Global Design Strategies and she tells me it's undoubtedly to listen and learn. "It is our job to be out there to find that new unexperienced spark that our consumers are looking for," she says. "We (thankfully) live in a world where design has transcended decor. Understanding our guests, the social and economic environment, trends, and always trying to push for something unexplored are the underpinnings of what we do. It is the richness of partnerships that makes our product successful and as layered as it is. There are no limits to our ability to learn and seek out thoughtful voices, they are global, they are multidisciplinary, and they are all talented and passionate. The push and pull of desires and priorities keeps us all honest and makes us better as a collective."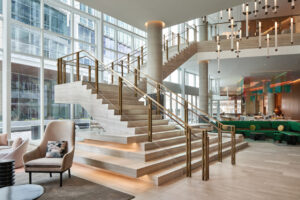 Speaking of priorities, we discuss how Marriott has been one of the biggest brands actively seeking ways in which to implement more sustainable practices over the last decade, with its Serve 360 mandate on the company's economic, social impact, and environmental performance under the microscope for some ambitious goals to reach by 2025. "This includes areas of design where we have, for the last 10 years, been greening our supply chain to seek and support suppliers who are dedicated to better sustainable practices," says Aliya. "Beyond that we believe the business of design and sustainability are not mutually exclusive and are finding new ways to be thoughtful about how we do our work." She gives an example: "We are currently testing a new renovation process for Moxy, so that we can be mindful about what is removed and where we might embrace the richness of time and use on product and find ways we can celebrate it rather than apologise for it. The soft warmth of worn leather, the character of wear and patina on concrete are all details that tell a layered story of time – and a far better personality fit for Moxy than perhaps the shiny precision that might be afforded to another."
With design at the heart of Aliya Khan's world, it's no surprise she believes its impact on the guest is fundamental to the whole hotel experience. "Designing the guest experience is the focus of our work," she says. "Do you remember how transactional hotels used to be? A place to sleep and shower. A lobby was a transitional space where you waited to check in or out – or for your travel companions before you went out to dinner. Variety was limited to the decor, and all of it was in one vein. Now think about hotels as we know them today… experiences at every price point that not only tell the story of a location but try to outdo each other in delivering memorable life-changing experiences that keep you wanting more. Now add this to each brand focused on a specific psychographic and delivering location insights through the needs of a specific guest. Design (and programming) are the means that gathers and animates thoughtfulness to meet those desires."
Looking ahead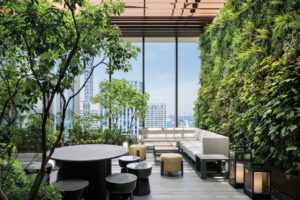 With an impressive ongoing pipeline, Marriott always has an exciting list of new projects and I ask Aliya which ones she's particularly looking forward to over the coming year. "We continue to have amazing properties opening throughout the world in 2023," she says, "for the lifestyle brands I work on there are a few that I am really looking forward to: Le Meridien Melbourne, Le Meridien and Element Salt Lake City (A dual brand complex), Moxy Banff, Renaissance Harlem, Renaissance Porto Lapa, Westin Bora Bora, and Westin Washington DC Downtown."
Looking beyond the next year and talking about her hopes for the future of both design and hospitality, Aliya's focus is people centric. "As we recover from 'the great time-out' as I now call it, I continue to marvel at the power of humanity and the role it played in the darkest time of the pandemic. The strength of people showing up for one another. People connecting from a million miles away to say I miss you and I care about you. People coming together in the face of some of the most outrageous social adversity our generation has seen. I know that we as an industry will continue to build fantastic hotels that our guests will love – I hope that in the mechanics of that delivery we never forget the power of people and their humanity.
"How do we, as a fortunate global community of people, show up for others the way they have shown up for each of us? Grow and support the newer generations who are starting their journeys. Build and nurture small and often forgotten communities to have greater opportunity. Embrace a variety of resources and truly offer a platform for diversity and inclusion – do all this, and there is no way those experiences we build won't be richer for it.