Hotel de Russie, a Rocco Forte Hotel in Rome, has unveiled its new presidential suite, the luxurious Nijinsky Suite.
Rocco Forte Hotels' Director of Design, Olga Polizzi, has meticulously redesigned the Nijinsky Suite, a two-bedroom sanctuary boasting expansive indoor and outdoor living spaces. With a vision to evoke a sense of a Roman residence, Polizzi has seamlessly blended timeless elegance with an eclectic mix of vintage Italian pieces and custom made objects from across the country to create a setting that envelops guests in the comfort of their own Roman home.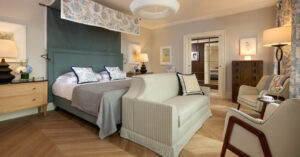 Spanning an impressive 172 m2 (1,852 ft2), every aspect of the Nijinsky Suite's interior has been thoughtfully curated to cultivate an atmosphere that is both harmonious and refined. From the selection of materials to the intricate patterns and shapes, great care has been taken to ensure the space is never overpowering, while simultaneously paying homage to the exquisite Italian craftsmanship and design that exemplify the suite's aesthetic.
The expansive private outdoor terrace measuring 240m2 (2,588 ft2), provides views of Villa Borghese, Pincio, the hotel's secret garden and the rooftops of Rome. It is the perfect spot for relaxing under the Roman sun or hosting an intimate celebration.
Commenting on her vision for the Nijinsky Suite, Olga Polizzi explained: "Crafting a profound sense of belonging and homecoming has consistently been at the heart of every Rocco Forte project. In line with this ethos, the suite embodies the essence of an aristocratic Roman residence, featuring distinctive elements such as original statues gracing the entrance, vibrant red walls reminiscent of traditional Roman houses, an exquisite collection of 19th-century plates and Valadier-era objets d'art, wallpaper depicting an enchanting Italian garden, and a terracotta cabochon floor that establishes a tangible link between the suite, the building, and the city of Rome."
The Nijinsky Suite at Hotel de Russie pays tribute to the esteemed ballet dancer and choreographer Vaslav Nijinsky. Known for his profound impact on the history of ballet, Nijinsky joins the ranks of other esteemed artists, celebrities, and cultural icons, including Pablo Picasso, Jean Cocteau, and Federico Fellini, and many others who have been drawn to the timeless allure of Hotel de Russie throughout its storied legacy.
The completion of the Nijinsky Suite is the culmination of a three-year renovation journey that reveals a reimagined oasis of luxury, including the restoration of Valadier's Secret Garden, Le Jardin restaurant by immersive artist Gio Bressana, and an enhanced Stravinsky Bar, reception area, rooms, and suites.