Lincrusta's exceptional range of wallcoverings, dado panels, friezes and borders allows for the creation of eye-catching, bespoke interiors. Its durable and versatile nature makes it perfect for hospitality interiors in particular.
With its rich and illustrious heritage, Lincrusta is a great British success story. This sculptural wallcovering was the ingenious creation of Frederick Walton, who had pioneered the development of linoleum floor coverings during the 1860s. Lincrusta was an instant success, replacing painstaking artisan plasterwork and appealing to Victorian England's tastes because of its visual appeal, practicality and durability.
Lincrusta designs quickly found their way into notable buildings throughout the world, such as The White House and the Titanic. Unique and exceptionally beautiful, these wallcoverings are celebrated for their deeper emboss, exquisite detail and enduring strength.
A natural product, made from linseed oil, Lincrusta is still manufactured by craftsmen in the UK using the original recipe and process, and to the same exacting standards. It is supplied in its natural nude colour, providing a textural blank canvas onto which the designer/architect can project their own style, to create a truly unique look.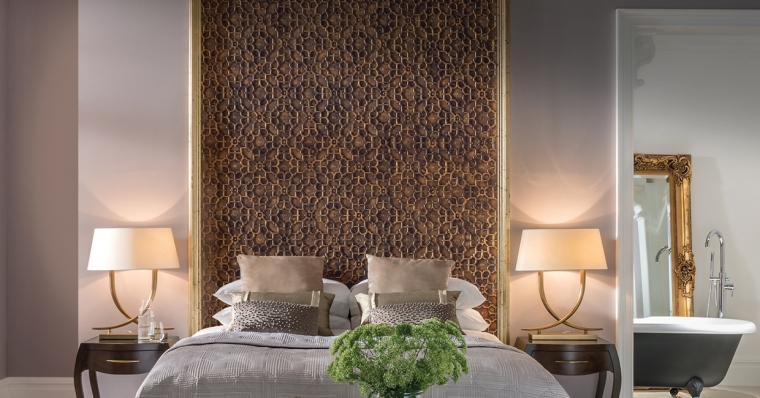 The depth of these embossed wallcoverings allows them to be decorated using a variety of different paint effects and colour combinations. The patterns within the collection take inspiration from a variety of sources – from the classical architecture of ancient Greece and Rome to cutting-edge contemporary influences. Not only the reserve of walls, Lincrusta can enhance a myriad of surfaces including ceilings, furniture, doors and bars.
Lincrusta has sustainable qualities, in that it can be reused, repaired and reimagined, becoming part of the fabric of the building. When it is time to transform a space, one can change the colour or ambience by adding different paint effects.
With over 140 years' history, not all Lincrusta designs are still available, so the company has developed restoration kits to provide a solution. Trained installers take an impression of the original design that needs repair, and replicate it in other areas with a seamless finish.