Maximising the potential of your exterior space can be a seriously good business move and, with Moda Commercials' compelling fusion of aesthetics, adaptability ans durability, the company is making this happen for commercial clients up and down the country.
With its uncompromising quality and all-weather materials, Moda's extensive collections are meticulously engineered to withstand the demands of any vibrant venue or modern workplace, whilst contending with the unpredictability of our British weather. Delivering ultra-thick, rust-proof aluminium frames, weatherproof and watertight materials, 8mm toughened safety glass & double-woven, UV-resistant rattan, each piece is crafted with high-traffic environments in mind.
Classic or contemporary styles to suit your commercial space
Fusing functionality and ease-of-use with clean lines, sharp styling and cutting-edge design, Moda's Contemporary Collections (Talia, Salone, Birkin & Sky) introduce an inviting modern twist to outdoor seating areas.
If the venue would benefit from a more traditional aesthetic, then classic style and comfort can be found from Moda's Rattan Ranges, where each piece exudes refinement from their timelessly-stylish exteriors that have been hand-crafted by a team of highly-skilled weavers. Client's and customer's comfort can be assured with luxury, dual-density foam cushions with soft, durable covers that will see you through your business' journey for many years to come.
Bringing a new lease of life to luxury hotels & lodges, bar and restaurant gardens, private golf clubs and relaxing spa resorts is made possible by the extensiveness and variety of Moda's products. From formal or casual dining sets and slick, contemporary bar tables, to sun loungers, daybeds and luxury outdoor sofas, there is almost always a swift-solution to suit their client's specific requirements.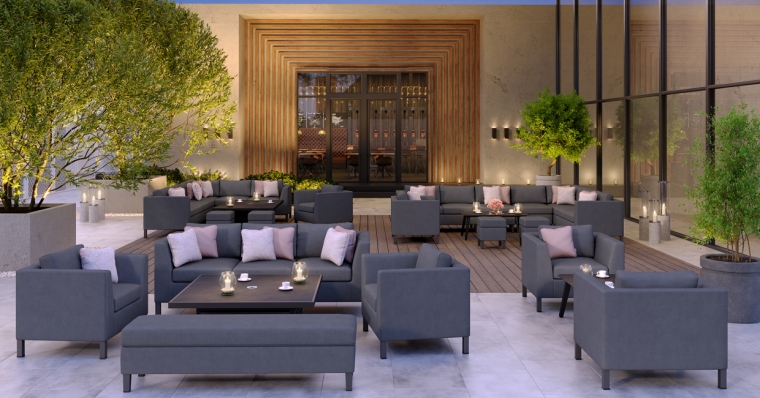 Flexible configurations to unlock the potential of your outdoor areas
When shopping around for providers of commercial outdoor furniture, style and durability are list-toppers for sure, but what about adaptability & functionality? This is where Moda's flexible modular system really comes into its own, making its premium pieces work for your space.
All of Moda's furniture ranges have almost limitless modular configurations that can be customised in any way you like, working perfectly for the ever-changing nature of commercial requirements. Looking to take your outdoor hospitality up a notch? You can opt to incorporate unique features such as dining sets with drinks cooler or fire pit inserts.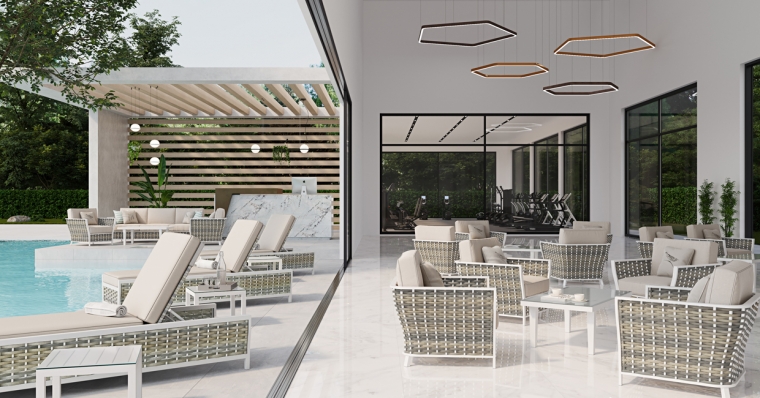 With you all the way
From design through to delivery, Moda's dedicated team are on-hand to make customers' experience with them as smooth-running as possible. Kick-start the journey with design and planning assisted by its state of the art 3D rendering service as well as on-site visits, and finish with expert delivery & installation with easily accessible aftercare.
Recognised as one of the UK's leading brands in stylish, modular outdoor furniture, you can also expect world-class customer service and a three-year warranty for added peace of mind.