Ensure the mirror is a good reflection of the overall style and décor of the bathroom with RAK-Picture from RAK Ceramics, a versatile option available in a choice of shapes and frame finishes.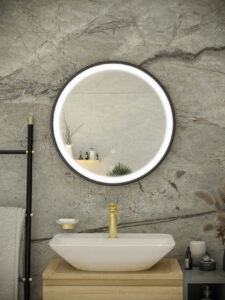 An all-important part of any design, RAK-Picture takes this must-have bathroom accessory to a new level, combining style with technology to turn the mirror into a focal point of the space. In Round, Oval, Soft and Square versions, the mirror can also be chosen in a variety of frame finishes, Black, Brushed Nickel, Brushed Gold and Chrome. This makes it ideal for matching with brassware and shower hardware, for a cohesive look that maximises on the sale.
Technology comes in the form of LED lighting, a demister pad and touch-sensor activation, all discreetly built-in to the mirror to take care of the practicalities of using the bathroom. Located visibly on the mirror, the touch-sensor strip is operational with wet and dry touch, while the low energy consumption LED lighting provides more consistent light when it's needed, while reducing the household's carbon footprint.