Leading real estate firm Related Group (Related), in partnership with legendary Italian design house Pininfarina, has launched Andare Residences by Pininfarina (Andare), a new boutique condominium development in the heart of Fort Lauderdale's Las Olas Boulevard.
Featuring a collection of 163 bespoke residences, the 45-story tower is the first luxury condominium development set to rise above Las Olas Boulevard in nearly 20 years. Located just two miles from Las Olas Beach, Andare will offer residents the best of coastal and metropolitan living, providing unobstructed ocean views and seamless connectivity to the city's urban core.
"Las Olas embodies timeless allure and urban evolution," shared Nick Pérez, President of Related's Condominium Division. "With a unique pedestrian lifestyle, complete with many culinary and retail gems, Las Olas is now easily Fort Lauderdale's hottest residential market. After years of thoughtful growth, the area is now finally ready for a high-design, service-driven condominium, and we couldn't be more honoured to partner with Pininfarina to craft our vision into reality."
An international icon known for conceiving many of the most beloved designs in automotive history, Pininfarina worked closely with the tower's architect of record, CFE Architects, and landscape architect, Architectural Alliance Landscaping, to create a cohesive design inspired by the area's timeless energy and maritime roots.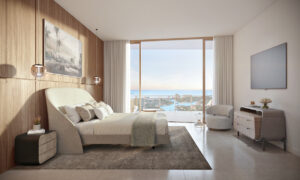 Soaring to over 540 feet in height, Andare is instantly recognizable by its distinctive façade, characterised by undulating wraparound balconies, which lend it a flowing, wave-like appearance.
"The unparalleled location of this property, in the American Riviera, inspired our vision," said Samuele Sordi, Chief Architect at Pininfarina. "We strived to provide future residents with a living environment that not only pushed the boundaries of design, but also celebrated Las Olas' rich tapestry of cultural and environmental surroundings. The end result is a tower that serves both as a love letter to Las Olas' rich history as well as a monument to its promising future."
Among the biggest priorities for the Andare design team was creating a harmonious marriage between the tower's ground-floor areas and the pedestrian thoroughfare. To achieve this, Pininfarina and its collaborators encased the tower's stunning double-height lobby in floor-to-ceiling windows, allowing for the space's curated museum-quality art and ample biophilic elements to add energy to the exterior paseo. Furthering the connection between Andare and its surroundings is the tower's signature feature: a striking 36-foot arch that serves as a grand entrance into the tower, while creating a seamless connection with the highly anticipated Tunnel Top Park.
The thoughtful approach to design is reflected within each of Andare's residences, which range in size from 1,800 to over 4,300 square feet and feature open-concept living areas, floor-to-ceiling windows and spectacular views of the New River and the Atlantic Ocean. Oversized wraparound balconies extend each homes' footprint and further promote seamless indoor/outdoor living. Residences come equipped with gourmet kitchens with Italian cabinetry and Sub-Zero and Wolf appliances; sprawling spa-inspired bathrooms; the latest smart home technologies and more.
Andare celebrates every facet of urban life with over 35,000 square feet of indoor and outdoor amenities across three floors. The 10th floor is home to a wide range of offerings that prioritize health and wellness including a state-of-the-art fitness centre, a pickleball court, and a wellness spa with dedicated salt, sauna, steam and massage rooms, along with both hot and cold plunge pools.

Live, work and play takes centre stage on the tower's 11th floor, which includes a private dining room with a catering kitchen; a Sports Lounge featuring gaming tables and large TVs; an Executive Lounge with private conference rooms ideal for hosting executive meetings or working from home, and a designated resident's Club Lounge with a Central Bar that offers enchanting ocean views. When residents step outside, they will be met with a true urban oasis that features an outdoor kitchen, two rooftop swimming pools, private cabanas, an expansive sun deck, hot tub, and food and beverage services.
"Las Olas Boulevard has become the heart and soul of Fort Lauderdale as the city evolves from a beach-centric travel destination into a year-round liveable urban centre," said Jenni Morejon, President and CEO of the Fort Lauderdale Downtown Development Authority. "With downtown population growth having doubled in the last 10 years, demand is booming for amenity-rich residences like the Andare Residences by Pininfarina. Complemented by more than $100 million of improvements to parks and public spaces in Fort Lauderdale's urban core, this project will surely help set the tone for the neighbourhood's ongoing evolution."
Situated along a pristine beachfront and approximately two miles to Las Olas Beach, Andare is strategically located at the foot of the Fort Lauderdale Riverwalk expansion at Tunnel Top Park and provides ease of access to the Shops of Las Olas and the downtown Riverwalk District, placing residents at the intersection of culture, commerce and leisure.