Richloom Contract introduces their Blackout Library, a much-anticipated collection of woven and printed blackouts for hospitality interiors. The library includes patterns ranging from small-scale textures to lustrous statement prints, in a variety of bold and unique colourways. Blackouts are coated and expertly designed to block light from entering windows, providing the ultimate privacy for any guestroom, suite, or public space.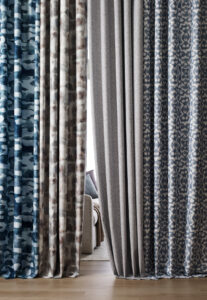 Richloom, founded by Fred Richman, is a third generation family operated and owned home furnishing business. After working in his father's textile business, Fred started Richloom Fabrics Group in 1957 with a $5,000 loan. Fred passed away in 2020, but not before he saw his company grow into the global multi- faceted textile and finished goods company it is today.
Fred's son, Jim Richman, joined the company in 1972. He has led the company for the past 35 years, employing more than 250 people in the U.S. and 300 people globally. Jim's strategic vision to source goods globally led to Richloom's eventual expansion in China, propelling Richloom into the furniture, finished goods and hospitality trade. While Jim continues as Richloom's CEO, his nephew Michael Saivetz has served as COO for the past 15 years. Michael focused his early career on Richloom's growth strategy in Shanghai as well as advancing the company into the RV industry. Over the last few years, Michael has focused on further expanding Richloom's footprint, playing an instrumental role in acquiring a domestic mill in North Carolina, now called Richloom Weaving. This acquisition not only allowed the company to navigate the Covid-19 pandemic but has put Richloom in a stronger position for the future.
Headquartered in New York City with major operations in North and South Carolina, Richloom services a wide range of customers and industries. Richloom supplies the upholstery, decorative jobber, hospitality, over-the-counter retail, casual outdoor furniture, cruise and RV industries, manufacturing textiles around the globe and offering an expansive product range from prints and wovens, to intricate decorative textiles and finished product. With the ability to adapt swiftly to global needs, Richloom has major offices in Shanghai, North and South Carolina, and Indiana.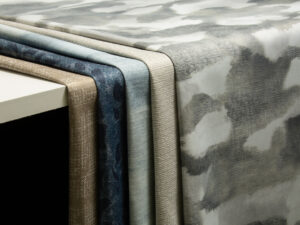 Richloom is a design leader and textile manufacturer, offering an invaluable commitment to sustainable products, remarkable styles, and exceptional service. Creativity, innovation & responsibility are at the heart of Richloom's business strategy, as they invest not only in employees, but also in local communities. As the world grows, Richloom considers itself a design-oriented logistics operation, continuously sourcing new techniques, and qualities to meet the latest design trends that are consistent with Richloom's sustainable initiatives. As a third-generation family business, Richloom is keenly aware of the need to plan for the stability and future success of our company and is constantly looking at ways to improve its process and products. A fundamental guiding principle of the family is that of responsibility, and as part of Richloom's mission, the company will continually strive to be a better global citizen and do what we can to be more socially and environmentally responsible.
Select styles within the library pass Cruise standards for window applications; for more information, please contact your local Richloom Contract representative.