The Rome EDITION has announced the opening of its restaurant and bars including Anima, the property's signature restaurant, spearheaded by much admired Roman chef Paola Colucci, The Roof, and The Garden, a piazza and alfresco dining space for guests and locals alike.
In addition, the hotel features EDITION's speakeasy-inspired award winning bar Punch Room and Jade Bar, an intimate 12-seating cocktail bar. Together these different outlets form a destination within a destination, providing an all encompassing experience at The Rome EDITION. The property marks the newest opening from the EDITION brand, as well as its first venture into Italy.
Located in the heart of the city, Anima offers modern Italian Mediterranean cuisine with an international outlook. Rome is a city known for its food and culture, and chef Paola Colucci brings her wealth of experience and exceptional taste, leading the kitchen and culinary offerings across the entirety of the hotel.
Colucci is recognised as one of Rome's most intuitive chefs, and is a firm believer in the emotionality of food and the importance of interacting with her guests; this is one of the reasons why the kitchen at The Rome EDITION is open-fronted, screened with ambered glass, allowing social exchange and connection between chef and guests dining.
Located on the ground floor of the property, Anima, meaning 'soul' in Italian, speaks true to the dishes prepared by Chef Paola. The menu, influenced by the different regional cuisines of Italy, has a-la-carte options that respect the seasonality of the local ingredients.
"I'm very excited to be part of the EDITION family. My goal is to create harmony between the food and drink, to re-propose combinations in the best possible way. The aim is to have a complete offering that involves all the senses. The atmosphere I would like to recreate in EDITION is the one that best represents me and is reflected in the brand. In everything there is an informal refinement. The trend is towards beauty and elegance, without ever abandoning simplicity and naturalness," said Chef Paola Colucci.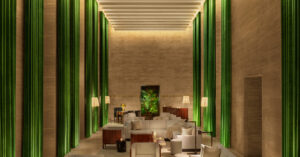 Anima seats up to 120 guests and spills out onto a private garden for alfresco dining, open for breakfast, lunch and dinner. Open to both hotel guests and visitors, the lunch and dinner menus at Anima offer classic dishes with a modern twist, inspired by the rich local and seasonal produce that Rome is globally renowned for.
The restaurant's thoughtfully curated drinks list perfectly aligns with the Mediterranean influences and ingredients of the food menu offering. Drinks include spirit-driven cocktails, alongside a wine list with a heavy emphasis on Italian wines, as well as wines from countries such as France, New Zealand, Argentina and Germany designed to enhance every meal.
Anima is divided into three spaces; the Yves Klein blue room, the Chartreuse room and The Garden. The Yves Klein blue room is decorated with an abundance of greenery, alongside custom white oak dining tables with tulip-brushed brass base and light oak armchairs, and a custom white oak banquette and rugs under the tables in velvet Yves Klein blue. Open-pored travertine French window niches with bronze windows allow guests to look into the dramatically lit garden. A series of eight commissioned blue paintings in the style of Rothko by Johina Garcia-Concheso adorn the walls, along with an antique Louis XV gold leaf mirror and custom Yves Klein blue mirror.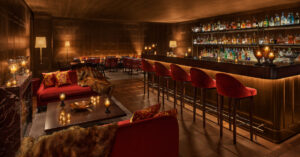 The Chartreuse room invites guests to dine on custom white oak dining tables with tulip-brushed brass base and light oak armchairs in chartreuse velvet. Above each booth, there is a pendant in alabaster by Emmanuel Levet Stenne. The open kitchen in stainless steel and off-white glazed Italian tiles is filtered by an amber glass opening, and has a bullnose countertop in white travertine and white oak face.
Showcased in this room is a carefully curated wall of 115 black and white photographs by renowned Italian paparazzi photographer Elio Sorci, courtesy of Camera Press Archive. Elio Sorci was among the very first "Paparazzo", a term coined by Federico Fellini for his film, La Dolce Vita, to describe a small band of press photographers who documented film production in Italy in the 1950s. Capitalising on the world's interest in glamour and hedonism in 1950s Rome, Elio Sorci pursued and captured candid images of celebrities, part of a new movement in photojournalism.
The expansive lush garden is both piazza and dining space operating over three spaces, abundant with more than 400 plants and a cascade of climbing plants over the façade. A dramatic bronze metal awning overlooks teak wood banquettes and free-standing furniture along with an Italianate arrangement of lanterns to give it the feel of a traditional Roman garden. The Garden reconfigures flavours that have become familiar to the palate, and makes them fresh once more, bringing an all day menu that offers its guests and locals alike culinary classics alongside dishes with a new creative touch in an elegant and refined approach. The relaxed all-day terrace provides outdoor seating for Anima on one side and The Garden on the other, offering a menu of light dishes available throughout the day until late evening, alongside beverages with a Vermouth, Mediterranean citrus, and fresh berry focus. The Garden will bring a unique mix of design, culinary and mixology experience.
Located on the ground floor, two unique bars set the benchmark for mixology in the city: Punch Room and Jade Bar.
The Roof is located on the seventh floor offering unobstructed views across the city skyline and landmarks. It features a travertine plunge pool surrounded by daybeds, and a large bar area.  Here, Chef Colucci offers raw and cooked dishes inspired by her love of the Mediterranean Sea, alongside cocktails with regional citrus notes, herbs and amari to create a truly Italian list. 
The Punch Room, EDITION's signature concept, is an award-winning speakeasy-inspired bar that follows the standard set at other EDITION properties worldwide. Born in the 17th century, punches utilised the exciting new ingredients discovered on the trade routes. The five traditional ingredients of punch highlighted spirits from Europe and the colonies, spices and citrus from Africa and the east, teas from China and India, and sugar from the Indies. Demonstrating the artistry of mixology, Punch Room is reviving an age-old approach to punch and bringing it to modern day.
The panelling on the walls and ceiling takes inspiration from a classic English private club. The dark walnut wood bar, with its Rosso Levanto marble fireplace and custom armchairs in rosewood and dark brown leather, is a place where guests can unwind with friends under low lights. The perfect spot to recline on the amaranth-coloured velvet sofas and explore Punch cocktails that explore the influence of the Roman Empire; a convivial and relaxed space.
Jade Bar is an upscale intimate mixology destination, offering an elevated and unique experience for true connoisseurs. Advanced techniques create a kaleidoscope of cocktails from a limited range of spirits and seasonal ingredients, effectively creating a gallery of flavour which changes three times a year. Each menu centres around a handful of ingredients and uses this constraint to explore varied expressions of these flavours. The menu features spirit-forward cocktails, clarified cocktails and Low ABV cocktails, with flavour influences such as Agave spirits, strawberry, grapes, peach, tomato and more.
The elevated experience of Jade Bar is an ode to the Roman passion for honouring the finest of nature's offerings. The intimate jewel box-like space has floor-to-ceiling green antique marble picked out with accents of satin brass and gold. Guests are encouraged to relax on the emerald velvet banquettes and take in the Jeff Koons-inspired sculptural pieces, while enjoying the unique offering.
The Rome EDITION offers an elegance and sophistication that reflects the city and its culture. Guests staying at the hotel will experience traditional Italian elements perfectly combined with EDITION's signature modern style through its expertly curated food and beverage offering.