Already a popular choice for many architects, installers, and tilers within the construction industry, the cement-free construction board/tile backerboard, Schlüter-KERDI-BOARD, has gained another string to its bow in the form of BBA certification. 
The British Board of Agrément is one of the UK's leading Construction certification bodies, and vigorous testing is carried out before certificates are issued. This ensures all products and systems which receive the seal of approval meet the British Standards for construction.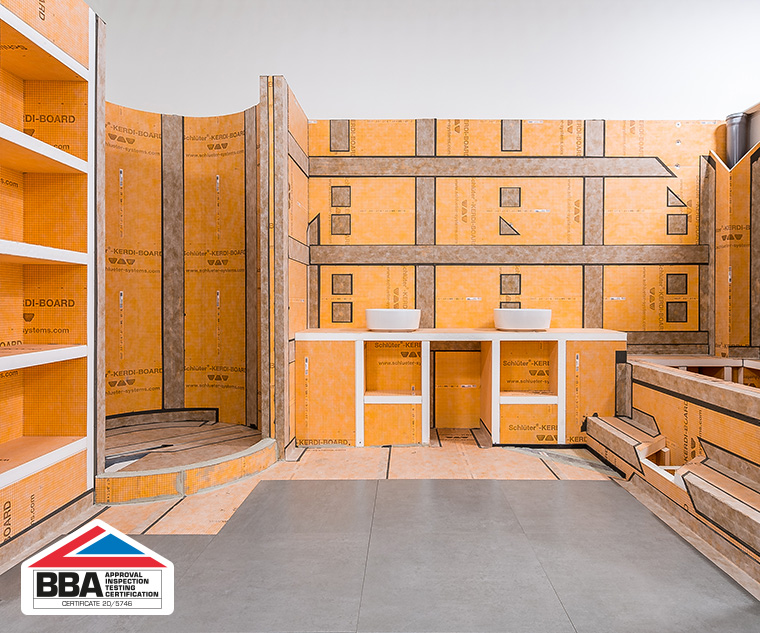 It is no surprise that KERDI-BOARD is BBA Certified – the easy-to-cut and lightweight board is a proven multifunctional product for use in bathrooms, wetrooms and kitchens. Whether you need to create a fully waterproofed wall or add finishing touches such as a bench or niche to your project, KERDI-BOARD is the perfect choice regardless of design stage. 
KERDI-BOARD can be used as a waterproof substrate in the creation of bonded waterproofing assemblies with tile coverings. Available in seven thicknesses, ranging from 5-50mm, it provides a sustainable alternative to cement-faced boards. The absence of a cementitious layer means that KERDI-BOARD produces no dust when cut, offering a much safer working environment for installers.
Whilst KERDI-BOARD is already a firm favourite with Schlüter customers, the British Board of Agrément certification should further instil confidence in KERDI-BOARD and solidify the belief that it is the go-to product for creating even, waterproof substrates for the installation of tiles and natural stone.