Creating something that people recognise as beautiful requires a cultivated taste. Manutti believes the sun invites us to spend time outdoors and truly focus on what's essential in life: connecting with our loved ones. Enthused by nature's splendour, the brand strives to inspire, delight and bring people together from sunrise to sunset. It's why its iconic tables, chairs, loungers and sofas are so much more than outdoor furniture. They're an invitation to step into a world of luxury. One that suits the tastes of your guests and customers. A world that entices them to bathe in light and authentic ambience.
Inspiring projects, anywhere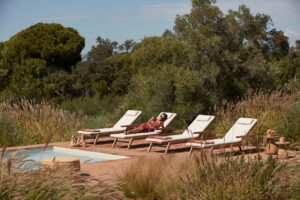 For two decades, Manutti has focused on the design of luxury outdoor furniture as distinctive as its customers, whether commercial or residential. Designed in Belgium, the brand collaborates with craftspeople and suppliers from all over the world, who offer superior quality. This is how Manutti became a true trendsetter, shaping the market for exclusive outdoor furniture. Yacht designers and contractors have chosen the all-weather resistant collections for their durability and easy to customise designs. In more than 50 countries, hotel guests experience pure delight at the lounge corners at the poolside or by the beach. Architects and interior designers praise the pure and unique feeling of luxury of the dining collections, perfect for bars and restaurants or in any private outdoor project.
Nothing is overlooked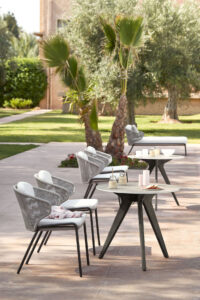 Manutti pieces are the result of precision manufacturing. The company's experienced craftspeople share a mission to turn each piece into an expression of timeless beauty. To do so, they combine traditional artisanship with leading-edge technology. Designed for exceptional comfort, all the materials are resistant to UV and wear, colourfast, waterproof and easy to maintain. For client convenience, the brand also offer extensive experience in long-distance shipping for large projects.
Whatever, wherever, Manutti designs match every fancy, from urban to rustic, from poolside to seaside. Make sure your project leaves a lasting impression with outdoor furniture designed to fit right in.