In the domain of hospitality design, lighting plays a crucial role in creating memorable experiences for guests. From the soft glow of a hotel room to the ambiance of a restaurant, lighting sets the mood and enhances the overall aesthetic. Hotels and resorts serve as sanctuaries for weary travellers yearning for solace and rejuvenation. Achieving this delicate equilibrium between functionality and comfort involves a meticulous curation of fixtures, dimmers, and colour temperatures.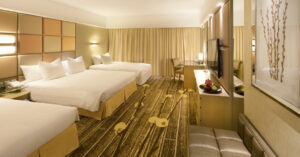 Founded in 2012, Baseline Lighting Design Studio specialises in high-end hospitality including restaurants, bars, and hotels. The lighting designers of Baseline possess a deep understanding of the significance behind crafting experiences that are truly one-of-a-kind and captivating. Through a meticulous blend of artistry and technical expertise, they transform spaces into captivating environments. From grand lobbies to intimate guest rooms, their designs evoke emotions, enhance functionality, and create a lasting impression.
Ongoing projects by Baseline Lighting Design Studio include the Wyndham Soleil Da Nang Hotel and Condotel Complex. This remarkable undertaking encompasses four towering structures, each soaring 50 stories high, along with a luxurious shopping mall, intricate façade design, and beautifully landscaped surroundings. Their lighting expertise and consultancy are also trusted by the famous hospitality group Marriott, with several hotel and resort projects on the drawing table for the brands Sheraton, Ritz-Carlton, Marriott, and Four Points in Asia.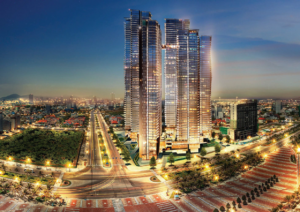 With an environmental philosophy, Baseline prioritises sustainable design by integrating energy-efficient lighting fixtures, utilising natural light sources, and incorporating cutting-edge technologies. The designers are LEED accredited, and they guarantee their clients to treat projects in accordance with environmental criteria to reduce energy consumption. Through their work, Baseline proves that a sustainable lighting design has a positive influence on the visual experience, improving hotel atmospheres thanks to reflective lighting scenes.
By embracing sustainable practices, they ensure a greener future without compromising on aesthetics or functionality. As the world of hospitality continues to evolve, Baseline Lighting Design Studio will continue to play a vital role in shaping the success of your hospitality projects.